SOLO II Civic
The car is a 1985 Honda Civic S(i) is owned by Mike Feher from Hilliard, Ohio and used to compete in SCCA SOLO II and Autocross events in the C-Street Prepared category. Mike purchased this car new in January of '85.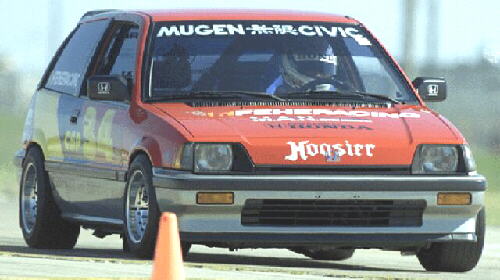 The engine has been upgraded to '86 CRX Si specs with an '86 cylinder head and pistons. The fuel injection consists of the factory Honda hardware including the intake manifold, throttle body and fuel rail from an '87 CRX Si. Fuel delivery and timing is controlled by an SDS EM-3 4E system using an MSD 7AL spark box and Blaster 2 coil. This car was not originally injected so all new Earls fuel lines have been plumbed into the system as well as a new Bosch high pressure fuel pump along with a Paxton fuel filter and a Holley Billet pressure regulator. Factory fuel injectors were utilized but were cleaned and dynoed by Marren Motorsports Inc. A Mugen 4-2-1 header with a 2.25" exhaust and DynoMax Magnum Race Muffler are fitted, exiting out on the passenger side. The gearbox has been upgraded to an '85 CRX Si unit with a Mugen Integra clutch and Mugen Limited slip differential.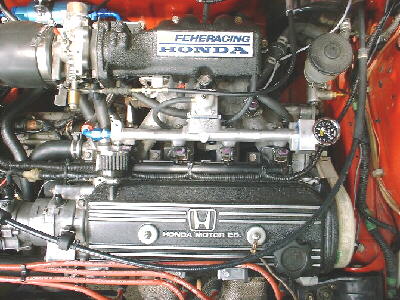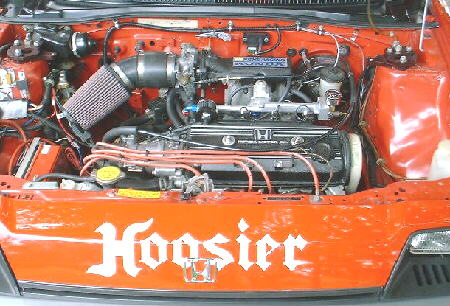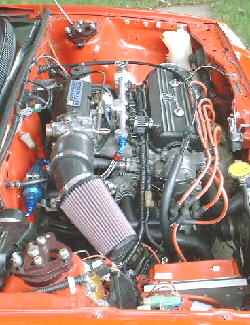 Suspension upgrades include Koni adjustable shocks with Eibach springs at the rear and Suspension Techniques Sway bars front and rear. All suspension busings have been replaced with Energy suspension polyurethane. The car has been lowered 2.00" and rides on three piece 13" x 8.5" Revolution Race Wheels with 225-45/13 Hoosier Autocross Tires.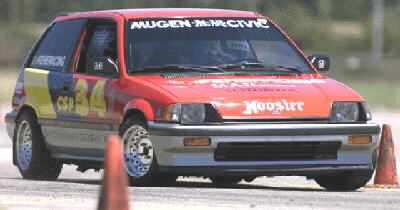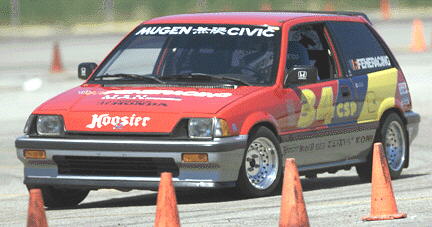 Special thanks should go to the following sponsors for there endless support:
Ross at Racetech/Simple Digital Systems
M.A.N. Mapping Services Inc.
TimeSavers Couriers Inc.
The NorthEnd Wrench.
Thanks also to Michael Clevenger for the action photographs.
Update 10/02/00
Mike has just installed a new cold air induction system: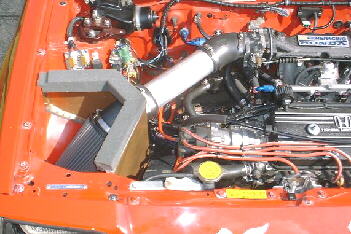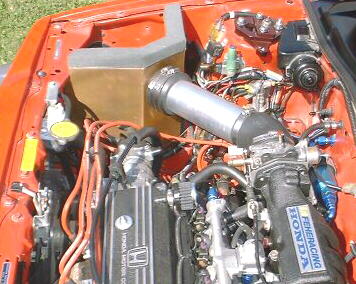 Update 05/29/01
Mike has had some new suspension parts installed: TrueChoice rebuilt and custom valved a set of Koni shocks. He has also added Ground Control coil-overs to the rear suspension and will now be able to use Eibach race springs.