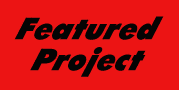 Jan. 1999 Feature Project 1980 Toyota Corona
This car is owned by Darunporn Kamolpus in Thailand. A 3S-GTE, 2L, 16V engine from an MR2 replaces the stock 3T. HKS 272 camshafts are the only internal engine modification. An SDS EM-2F unit controls fuel and ignition which was necessary because the stock distributor and airflow meter hit the firewall. A W-58 transmission from a 1G-GTE is used plus an intercooler from a 7M-GTE.
Boost is set at 14-17 psi via a manual bleed valve and the rev limiter is set at 8250 rpm.
We like the sleeper concept of this very clean car, right down to the steel wheels and dark exhaust pipe.