1964 Volvo P1800S Bonneville car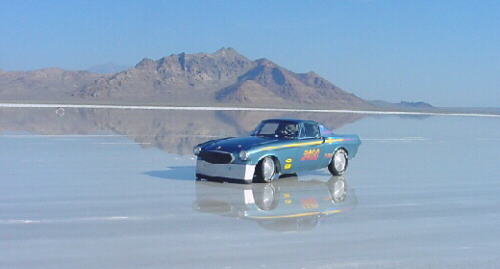 This is a '64 Volvo P1800S owned by Kent Campbell. Power comes from a destroked B23 engine where it runs in a "G" class which is limited to no more than 2L. The engine features forged steel rods, 14.5:1 CR and a BMW throttle body on the Volvo intake manifold. An EM-3 4F system is used and Kent reports that it has performed flawlessly for over 3 years in a very corrosive atmosphere. The engine runs to 9000 rpm and the car has gone 142 mph on the salt.
A Toyota 5 speed is used with a Ford 8" rearend and 3.55 gears. A three gallon fuel tank is mounted in the cowl with the front end blocked off. The OEM fuel tank is converted to water storage.