Turbocharged Ford Probe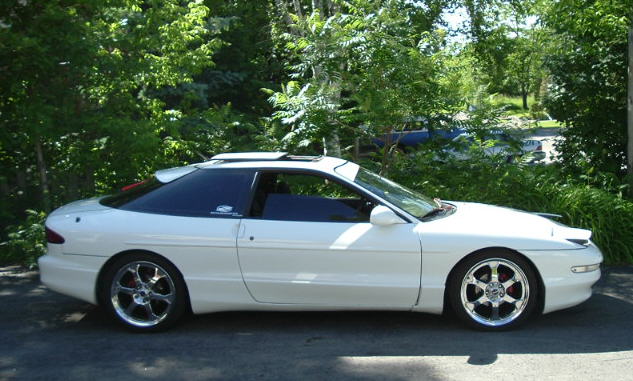 This car is owned by Francois Morin in Laval, Quebec, Canada.
Engine is a J-SPEC Mazda 2.5L (KLZE) engine with Wiseco 8.5:1 forged pistons, Scat 302 Rods, GT30R Turbo, JECS sidefeed injectors (600ccs; they are the 270ccs with the tip sanded off), Walbro 255lph fuel pump, FMIC (Spearco Core), DIS-4 with GM MSD Coils, HKS SSQ BOV, Apexi AVCR Boost controller, 35mm TIAL wastegate, AEM Wideband sensor Vibrant Super Quiet resonator and Borla muffler, 3" all the way back, 2 inch primaries. An SDS EM-4 6F controls fuel and spark.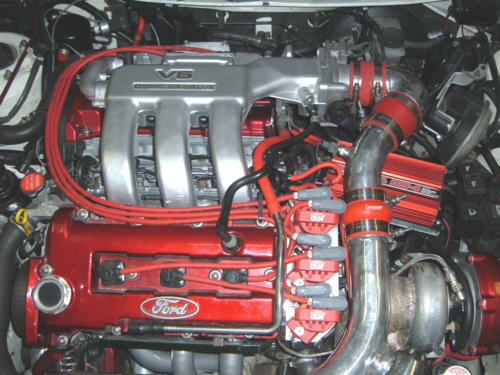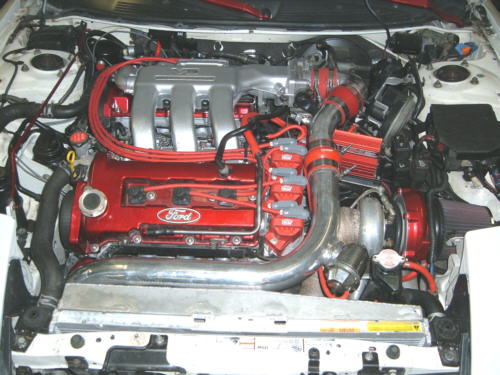 Drivetrain consists of Mazda regular tranny with Quaife LSD, ACT Clutch (stage 2), Fidanza 9lbs flywheel, Centerline Wheels (18" x 7.5, 15.5lbs). Interior changes include Autometer gauges (pyro, boost, oil temp, oil pressure, tach) and Recaro seats.
Battery was relocated in the trunk (Insterstate Yellow top dry battery).
Suspension is Tokico Illuminas (5 position adjustable) with H&R coils, 14MM rear sway bar, torsion bar in the back.
Best time to date with a cracked transmission and desd ties was a 13.3@110.72 mph. More to come for this street driven Probe.