'71 Corolla Drag Car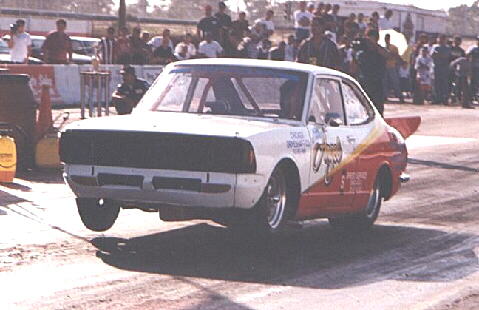 Best 1/4 mile ET 9.59@141.5 mph
This 1971 Toyota Corolla is owned by Luis Quiles of Longwood, Florida and still features an all steel chassis and is powered by an 1800cc 3TC engine.
Engine uses a stock crank, ported head with 42mm intake and 37mm exhaust valves, 270 degree cam with .480 lift, 89mm pistons, 90 lb. injectors, SDS EM-1D engine management system and a TO4 turbo. It runs 23 psi boost on 110 octane race gas fed by a Paxton pump.
Drivetrain mods include a Powerglide transmission with 4,500 stall converter, Ford nine inch rear end with 4.33 gears and 29X12 Goodyear slicks.
Future mods include installation of a twin plug, 3TG engine with a direct fire, EM-2F engine management system.