1998 Saab Turbo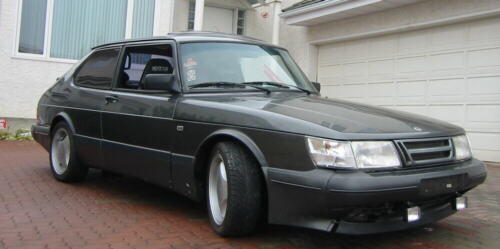 The car is a 1988 Saab 900 Turbo SPG (Special Performance Group) owned by Vincent Tong in Edmonton, Alberta, Canada.
The project addressed all of the weaknesses of the 900. The LH was removed entirely, as was the APC and replaced with SDS EM3-4F to control spark and fuel, plus a Greddy Profec-B boost controller. Air conditioning and a considerable amount of sound deadening material was also removed. A modified 4-speed transmission used by many Saab tuners and rallycross builders in Sweden was imported. The aim was to have a daily driven street car with a good balance between performance, handling and utility.
Engine is a B202 bored out to 91mm, custom forged JE Racing pistons with custom valve reliefs, 8.6:1CR, polished, shotpeened and balanced OE rods, balanced OE crankshaft, Eagle wristpins and bushings, stainless steel o-rings on deck, B234 cylinder head, flowbenched, ported and polished, custom Crower reground camshafts, custom Schrick 2mm oversized intake and exhaust valves, B212 intake manifold, port matched from a '91 Saab 900S 2.1L NA, wrapped and port matched exhaust manifold.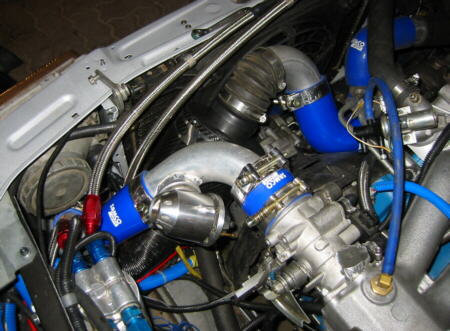 A Turbonetics T3-60 turbocharger is fitted with custom 3" downpipe and exhaust; catalyist removed, two straight through mufflers, 91+ Saab 9000 front mounted intercooler with custom endtanks, custom IC pipes using mild steel mandrel elbows, HKS Super Sequential Blow Off Valve, Samco Sport silicone intercooler hoses and vacuum lines, twin OE oil coolers, remote oil filter setup with Trans-Dapt components, Aeroquip, Earl's and Goodridge stainless steel hose and aluminum fittings throughout, Flex-A-Lite electric fan, Damien Shulock custom solid front engine mount, Accel 55# low impedance fuel injectors, AEM adjustable fuel pressure regulator, Swedish Dynamics fuel pump, custom Magnecore 8.5mm spark plug wires, Simple Digital Systems EM3-4F engine management system, GReddy Profec-B boost controller. Will run 10-15 psi of boost.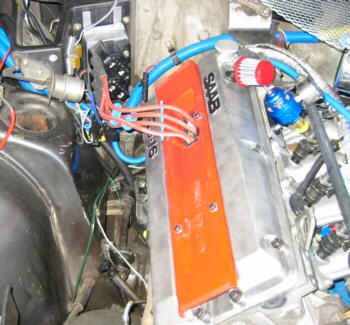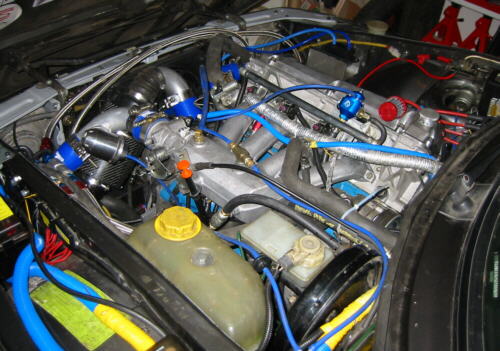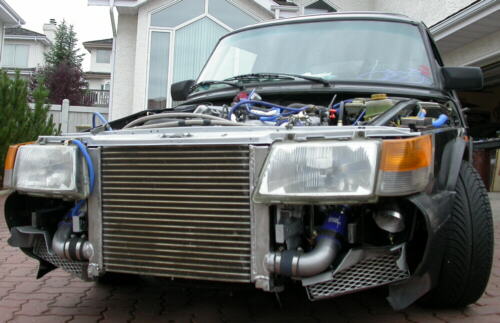 Transmission is a Jorgen Eriksson 4-speed rally-spec using a OE clutch pressure plate, Swedish Dynamics kevlar composite disc, Swedish Dynamics by Fidanza aluminum flywheel.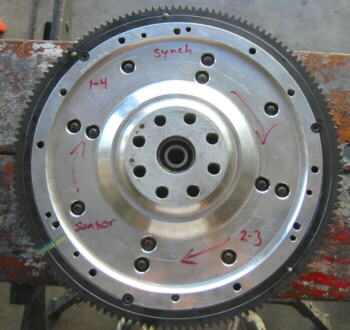 Suspension consists of a short wheel base modification, Abbott Brothers Racing sport springs, Koni adjustable shocks, SAS polyurethane bushings for front and rear sway bars, front upper and lower shock and rear upper shocks, SAS rear sway bar, Superflex polyurethane steering rack bushings, Saab OE 16" Super Aero wheels, Kuhmo Supra Ecsta 712 205/45 tires.
Interior features Sparco 'Ring' steering wheel, Sparco 'Torino' seats, Sparco/Sabelt Clubman belts, Sparco pedals, Autometer Phantom gauges: boost, A/F, EGT, oil pressure, oil temperature, water temperature all hooked up to Autometer Tri-Alert gauge warning system, two JBL 6"x9" speakers in rear parcel shelf, Alpine 4" speakers in OE location up front, Kenwood amp, battery relocated to trunk