'69 VW Beetle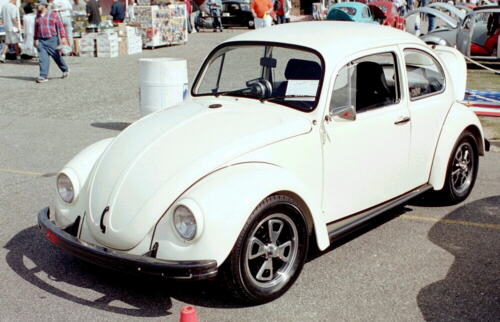 This car is owned by Victor Hirth, Columbia, SC, USA
Motor is a VW block 2213 cc with Berg 86mm crank, Pauter 5.5" rods, Performance Technology welded heads with 44mm intake and 38mm exhaust fully ported, matched and polished to Berg 52mm Throttle bodies. Cam is Engle FK-87 with 310 degrees of duration and .610 lift at the valve through Berg 1.45 ratio rockers. Compression ratio is 9.5:1 and it runs well on premium pump gas, with the exhaust exiting through a 1 3/4" merged header into a Magnaflow muffler.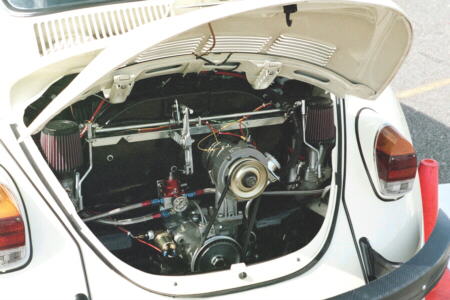 Engine management is by an SDS EM-3 4F updated to EM-4 specs. A Porsche EFI pump resides under a 1976 VW fuel injection gas tank running through SS lines to a 3 micron fuel filter. Custom fuel rails feed fuel to Bosch injectors and an Aeromotive pressure regulator. Crank trigger mounts onto previous fuel pump location, behind crank pulley. The coil pack is mounted on the fire wall and SDS computer is mounted under the back seat with the controller fitted by velcro to a custom aluminum mount on the front transmission tunnel.
Victor reports the engine has been dynoed 3 times. First with 42 DCNF Weber carbs producing 168 HP and poor street performance at low rpm. 182 HP on initial fuel injection install and finally 205 uncorrected HP at 7000 rpm with motor fully tuned. Drivability from low rpm to almost 8000 rpm is fantastic with no hesitation or other problems. Car is being used primary on the street with occassional autocross and track use.