July '99 Project 1990 Honda CRX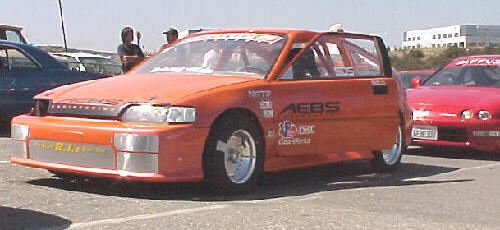 This car was prepared by the team at Advanced Engine Breathing Systems in San Diego, California and is one of the fastest naturally aspirated, non-nitrous Hondas in North America.
Power comes from a B16A, bored and stroked to 1847cc. It features JUN pistons, rods, cams, valve springs and crankshaft. An SDS EM-2F system controls the fuel and ignition. Low impedance, 370cc injectors are used along with NGK wires. Hp on the Dynojet was 213 with torque peaking at 149 ft/lbs.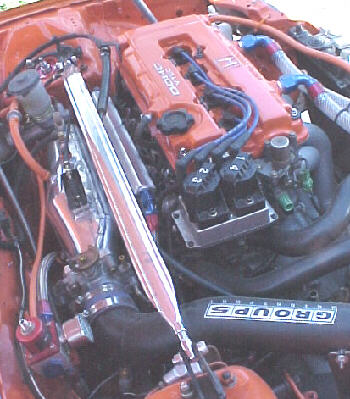 Tires are 22 inch M&H drag slicks on Bogart wheels and the clutch is an ACT unit. Car weight is 1760 lbs. with driver and the best 1/4 mile pass to date was an 11.76@115mph at Carlsbad Raceway in San Diego, California.
Update 06/14/99
This CRX ran at the IDRC event at Pomona Raceway on June 12/13/99. Best pass was an 11.61@115 mph. All 6 passes were in the 11's.
Update 08/27/99
The car has now run an 11.49@117 mph, making it what is now believed to be the quickest and fastest naturally aspirated B16 powered CRX in the world.
World Record 09/14/99
This Honda ran an 11.42@117 mph at the CMI finals at Sacramento Raceway. This is now an official NHRA record in this class.
Update 07/25/00
This car has now run a new record of 11.19@122mph.
Update 08/14/00
The car set a new NIRA record at Seattle International Raceway on Aug. 12/13 of 11.07@122 MPH
Update 10/05/00
This car has now run an 11.01 in Florida
Update 10/11/00
The car set a new NIRA record in the 1700 lb. class of 10.95 seconds.
Update 11/30/00
The CRX clinched the NIRA Pro Stock naturally aspirated class. The car ran the complete season without ever having the valve cover removed!