Porsche 911SC
This car is owned by Ian Parkinson in Ontario, Canada.

The engine is now 3.3 liters with 9.8 to 1 Mahle pistons, Raceware head studs, ported, twin plug heads, cams modified to early 911S profiles, CMW valve springs and titanium retainers and a custom crank pulley to mount the Hall sensor magnets for the EM-2 6F system with twin coil packs.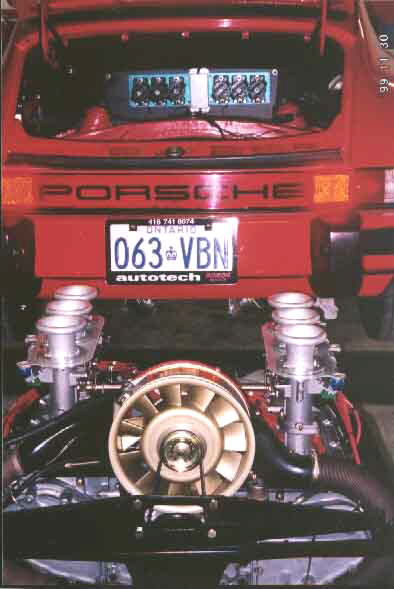 TWM 50mm throttle bodies with ITG filters, custom linkage, CMW pressure regulator, Earls lines and 390cc, 944 Turbo injectors comprise the induction system. Magnecor custom wires, B+B stainless 1.75 inch headers and a Fabiani muffler complete the engine package.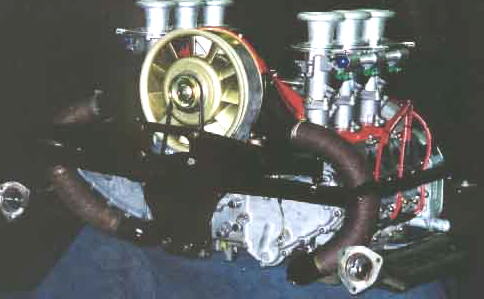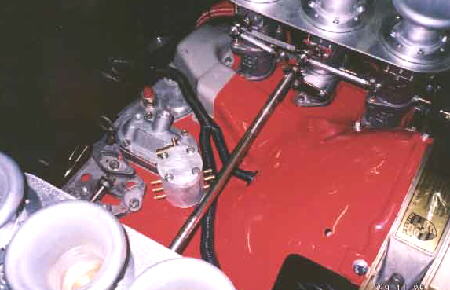 Power is transfered through a Centerforce dual friction clutch to rebuilt, close ratio, 5 speed, actuated by a Porsche short shift kit. The car is lowered and underwent a high performance alignment.
Ian reports that despite the more radical engine specs, the car drives better now than with the original CIS. Starting and warmup are also much improved. It pulls hard from 2000 rpm and takes full throttle smoothly from 2500 rpm. The engine pulls hard to the break-in 7200 rpm limit. Redline will be eventually raised to 8200.
Update 08/08/00
Ian just ran his car on a Dynojet dyno and got 254hp between 6700 and 7400 rpm. The torque curve was very flat from 3500 to 6000 with a peak torque of 220 ft./lbs at 5400 rpm. On a recent road trip with his Porsche club, he reported getting some of the highest gas mileage in the group. Weber carbed 911 owners take note!