Nissan Ceffiro Twin Turbo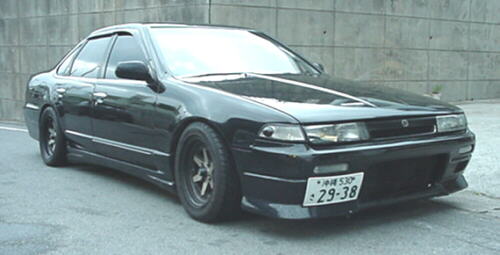 This car was prepared by Matt Huchens of Motorworx Race Systems in Okinawa, Japan. It came stock with an RB20 2.0 liter non-turbo engine and automatic transmission. Motorworx transplanted an RB26 2.6 liter twin turbo engine from a Nissan Skyline GT-R. Fueling is handled by an SDS EM-2D with Denso 700cc/min injectors. The stock Skyline GT-R ECU controls ignition timing. The stock turbos are Garrett T28's using HKS actuators and a Blitz Dual SBC Type R to control the boost. At 1.5 bar, it makes 513 hp to the wheels measured on a DynaPak chassis dyno.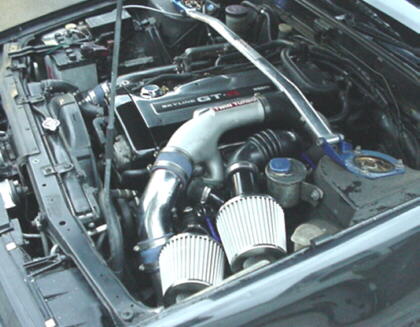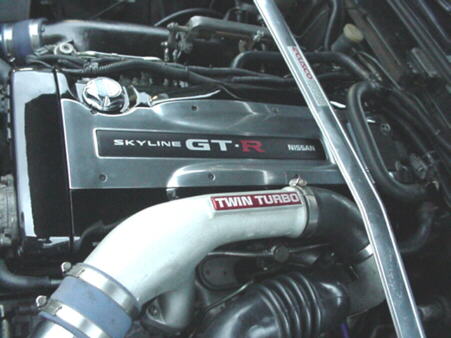 Power now goes through an OS Giken twin disk clutch and a 5 speed transmission from a Skyline R33 GTS-T. Motorworx shortened the R33 driveshaft and installed a Nismo R200 4 pinion limited slip differential. Suspension is Kei-Office adjustable height struts. All control arms and links use spherical rod-ends (Pillow Ball) and the rear K member is solid mounted using aluminum bushings. Brakes are from a Skyline GTS-T Type M. 4 pot front calipers, 2 pot rear calipers with Endless semi-metallic carbon pads, and stainless mesh covered Teflon hoses.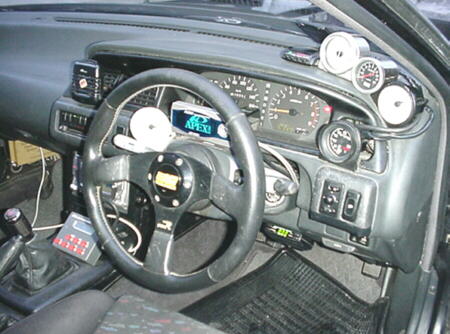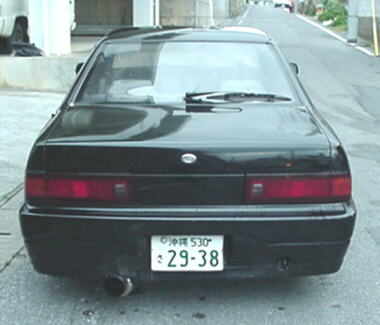 07/19/04
The car has been updated as follows:
The engine management is now controlled by an EM4-6F triggering an MSD DIS4 to fire the stock coils. The engine has been rebuilt using Arias standard bore pistons, Pauter billet rods, new R33 N1 crank and block, a Nismo oil pump, HKS 272 cams and pulleys, an HKS 1.2mm head gasket, and HKS head bolts. Turbos are Nismo GT LeMans on Veilside stainless manifolds and HKS stainless extensions and down pipe. The clutch has been swapped for an HKS triple plate.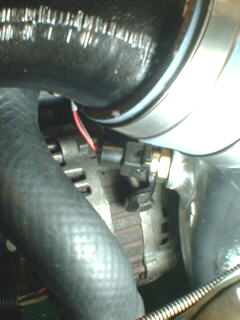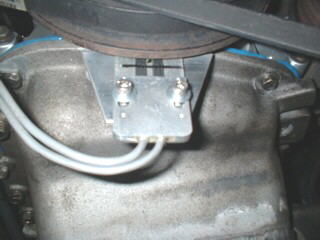 Air and Hall sensor detail
The fuel pump is a Nismo 280 l/hr in tank pump for R32 GT-R. The intercooler has been changed to a 100mm thick Trust front mount, and the radiator is a Koyo 2 core aluminum. Twin Flex-a-lite 12 inch fans are controlled by the SDS ECU. Thermostat is a Billion 65 degree high flow. The battery has been relocated to the trunk.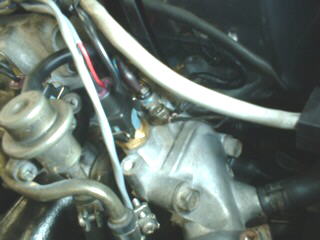 Water temp sensor detail
The SDS ECU controls the stock Nissan AAC valve for idle-up at warm up and the car retains the factory air conditioning.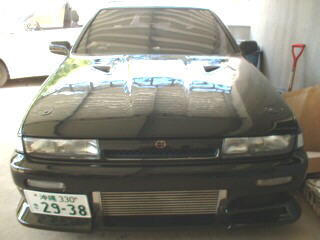 Front of car showing new intercooler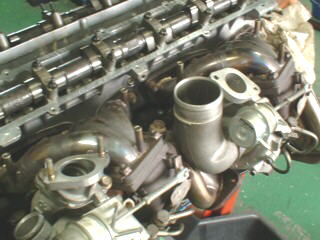 Turbo and header detail
The car put down 597.5 hp and 433 lb of torque at a very conservative 1.2 bar of boost and 11.2 AFR. The MSD DIS 4 limits revs to 8000rpm and the staging limiter is set for 6000rpm. Thereís a lot left, but the car is a daily driver so the tune will be left as is. Even so, the car gets no traction in the first two gears running 275/17 Nitto 555Rís.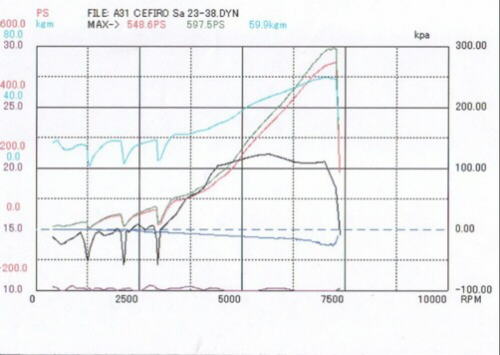 Website: www.motorworx.tv