1989 Volvo 244 Turbo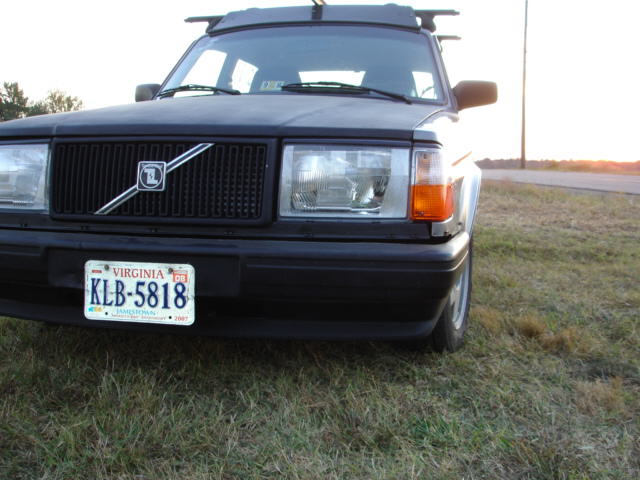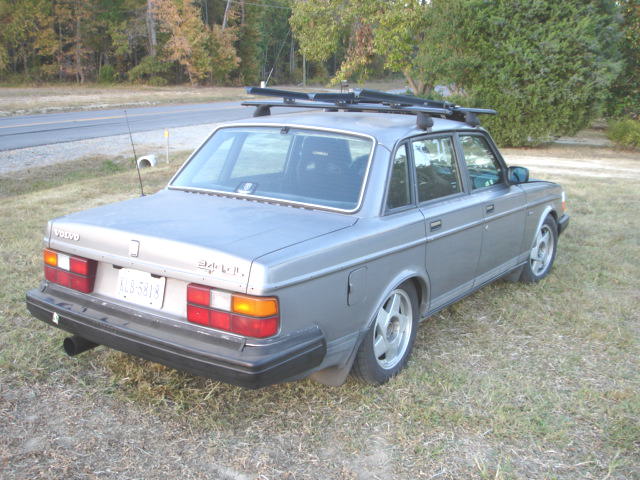 This car is owned, modified and driven by Vincent McAllister in Mangohick, Virginia, USA.
The car originally had a N/A engine and AW70 automatic. The former was ditched in favor of a 91 B230FT and a M-47 5 speed. More recently that combination has evolved into a stroked out short block with a offset ground B230 crankshaft slinging Eagle H-beam rods and JE forged dish pistons. The head is ported and exhaust valves were enlarged from 35 to 38mm. The head also now houses a stock volvo grind K camshaft that checks in at .471" of lift, 230* intake duration and 226* exhaust duration at .050". Overlap is a whopping 38* which puts the idle vacuum rather low ( 10''-12"hg). The engine now checks in at just under 2.5 litres with the additional stroke. The stock exhaust manifold has been port matched and opened generously to accept a traditional T-3 hot side. The turbo is a journal bearing Garrett GT-35, complete with an internal wastegate and a 4.25" v-band exhaust exit.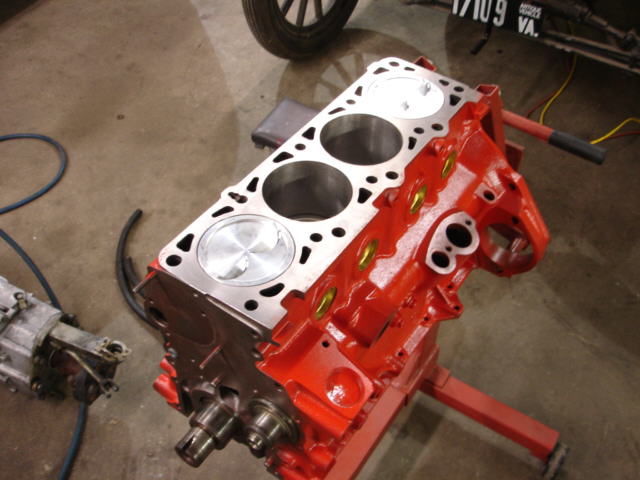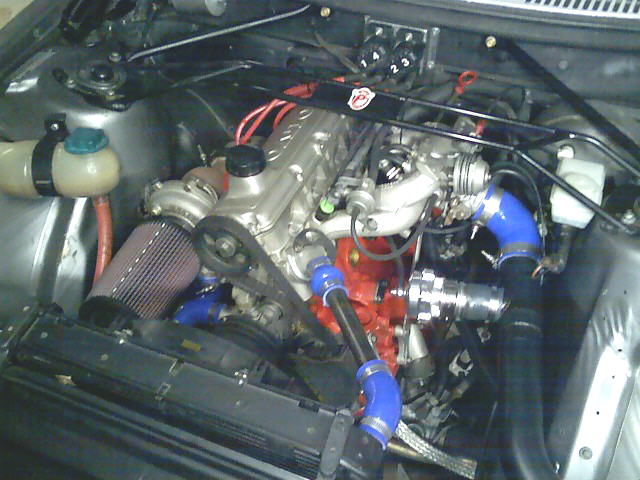 The turbo huffs through a 4" thick 24x12 cored intercooler and custom made aluminum 2.5" piping fitted with a Tial 50mm blow off, into a port matched intake. 440cc SVT injectors are controlled by an SDS EM-4 4F. CR is 8.2:1. Exhaust exits via a 3 inch system.
All this power gets down through a stock Volvo 5 speed wich will be ditched soon in favor for the torque handling capacity of a World Class T-5. The stock shifter has been modified for shorter throws and a shorter overall height by about 3 inches. The rear end is currently being fitted with a lower 3.31 ring and pinion for better fuel economy. Prior to this the car had a 3.73 which was fitted in it originally with the automatic transmission.
The car currently rolls on 15x7 mesh wheels with 215 60 15 Michelin XGT H4 street tires The front springs are TME units, rear are Eibach coilovers. Front dampers are Bilstein HDs and the rears are Koni with rebound adjusting. Rear suspension is from Kaplhenke racing including adjustable trailing, torque and panhard arms. The front control arms are also adjustable for additional negative camber. Body roll is handled by a 25mm front swaybar by IPD. The front end is also tied together by "GT" strut tower to firewall braces, a strut tower truss brace by IPD and lower crossmember tie bars.
Power was recorded by the builder/owner at UTI Houston TX a few years ago on the "OLD" setup, checking in at 249whp and 256ft/lbs on a hot Texas summer day with a stock bottom end, intercooler and a tiny Mitsubishi 15G turbo. Vince said "time and time again I see guys throwing money at the wrong parts of the car, only to come back disappointed with mediocre power levels. I've always had consistent power and performance from my car running SDS".