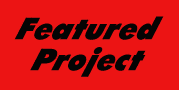 Feb. '99 Project: Dodge Shelby Charger
This car is owned by Stephane Beauregard of Gramby, Quebec.
It is powered by a turbocharged 2.2 liter engine and has been converted to rear wheel drive. An SDS EM-2E unit controls fuel and spark.
Quarter mile ET is 10.26 seconds with a trap speed of 134.9 mph.