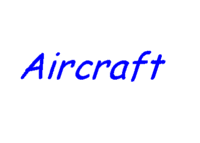 08/30/04
Now that flight testing is done for the time being, we are now starting to build time on the engine and engine management system by doing longer trips. This also allows us to show the aircraft and SDS unit to other pilots and builders who may be interested.
On Aug. 29/04, we flew VZX to Vulcan, Alberta. The airport has a 2950 foot paved runway, clean terminal building and is within 10 minutes walking distance to the town and 2 minutes to their golf course. Vulcan's claim to fame is its Star Trek museum and large, plinth mounted starship. In WW II, the Vulcan airfield a few miles away from the present one, was home to part of the Commonwealth Air Training Plan where nearly 1000 pilots were trained in twin engined aircraft for the Allied war effort. The runways and hangars can still be seen today.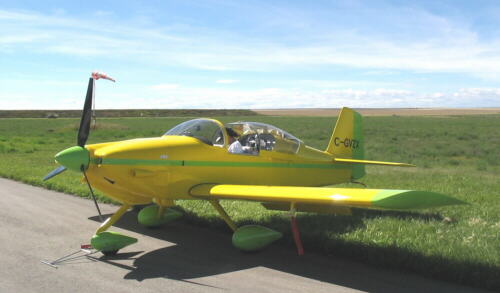 VZX at Vulcan. Nice VFR day.
We cruised out at 4500 rpm/ 25 inches and were seeing a ground speed of around 145 knots at 7500 feet. The Skyforce color moving map GPS is easy to use and I much prefer it to my backup Garmin although sunlight readability could be a bit better. I used the Navaid Devices wing leveler a bit and the Monroy traffic alert system is nice to have in the wide open spaces.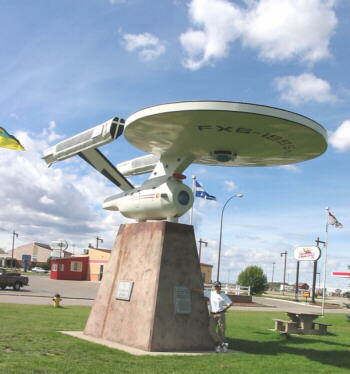 Starship at Vulcan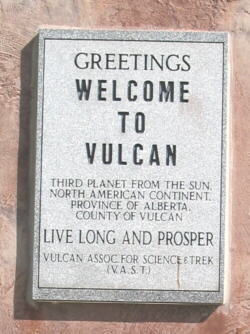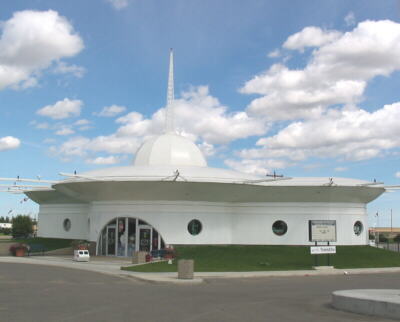 Plaque and Star Trek museum
09/13/04
Weather did not permit us to fly to the Rocky Mountain House airshow on Sept. 12 so we drove up instead. The weather was not the best, being cold and rainy. Access and parking was well organized but there was way too much time between acts. These things need to flow smoothly to keep people's interest. We took a few photos: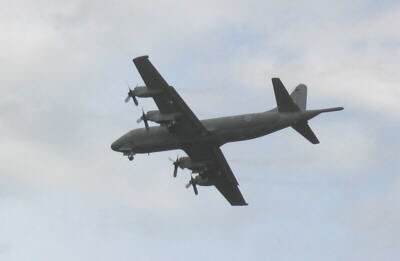 Aurora

Jet car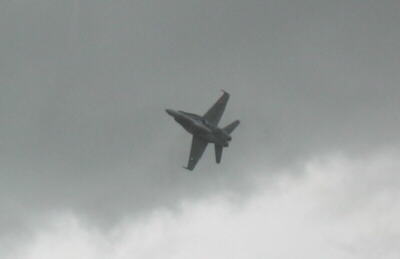 CF18
10/15/04
Over the September 22-25 period, we flew down to Medicine Hat, Alberta to see some sights and evaluate the autopilot/ navigation systems on a longer trip. The Navaid Devices gyro tracked the GPS nicely and the aircraft was easy to trim up nicely in pitch without using the altitude hold system. We generally cruise at 27 inches and 4600 rpm which gives us a figure of around 150 knots TAS at medium altitudes. We had excellent weather for all of our flights. We received friendly service at Bar XH and had the aircraft hangared overnight.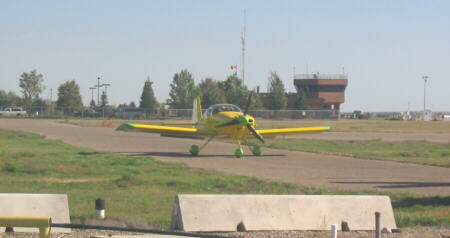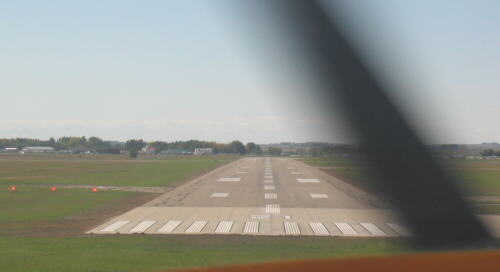 VZX parked at Medicine Hat airport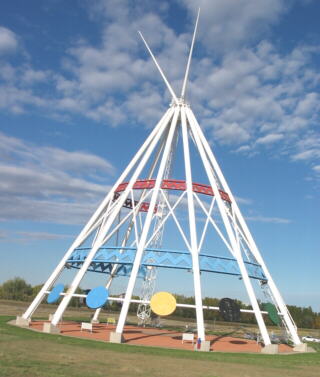 One of Medicine Hat's famous landmarks is the world's tallest teepee. Constructed of massive steel tubing, it is several hundred feet high.
We flew out the next day to look at the the Eagle Butte meteorite impact crater near the Cypress Hills on the Saskatchewan/ Alberta border. This was formed millions of years ago and is essentially hidden now by erosion. We flew to the GPS coordinates and shot some photos. It looks as if the Cypress Hills were possibly formed by the impact as this is the only elevated area for miles on the otherwise flat terrain. The edges of the crater are reputed to be about 18km in diameter.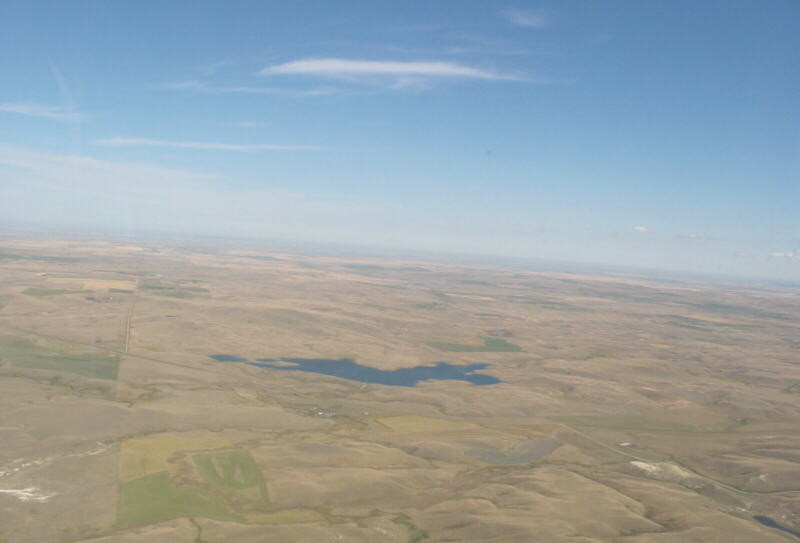 Eagle Butte crater area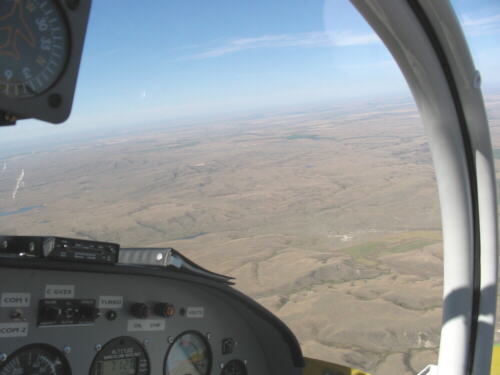 Eagle Butte crater area

Cypress Hills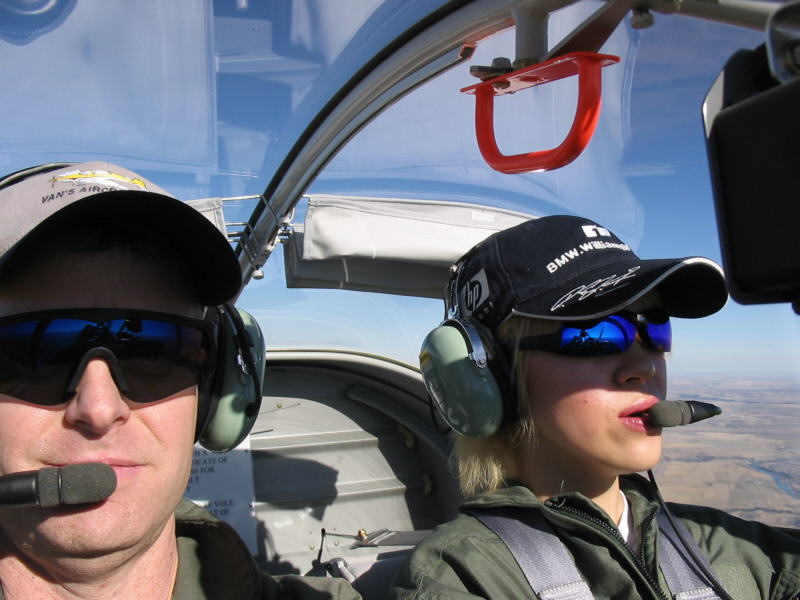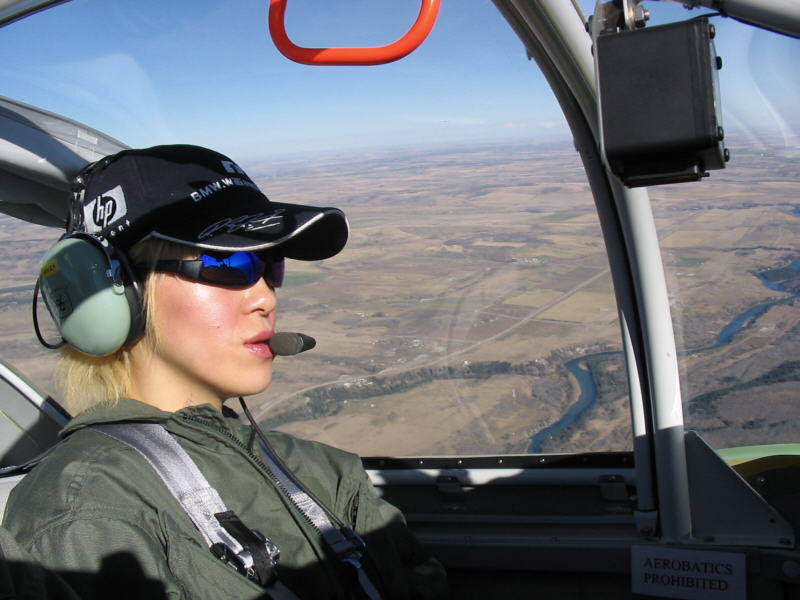 On the Oct. 4 weekend we flew up to Stettler, Alberta. The weather departing Springbank was closing in from the West as we left East. We had to stay down to 5500 for the trip due to low cloud. On arrival at Stettler, I was faced with a wicked crosswind of 15+ knots at 70-90 degrees to the runway. I did a low and over to evaluate the situation. On the second approach with the wing down about 20 degrees, I made a good landing sweating bricks. We tied down the aircraft and were about to call the taxi when John Wittwer showed up to check on the airport and offered us a ride into town in his welding truck. John is 82 years old and stills flies. A really nice fellow.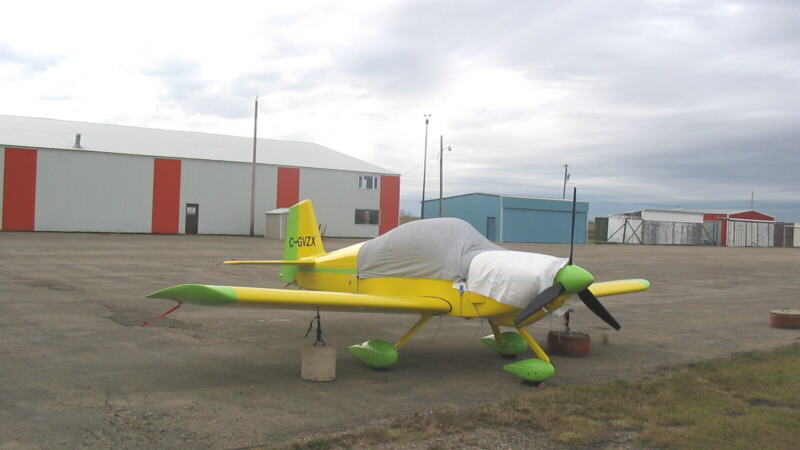 We checked into the motel and had a good meal at the Hong Kong Restaurant about a block away, again meeting some very friendly people there. The next day was severe clear and we headed out to take a tour on Stettler's Prairie train to Big Valley to the south. We traveled on a steam locomotive built in 1944 on track laid in 1912. There was onboard entertainment, a holdup and a buffet dinner at Big Valley.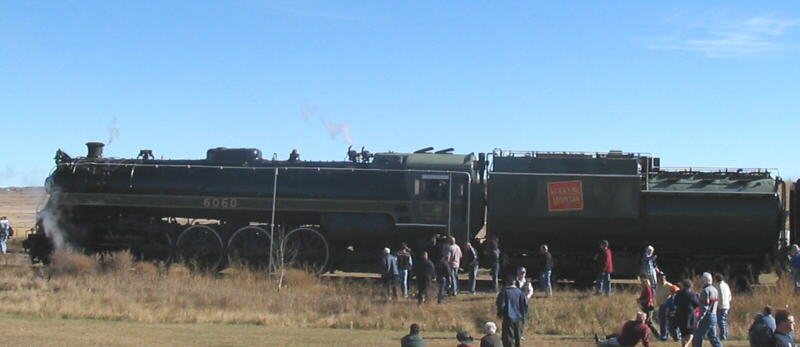 Locomotive 6060

Holdup with "proceeds" going to the Calgary Childrens Hospital
The next day was nice again and we unwrapped the RV6A for our trip back to Calgary. Stettler has a nice little terminal building, fuel, flying club and a 3000 foot runway. Just watch the crosswinds!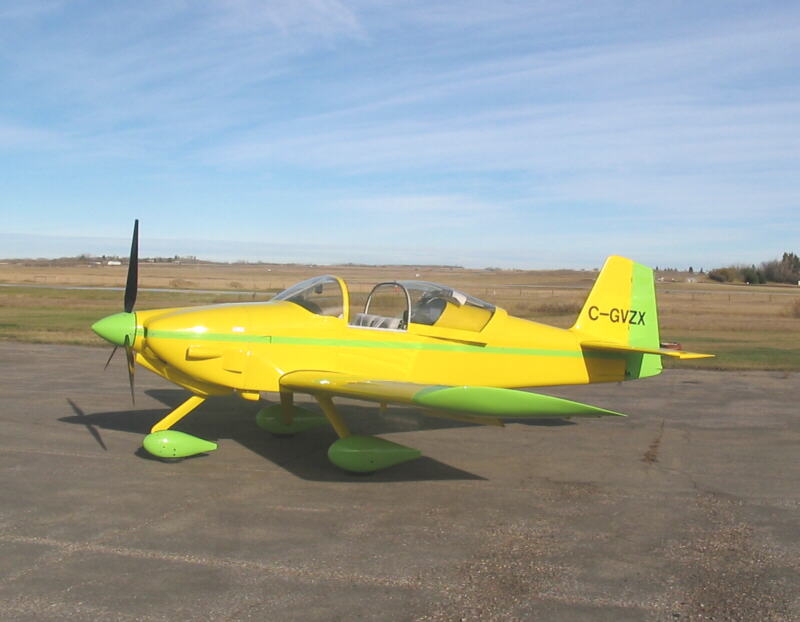 VZX at Stettler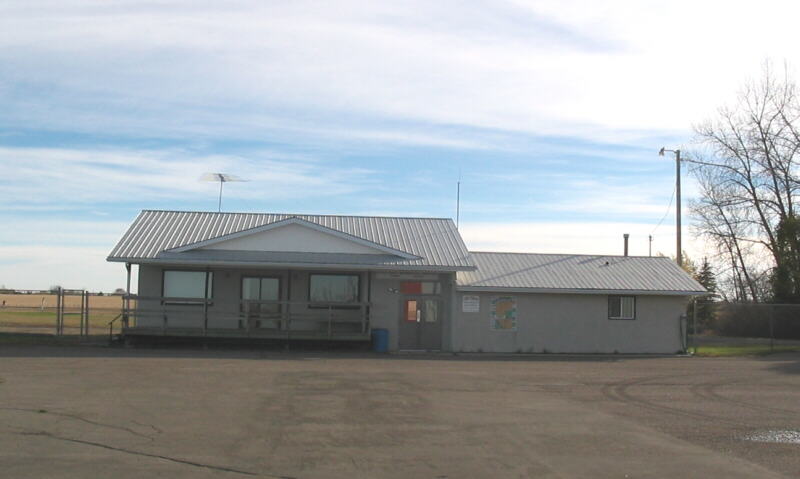 Stettler terminal and flying club building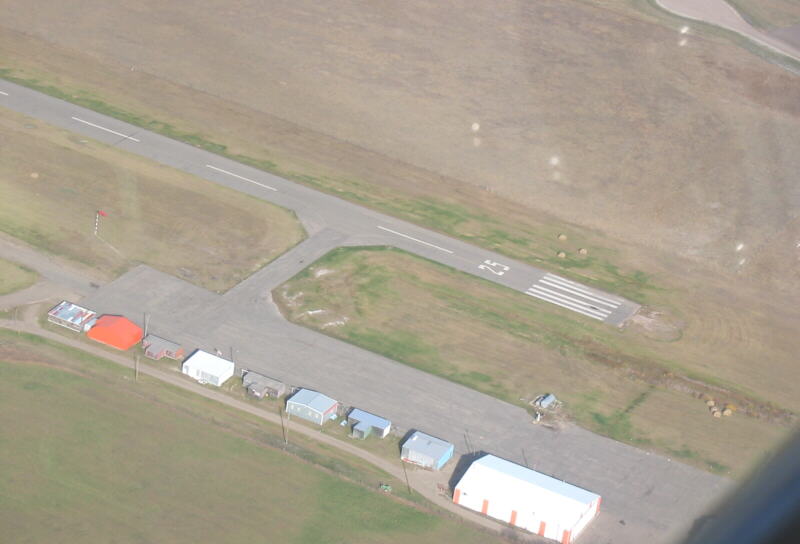 Stettler airport as seen overhead
We flew back to Springbank at 8500 feet with about a 10 knot tail wind for a change. The aircraft worked great after its first night stored outside. I feel bad about that especially as it had to endure a bit of light rain on Saturday night.
11/13/04
It was a gorgeous day for flying so I decided to fly down to High River to visit some flying friends and check out the numerous interesting projects at the airport. The sound of the turbo Subaru overhead brought a group of people out of their hangars to watch a rather poor landing on my part. People gathered around to check out the RV and I went to take a look of several new aircraft. An RV3 from up north landed as well as another unidentified homebuilt. Yet another RV9A ran up and took off while my friend Les Davenport wheeled his beautiful RV6A out of the hangar for a flight up north with his wife. Fritz Bortenlanger had his hangar door open with his RV8A and pristine, brand new F1 Rocket inside, preparing to run the engine for the first time. Later I wandered over to Dan Hawken's hangar to look at his SDS equipped, Suzuki V6 powered, Titan P51. The Suzuki sounds remarkably like a mini Merlin in flight and the aircraft looks great. All in all, a very enjoyable day with planes and friends and unbelievable weather for this time of year in Alberta, no wind, no clouds and +15C.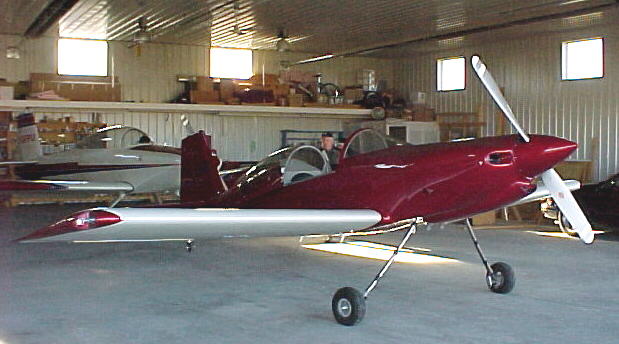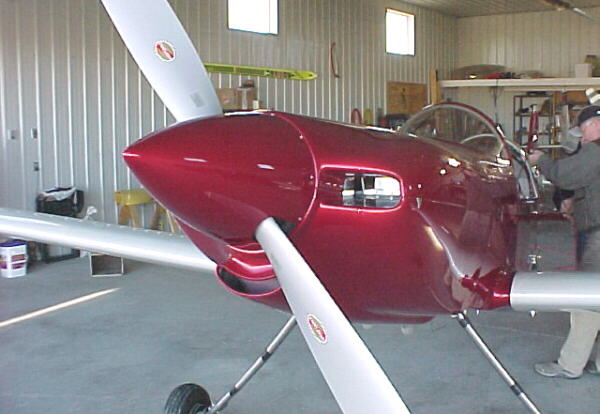 Fritz Bortenlanger's mint F1 Rocket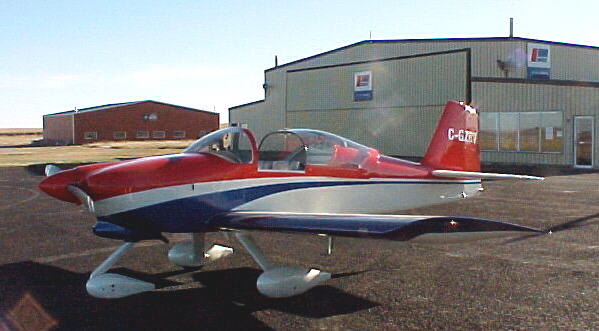 Les Davenport's RV6A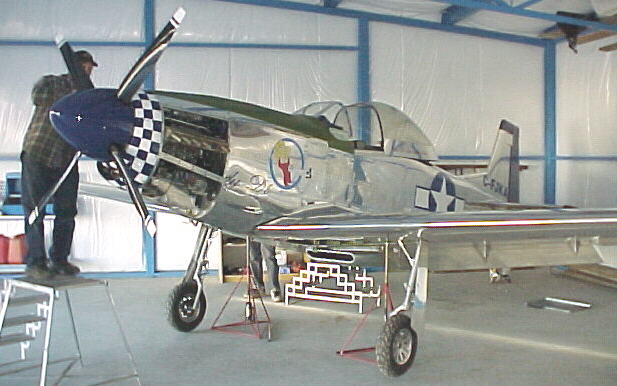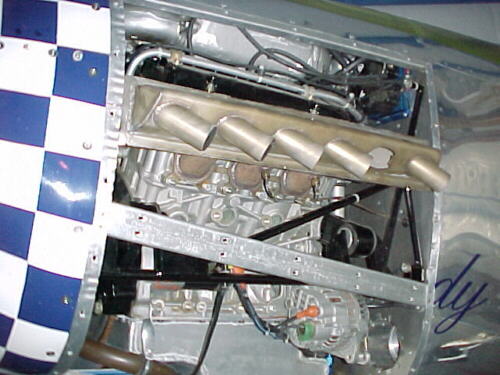 Dan Hawken's Suzuki V6 powered, Titan P51
11/22/04
We finally got a chance to run a side by side comparison between our RV6A and Les Davenport's Lycoming RV6A out of High River. The conditions were windy at the surface but smooth at altitude. John Farnham and Bob Harris came along to take photos. This was the most fun I have had in a while. We did climb and level flight comparisons between the 2 aircraft then talked about the flight afterwards in High River's terminal building. Read about the results and see more photos here: Performance Testing/ Handling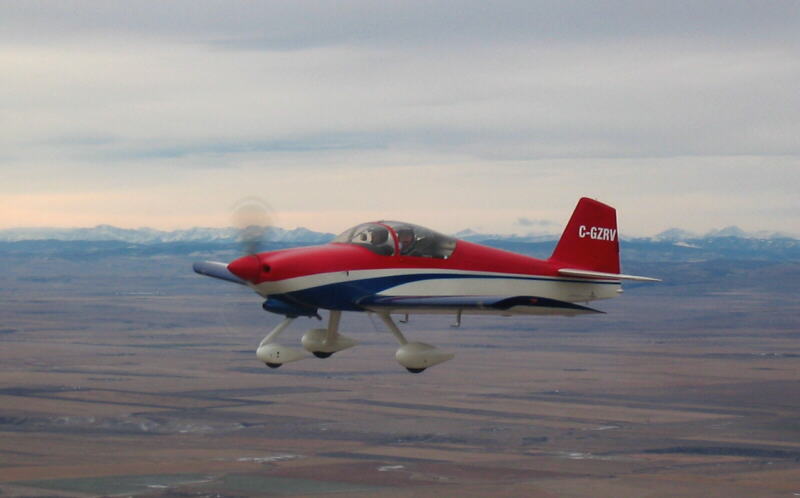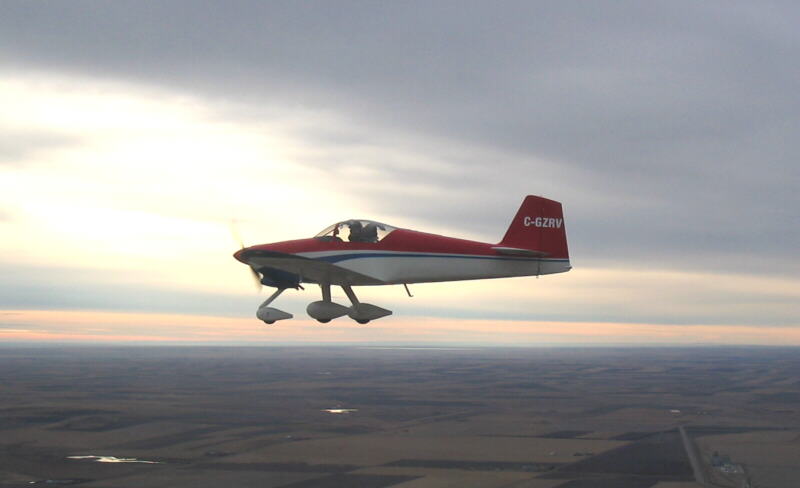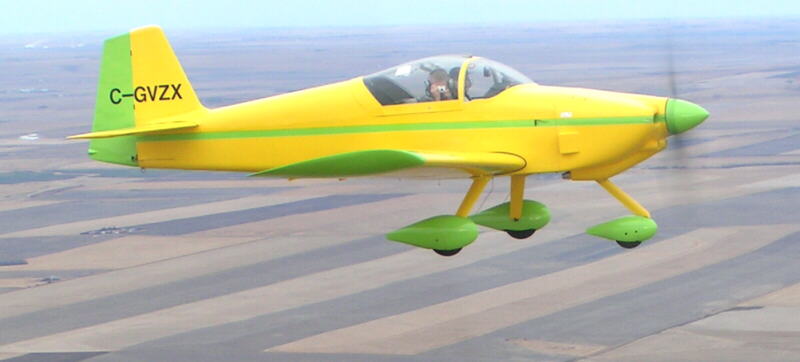 07/18/05
We attended the Vulcan fly in on Sunday July 17. About 30 aircraft flew in and over 300 people came to eat and look at airplanes.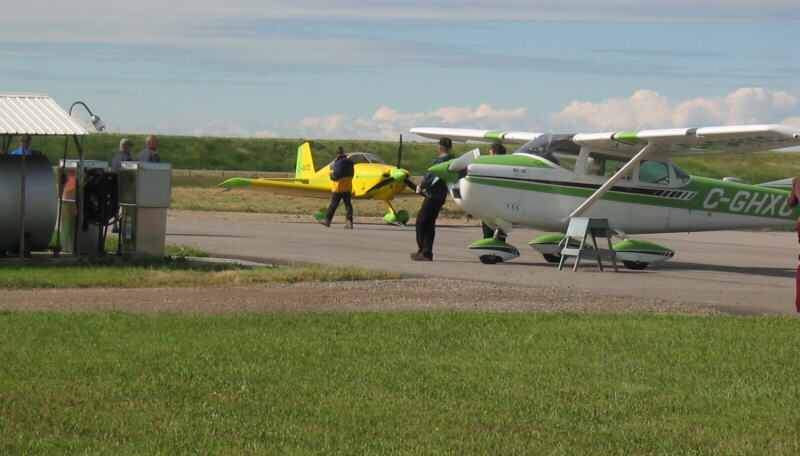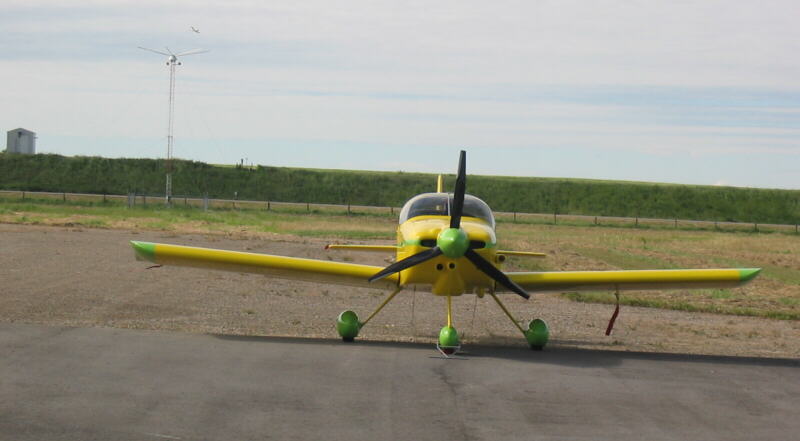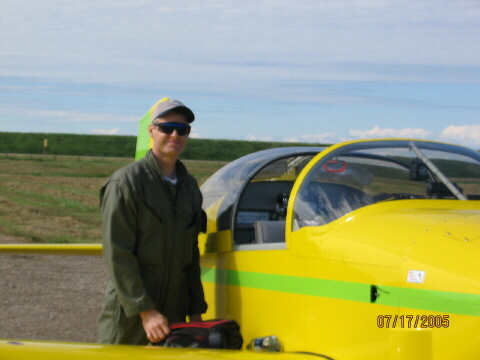 05/14/06
We flew up to Sundre, Alberta for their fly in breakfast. Turnout was excellent with over 100 aircraft coming in. Traffic was a bit on the busy side at times. Several RVs were in attendance plus two F1s. VZX always generates a lot of interest with the vivid paint scheme and Subaru engine. Took us an extra hour to extricate ourselves from all the curious people wanting to ask questions. Fun trip.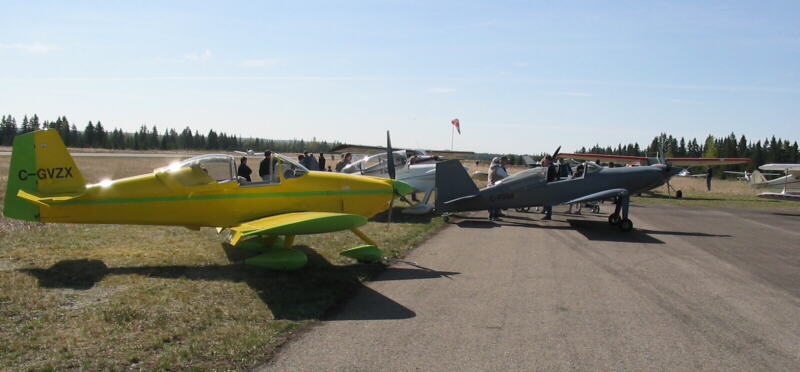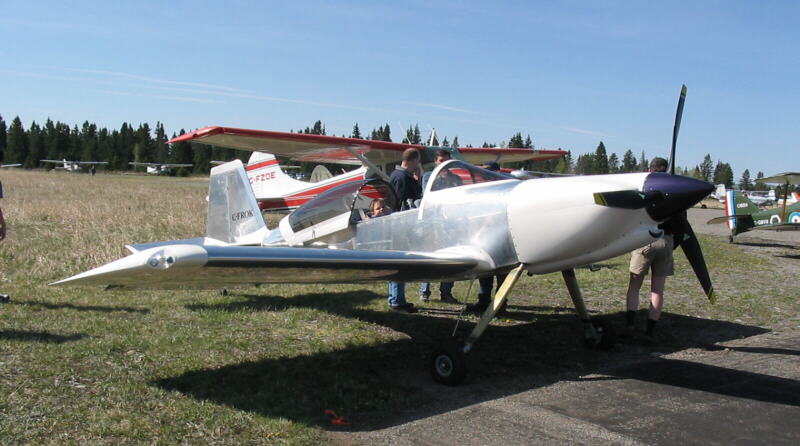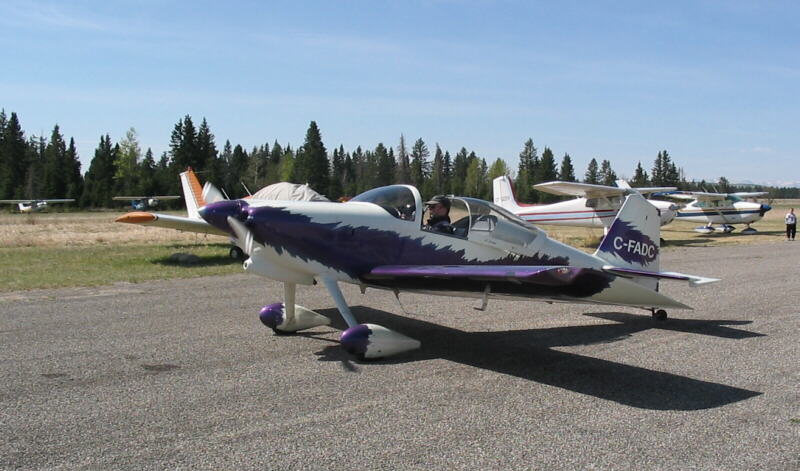 06/26/06
We flew up to Stettler to visit my friend Cam Andres who is building an RV9A with Sube power. What a nice day for flying and it was calm which almost never happens at Stettler.
07/07/07
We flew down to AJ Ranch for their annual fly in. Nice 4500 foot paved strip. Weather was overcast and about 20C and the ride was smooth. Cruising low at 5500 feet we were seeing about 140 knots GS. The turbo Subie whirring along at 4600 rpm and 25 inches. There were a few other RVs present plus a nicely restored Beech 18. Fun little short trip.

VZX parked in the grass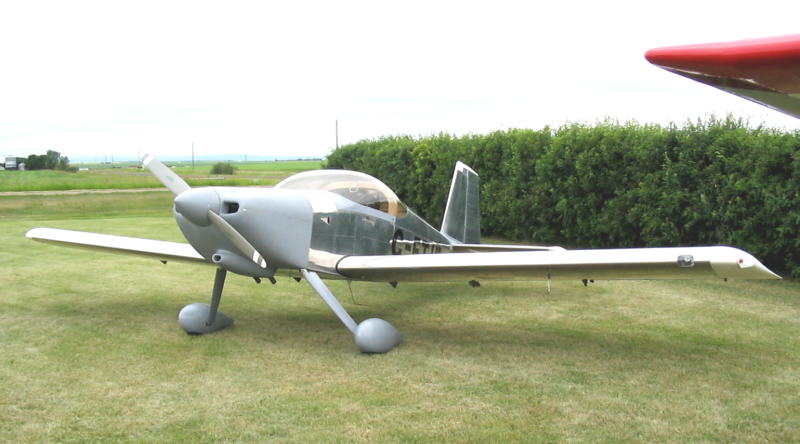 RV9 from High River

Beech 18 in RCAF markings

Low pass by Beech 18

Nice RV9A from Lethbridge area
09/04/07
We attended the Stettler fly in on Sept. 3. Over 70 aircraft and hundreds of people showed up. The weather was awesome.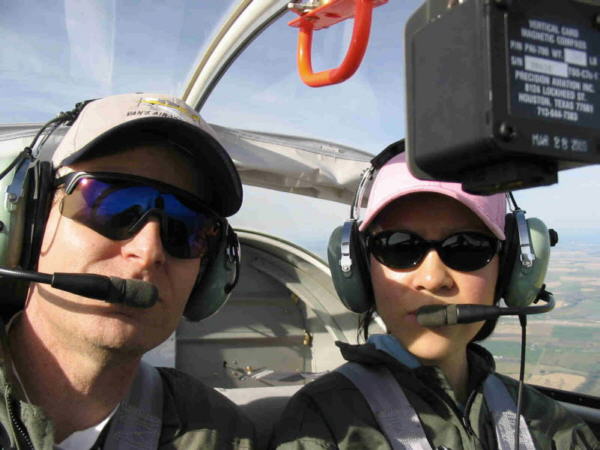 Enroute to Stettler
05/04/08
We took a trip to Cardston in Southern Alberta, not far from the US border.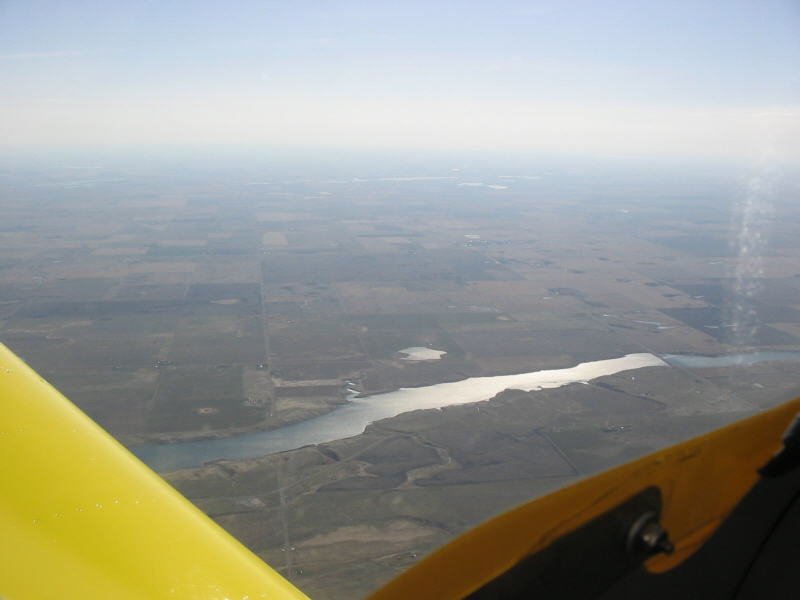 Enroute

My father and I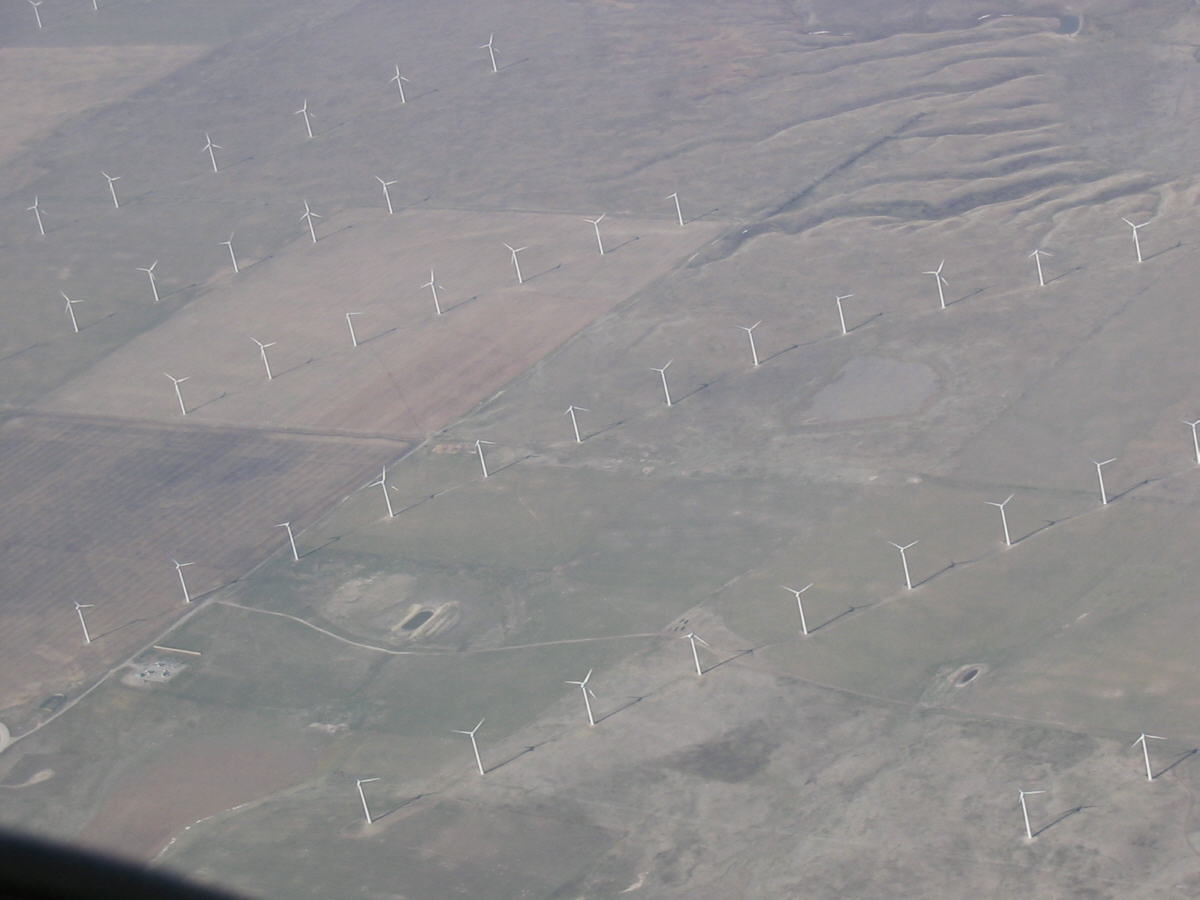 One of the many wind farms in this area
06/05/08
We took a trip down to Claresholm to visit a client and check out his aircraft. Claresholm is south of Calgary and near the foothills. It is the site of an old WW2 RCAF training base and my Dad took some of his flight training here in the late '40s. Many of the old hangars are still standing but in disrepair.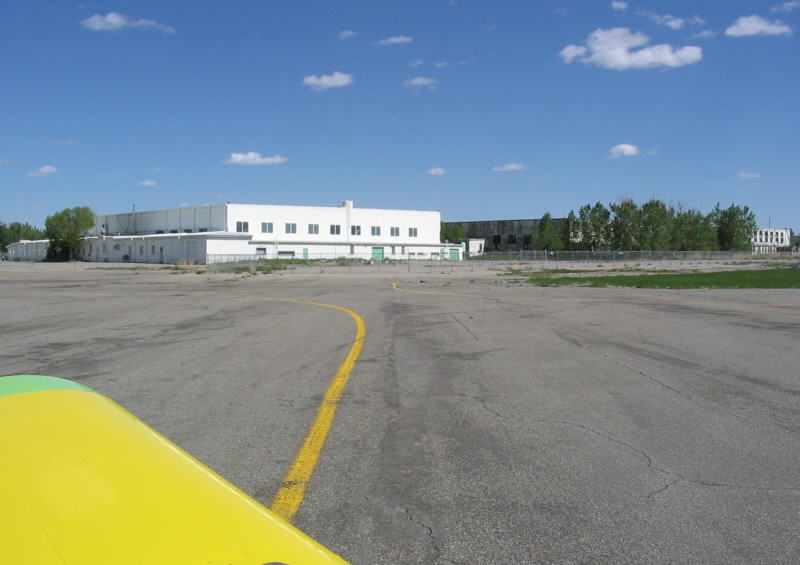 06/15/08
Father's Day. My Dad and I flew down to Claresholm again to do some slow flight and power off practice. We climbed up to 9500 MSL for the trip down. It was a smooth, sunny day with a spectacular view.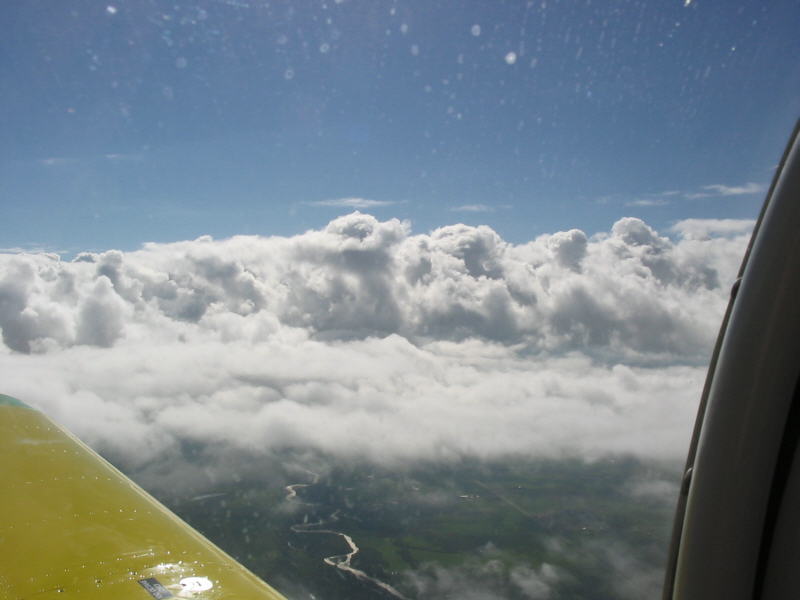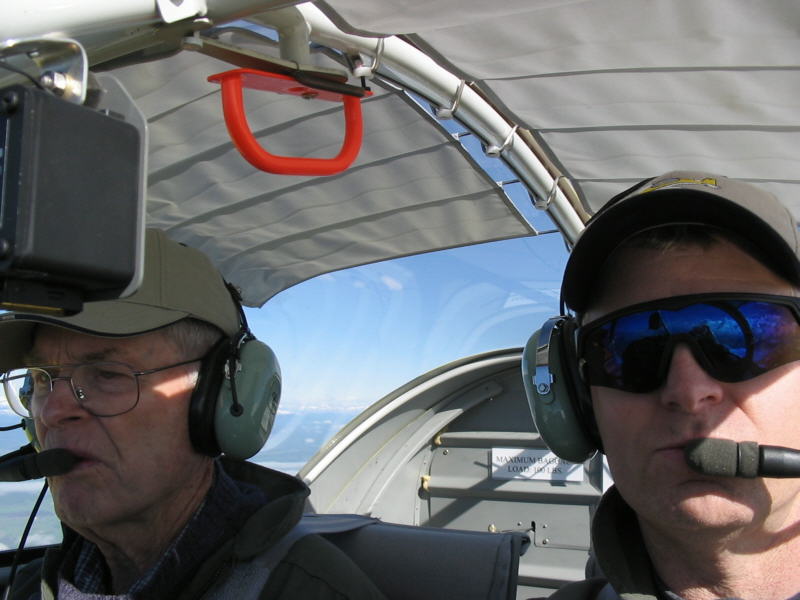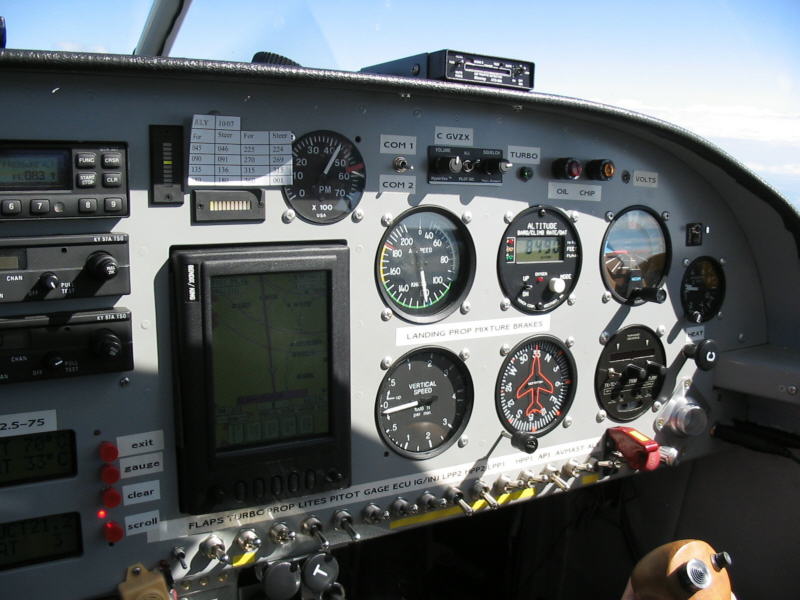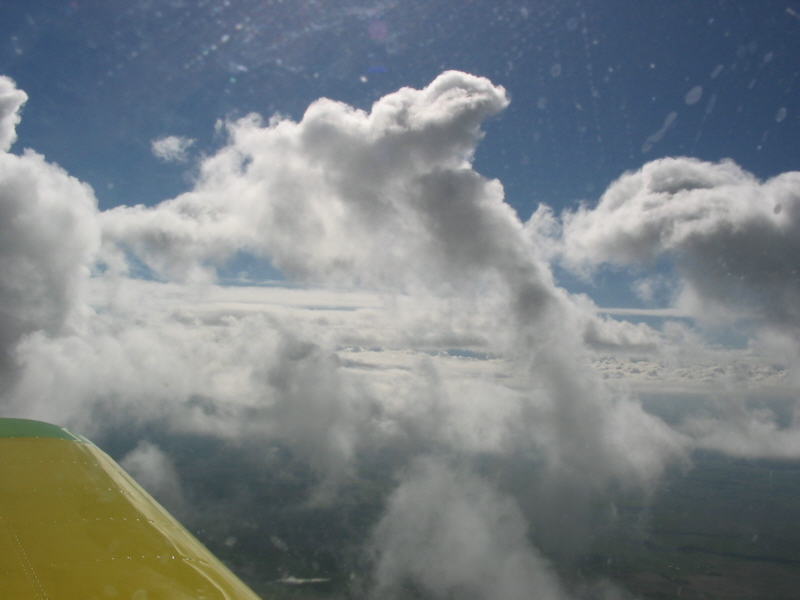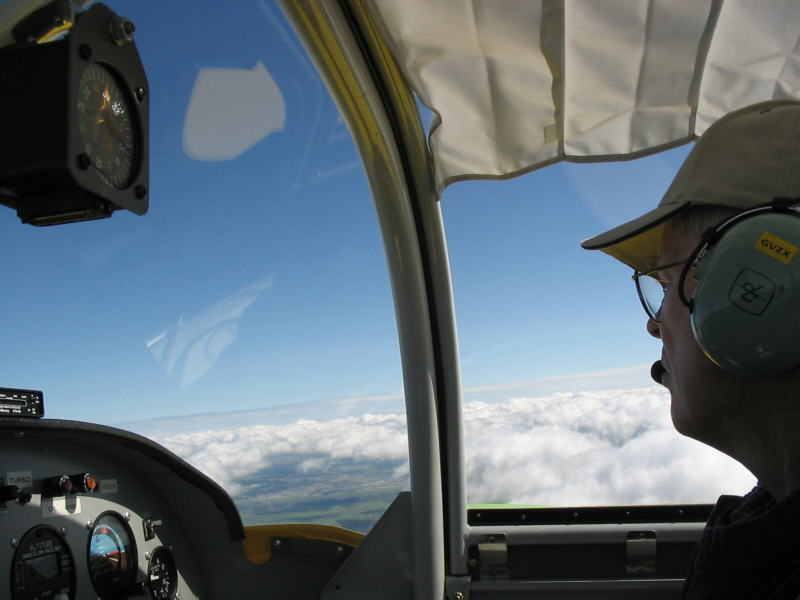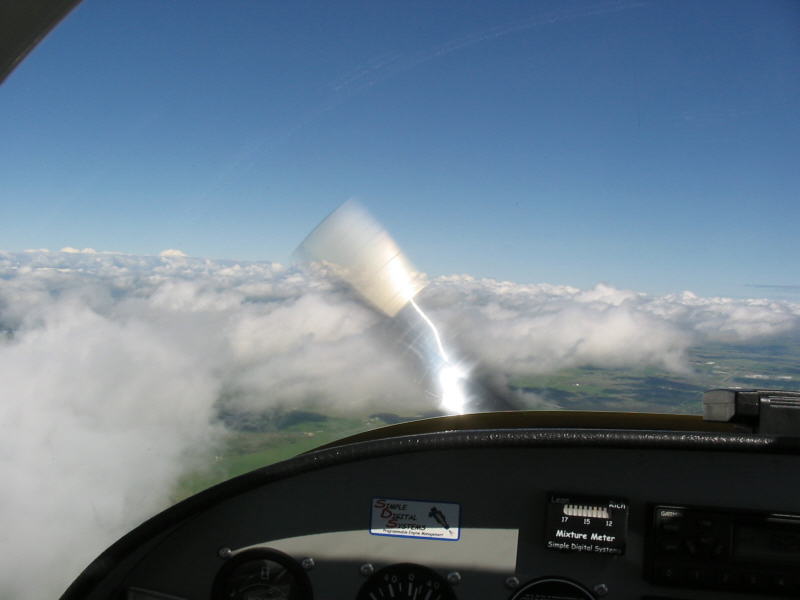 Reno 200809/17/08
The big trip to the Reno Air Races this year went off without a hitch. My father and I loaded up minimal baggage, survival kit, tie downs, control locks, canopy cover, tool kit and fluids for the trip. This limited fuel loads to about 30 gallons to stay under the 1750 pound gross weight limit. We figured on 2- 2.5 hour legs. We departed Springbank on Sept. 11 heading for Great Falls MT to clear customs. I was ready for the aft C of G as we were within 1.5 inches of the aft limit but it still required a gentle hand on rotation and climb. We arrived at Great Falls, cleared customs with no hassle, took on some fuel and made a short hop over to Helena to get a bit more for the leg to Idaho Falls.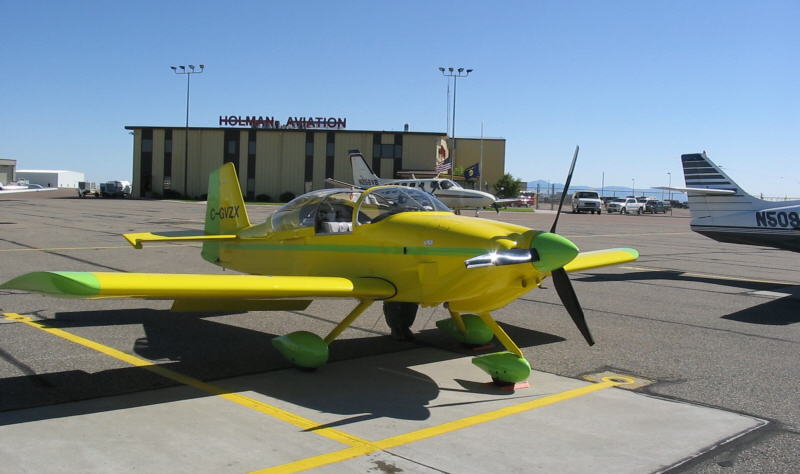 VZX at Great Falls, Montana

Enroute to Helena, Montana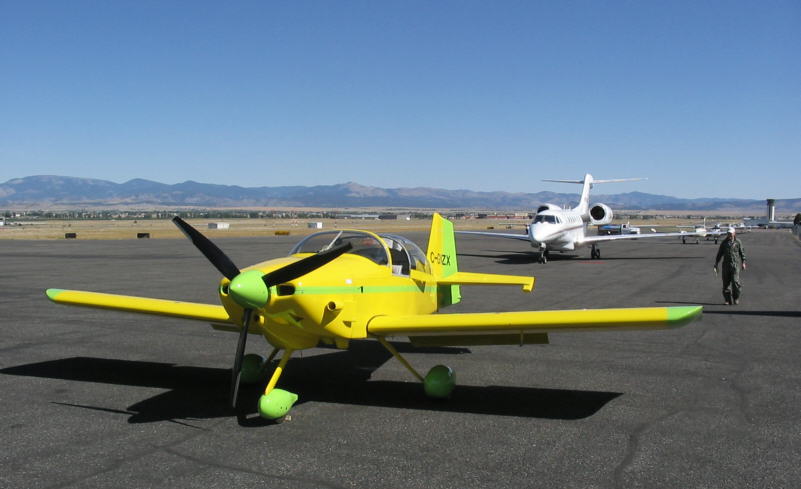 On the ramp at Helena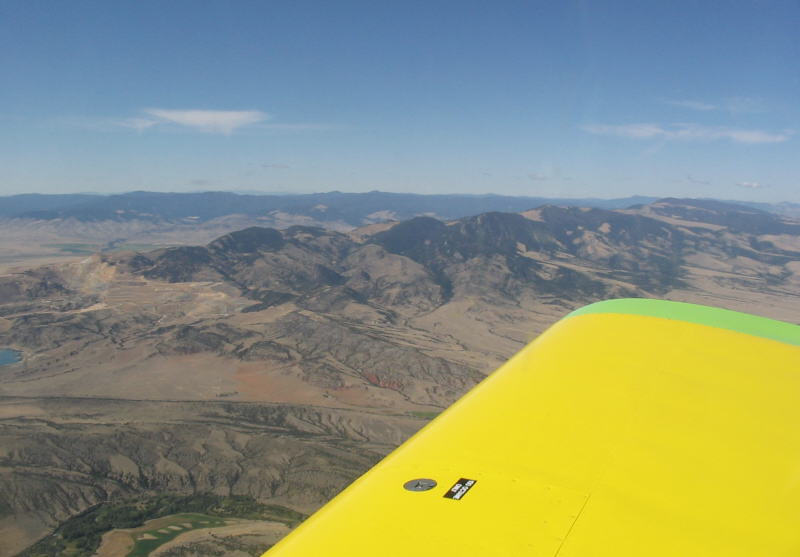 Enroute to Idaho Falls
The weather was simply awesome and we scooted over to Idaho Falls where we'd spend the night. VZX spent the night in comfort at Aero Mark's brand new hangar in the company of a P51 and some T6s. We got great service at Aero Mark.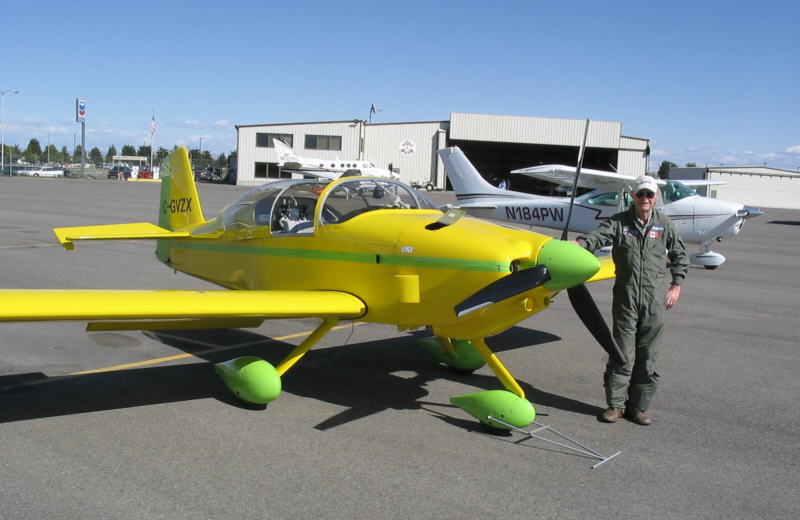 On the ramp at Idaho Falls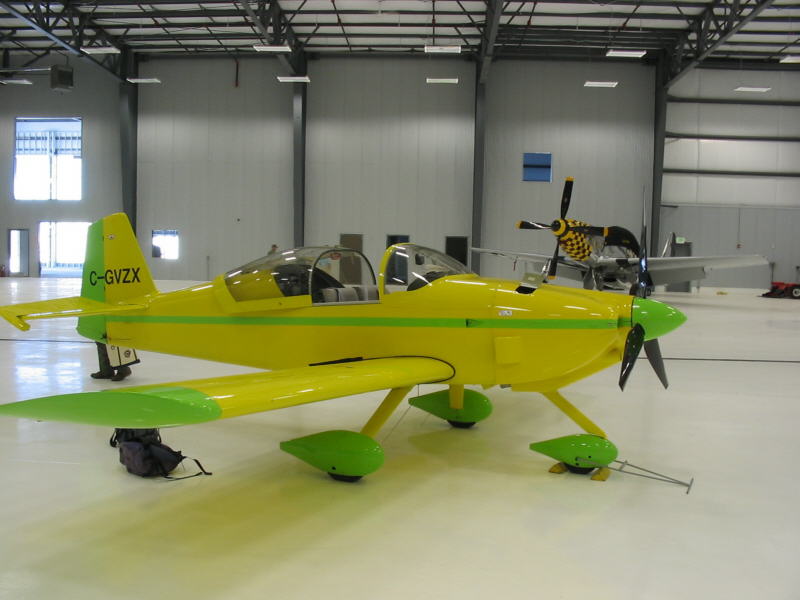 VZX spends the night in opulent comfort with a little friend
The next morning, we started off for Elko, Nevada, our next fuel stop. We found the American FSS and ATC friendly, helpful and cheerful. The trip out was mostly over roads. I'm chicken. We got fuel at El Aero in Elko. Again, really friendly service.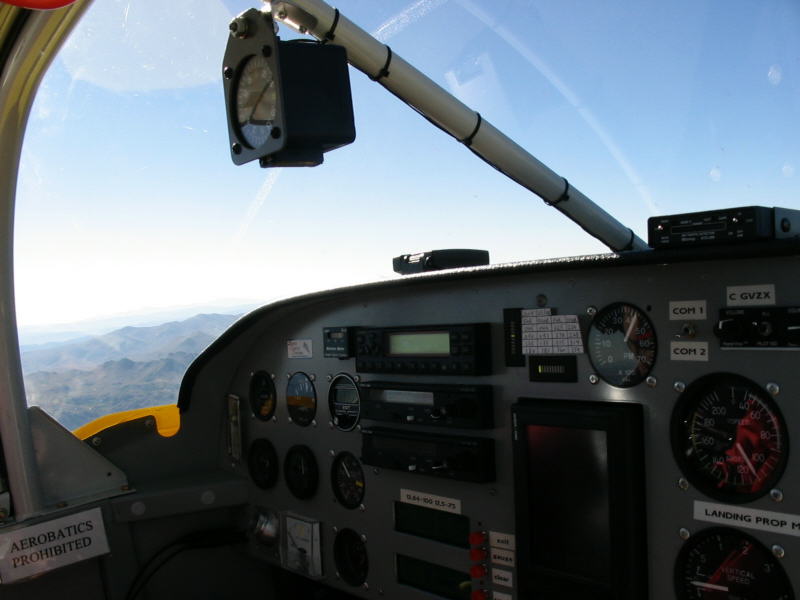 Somewhere over Nevada
The last stop outbound was to Carson City, Nevada to avoid the zoo at Reno/ Tahoe. I phoned VAF member Bill Abbott to try to arrange hangar space for VZX. He graciously offered part of his hangar but we opted for free tie down just outside the EL Aero FBO instead. Thanks Bill for your offer and sorry we did not hook up. We rented a car for an outrageous fee and drove into Reno to stay at the Peppermill.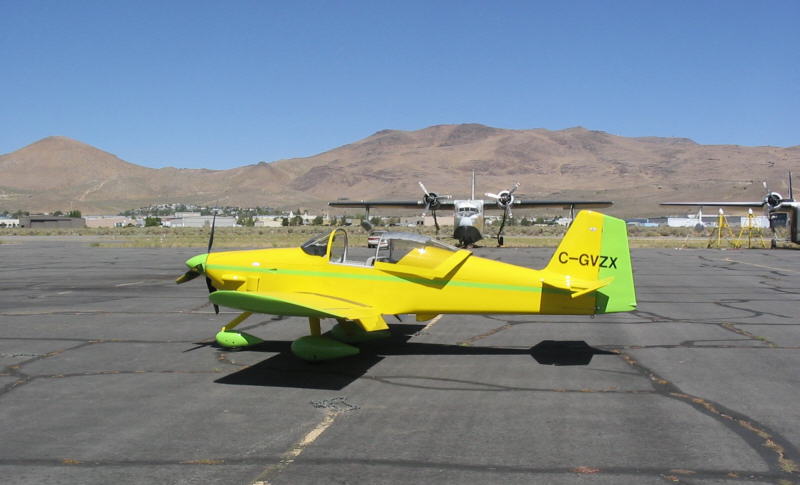 At Carson City
Once at Stead Field, we immersed ourselves in the sights and sounds. Our host was Mike Dacey running his Super Sport Questair Venture which he qualified second at 375 mph after Sharp who did an astounding 409 mph in the calm 72F conditions. I was offering some tech support to him as he was running our engine management system this year to great effect.

The Sport Class hangar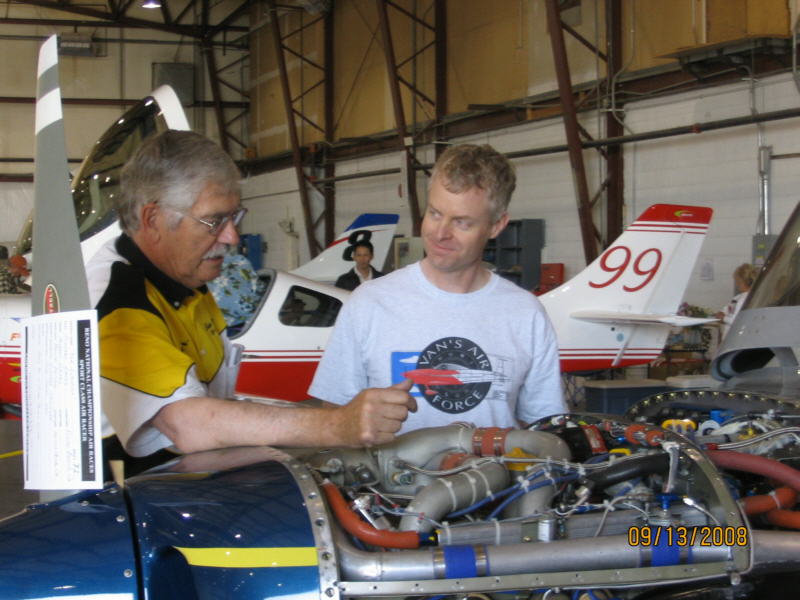 Crew chief Bruce Patton and myself talking nice to the big 775hp Conti. Notice VAF shirt.

Jon Sharp's Nemesis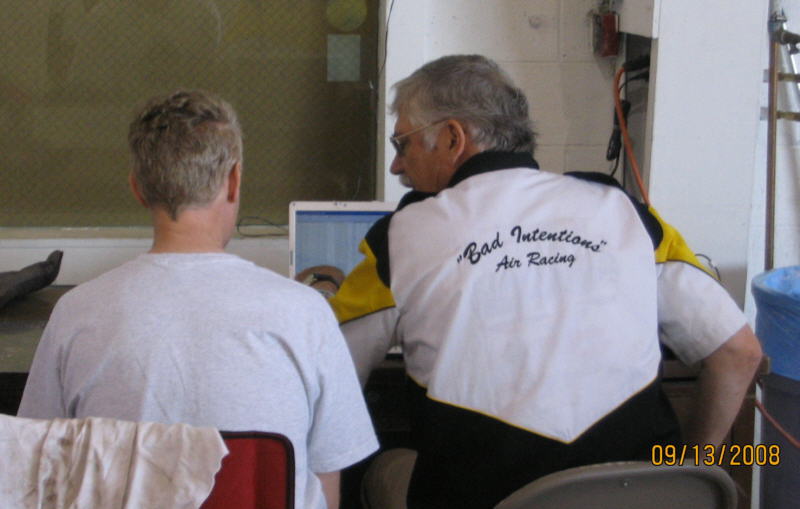 Looking over data logs to determine next step for more speed

SDS decal on the Venture. Moving Sport Class out of the dark ages of mechanical fuel injection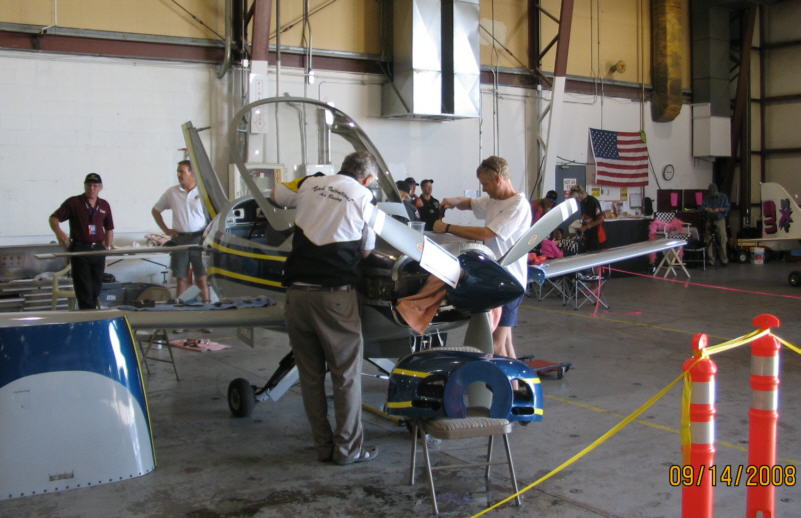 Doing a little wrenching on the Venture

Mike's Venture being pulled out for the Gold Race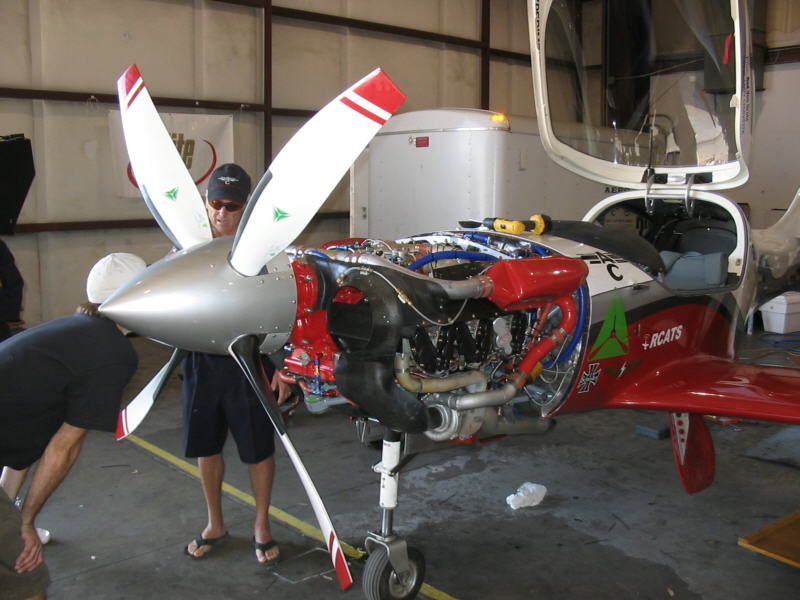 Race #33 Lancair Legacy powered by geared Continental. Race legend Daryl Greenamyer can be seen between the prop blades in the background.

The Trace turbocharged V8. Very nice.

A match made in heaven. Relentless and the Trace V8. A headache for Lycoming and Jon Sharp in 2009 perhaps.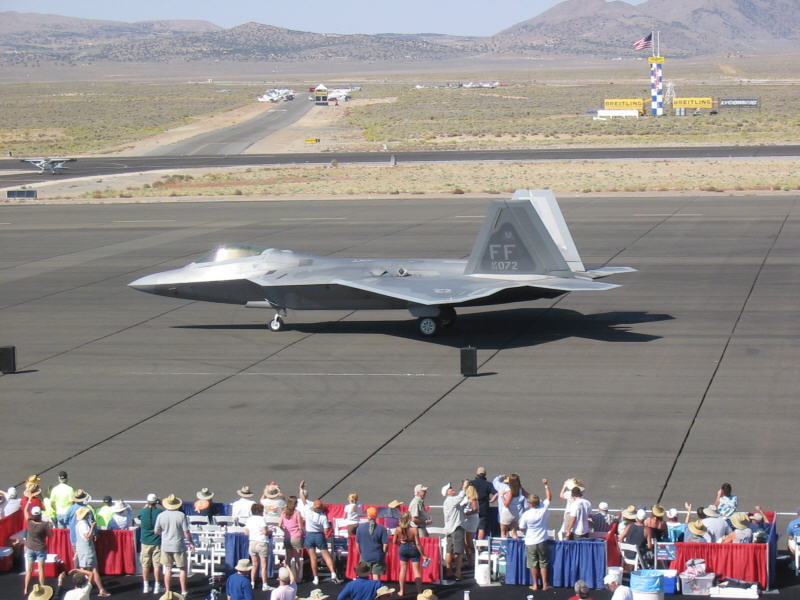 The F22 put on an amazing show.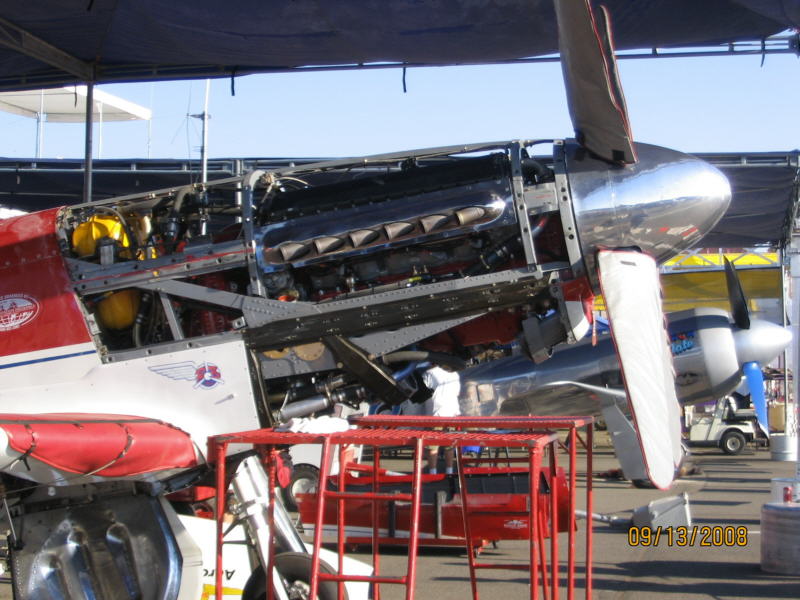 Strega's 4000 hp Merlin
The Gold Unlimited and Super Sport races were excellent and the atmosphere at Reno is amazing. Strega showed the radials who is boss again with Daga Red in 2nd. Sharp was amazingly fast and Nemesis sounded simply awesome. The conditions were very hot on Saturday and Sunday so speeds were down a bit from qualifying. We shared many great stories, met lots of great people, saw and heard the fastest piston aircraft in the world and our man Mike Dacey collected some money and hardware for his efforts. A great weekend all in all.
On Monday, we started our trip back to Calgary leaving Carson City early morning. We encountered an inversion layer about 500 AGL and cruised climbed to keep engine temperatures in check.

More Nevada mountains

Enroute to Elko
We landed at Elko for fuel again and then were off to Idaho Falls to stay the night. The air was smooth and weather severe clear. We followed the roads the whole way, adding a bit of flight time but increasing peace of mind. This part of Nevada is not a good place to have a forced landing!
The next morning we were off to Helena for our final fuel stop in the US. We hit another inversion out of Idaho Falls. Again, smooth air and a wonderful trip back into Canada. Canada Customs was hard to contact and upon return to Springbank, nowhere to be found. Another 20 minutes on hold to get permission to leave. Quite annoying. US customs by comparison were timely and efficient.

Home at last.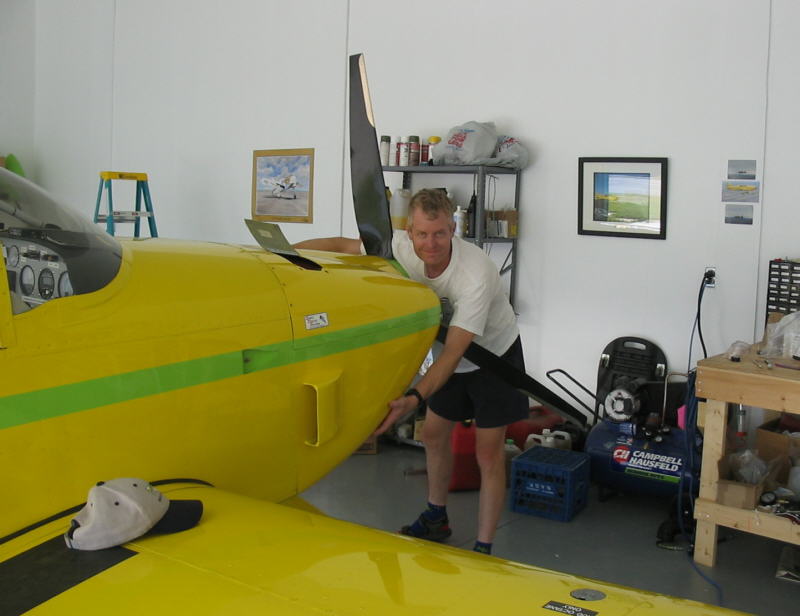 A big hug for the RV.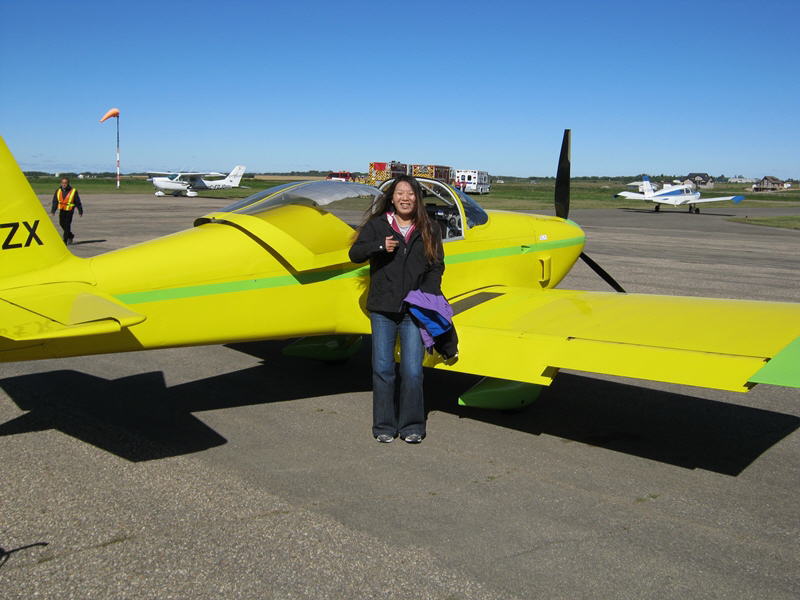 Yukari at Stettler fly in breakfast 2010