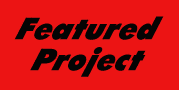 1985 Corolla GTS Turbo for Road Racing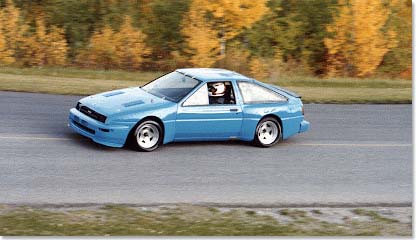 This car is owned by Remi Peterelli of Calgary, Canada.
Update 12/07/99
This car was raced in the Solo series at Race City in Calgary in 1999 and set the outright lap record for all cars, beating out all the V8 entries. This was with a smaller 1618cc engine running only about 13 psi boost.
It is powered by a 1702cc 2TC, pushrod, 2 valve engine which takes the place of the original 4AG engine DOHC 4 valve. The 2TC is fitted with Mahle forged 7 to 1 pistons, Racetech camshaft, Norris springs, ported head, prepped stock rods with Ford SPS bolts and HKS metal head gasket.
An equal length header mounts a Garrett TO3 turbo with a -60 compressor and .63 turbine section plus a custom fabricated wastegate. An open 2.5 inch mandrel bent exhaust system gets rid of spent gasses.
A custom fabricated intake manifold mounts 4 Bosch 036 injectors fed by a Bosch 954 pump and a 70mm Mercedes throttle body. Induction plumbing includes 2.25 inch mandrel bent tubing and a Spearco intercooler.
The engine produces 310 hp at 7200 rpm and 15 psi on 92 octane pump gas spiked with 15% methanol.
An EM-1D handles the injection chores with stock Toyota ignition components firing the NGK plugs through NGK wires. 35 degrees of timing are run with no retard.
Drive is handled through a modified iron cased W-50 tranny, Nissan 200mm clutch and solid metal disc. This feeds torque to a 6.7 Toyota diff with TRD limited slip and 4.1 gears. Both the tranny and diff are fitted with coolers.
Brakes are JFZ all around and the custom body work covers Goodyear 15 inch slicks. Modified rod end suspension all around with custom sway bars keep things on an even keel and a fully integrated roll cage keeps things safe.
The excellent aerodynamics of the Corolla combined with the high power to weight ratio give many V8 powered cars a lot of trouble on the long straight at Calgary. Indeed, even turbo Porsches and highly boosted Supras have fallen victim to this "old technology".
Racetech Home Page: www.sdsefi.com
---
| Home Page | Product Specifications | Programming the SDS | Price List |
| Dealer List | Tech Page | Project Page | EIC | Digital Boost Controller | Aircraft |