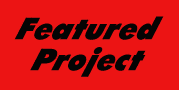 June '97 Project 1985 Toyota Corolla GTS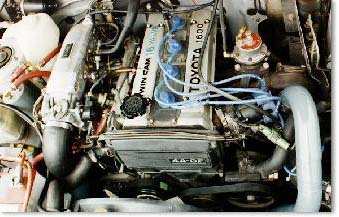 Turbocharged 4AG Engine
This car is owned by Ross Farnham at Racetech.
Power comes from a stock 1600cc 4AG engine fitted with a Garrett TO3 turbo featuring a -60 compressor and .48 turbine. The turbo is attached to a custom tubular header along with an external Rajay wastegate. Exhaust is a custom 2.25 inch system with Turbosonic muffler.
A Spearco intercooler core with custom fabricated tanks and 2.25 inch mandrel bent plumbing channels air to a stock throttle body. Fuel injection, ignition and TVIS operation are handled by an SDS EM-2E.
Injectors are Nippondenso 440cc units. Fuel is delivered by a Walbro in-tank pump feeding a surge tank which feeds a Bosch 984 pump. Boost is held to 7 psi for clutch and drivetrain longevity not to mention detonation concerns with the stock 9.4 to 1 compression ratio. Fuel is 92 octane pump gas spiked with 10% M-85. Timing under boost is 30 degrees with no ignition retard.
Other mods include cut stock springs, 15x7 Prime alloys mounting 205 and 225 ZR50 radials front and rear respectively, KYB shocks and Metal Master pads. Paint is two tone grey and black Glasurit. All decals are removed.
This car is a daily driver and has stock reliability which means maintenence consists of changing the Mobil 1 oil regularly.
With the Vericom in place, the car turns 14.86 @100.2 mph, 0-60 in 5.95 seconds, pulls .931 G under braking and .960 G in constant state cornering with transients to 1.187 G.These tests were done at a temperature of 74 degrees and 3600 feet above sea level. Calculations show about 195 hp on tap.
VTEC Hondas, Mustangs and 300ZX twin turbos have all been unsuspecting victims of this low boost, unported, stock weight, 1600cc Toyota.
Racetech Home Page: www.sdsefi.com
---
| Home Page | Product Specifications | Programming the SDS | Price List |
| Dealer List | Tech Page | Project Page | EIC | Aircraft |