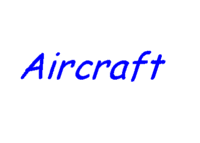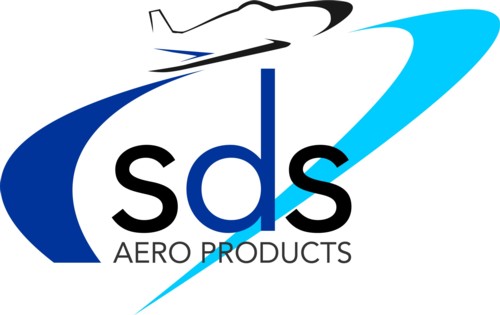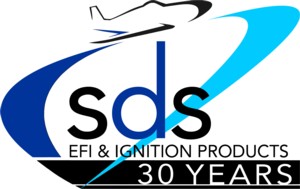 Superior Design= Superior Performance

Phone 403-671-4015
E-mail:racetech1@telus.net
Last update July 31/23/23
EFI/EI for Lycoming 4 Cylinder Engines
If you're tired of poor hot starting and rough idle with your mechanical fuel injection system, now there's a better way. Bring your Experimental Lycoming engine into the 21st century with modern electronic controls
---
We supplied our first Lycoming EFI system for an O-320 back in 1997 and as of 2022, have supplied hundreds of ECUs and complete kits for these engines. Collectively, SDS ECUs have accumulated over 900,000 flight hours- more than all other programmable ECUs combined.
---

Basic components of dual EM-6 4F EFI aviation system for Lycoming 4 cylinder engines. No wiring shown here.
---
Please be aware that there are numerous variations among Lycoming engines themselves and clones versions as well. Some parts may not fit or may have to be modified in certain cases.
---
Ordering
To place your order, it's best to email or phone us to discuss your project as each system is custom made and tailored for each client. We'll get a list of all your details, discuss wiring lengths, colors, options etc. and then quote you. You then pay by Visa or Mastercard, wire transfer or E-transfer for Canadian customers.
Phone 403-671-4015
E-mail:racetech1@telus.net
---
Approximate System Weights and Pricing
Four cylinder fuel and spark control, single ECU, twin coil packs, dual pump module, throttle body, injectors, regulator etc.- 15.5 pounds- $4969US
Four cylinder fuel and spark control, dual ECU, twin coil packs, dual pump module, throttle body, injectors, regulator etc.- 17 pounds- $6150US
These prices don't include options listed below
Weights above include all wiring and sensors. Does not include spark plugs or plug wires. Weights can vary with harness lengths and coil mount choices. Prices are approximate for parallel valve engines and can vary with options ordered. Angle valve systems are slightly more expensive. Please email us for an exact quote- E-mail:racetech1@telus.net
A comparison weight for traditional carb, fuel pump and mag parts on a 360 Lycoming is about 17.5 pounds. About 19 if the mag gears are removed.
Optional items:
Individual cylinder fuel trim $300
Card data logging $200
Digital fuel flow output to engine monitor $100 (eliminates Red Cube mechanical flow transducers)
---
Information We Need When Placing an Order
Engine type- size and whether narrow or wide deck
Airframe
Front case bolt spacing (Lycoming) Either 3.25 or 3.50 inches
Fuel block type (top case or baffle mount)
Coil mounts desired, see photos below
Wiring harness lengths and for us to terminate FF end or not
Single or dual ECUs
Horizontal or vertical induction (Lycoming)
Desired options (fuel trim, fuel flow output, data logging)
Long or short reach spark plugs (Lycoming angle valve engines)
Fuel pump type (finger type or Lear rotary type). This is for cover plate type supplied
Programmer type desired- 6.25 X 1.47 rectangular or 3.125 round
Engine type IO-390 or IO-390 EXP119 for throttle body size
Fuel filter options (fuselage or wing root mount)

Please note, some 4 cylinder Lycoming engines with aft facing throttle bodies use a wider bolt spacing and require a different throttle body. Please measure your bolt spacing if you have an aft facing one.

To place your order, it's best to email or phone us to discuss your project as each system is custom made and tailored for each client. We'll get a list of all your details, discuss wiring lengths etc. and then quote you. You then pay by Visa or Mastercard, wire transfer, E-transfer for Canadian customers.

Phone 403-671-4015

E-mail:racetech1@telus.net
---
Engine Component Deletions With EFI When Ordering New Engines
When replacing legacy mechanical injection, carbs or mags with EFI/EI, you may want to delete items no longer required. Thunderbolt and certain engine builders will delete these items and take them off the price of a new build. Below is a list of parts not required when fitting SDS EFI:
1. Mags, ignition harness, spark plugs
2. Servo, flow divider, lines, injectors
3. Carb
4. Fuel pump and pushrod
5. Flywheel. (Note that some new Lycoming flywheels may lack the 12 tooling holes which we use to mount the magnet drilling block to).
Your factory Lycoming flywheel must measure 9.75" OD where the belt groove is. Smaller flywheels measuring around 8.5 inches OD are not compatible. It must also have the 12 tooling holes as shown below to be able to be drilled for our magnets. If it doesn't have these holes, you'll need to get one that does or buy our billet flywheel.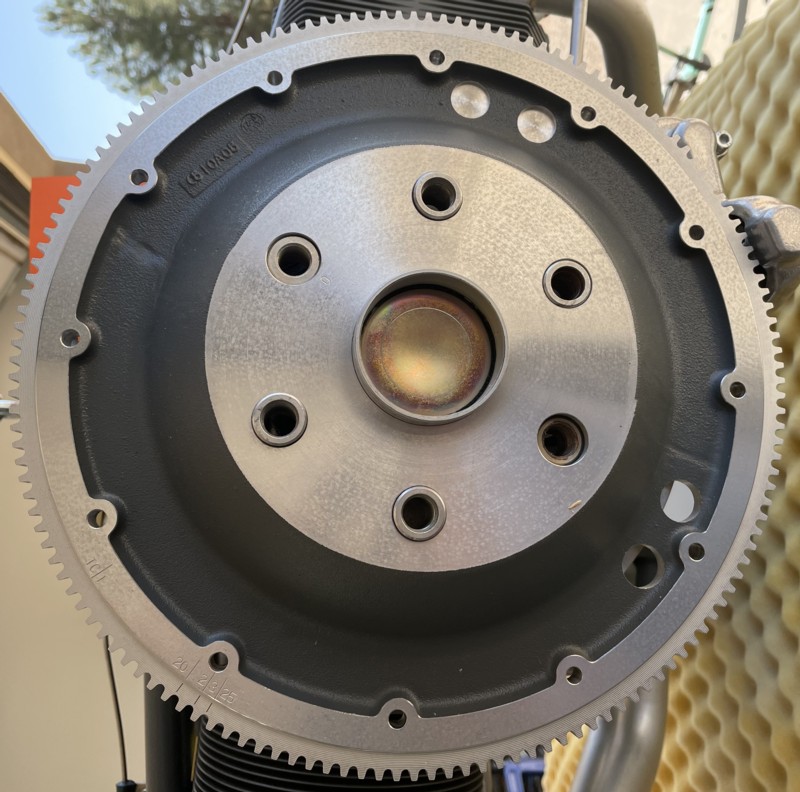 ---
See Our Billet Flywheels and Valve Covers Here:
SDS Aero CNC'd Components
---
SDS Informational Videos
---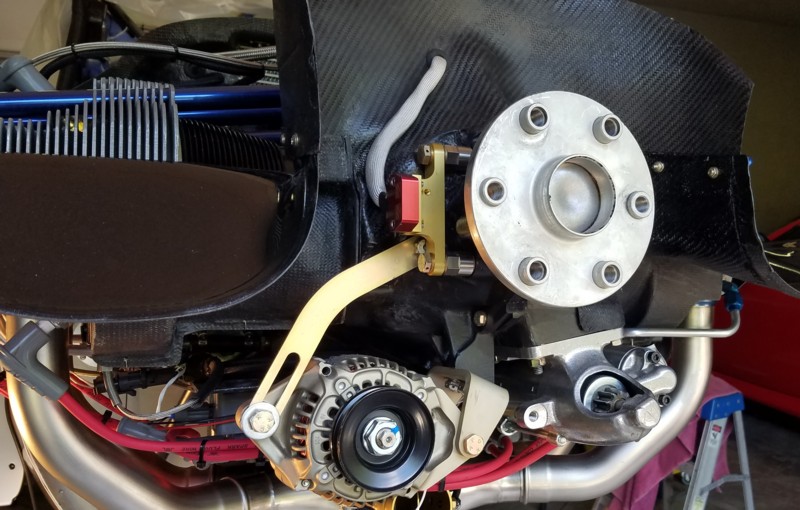 Photos of Paul Wolff's super clean Carbon Cub installation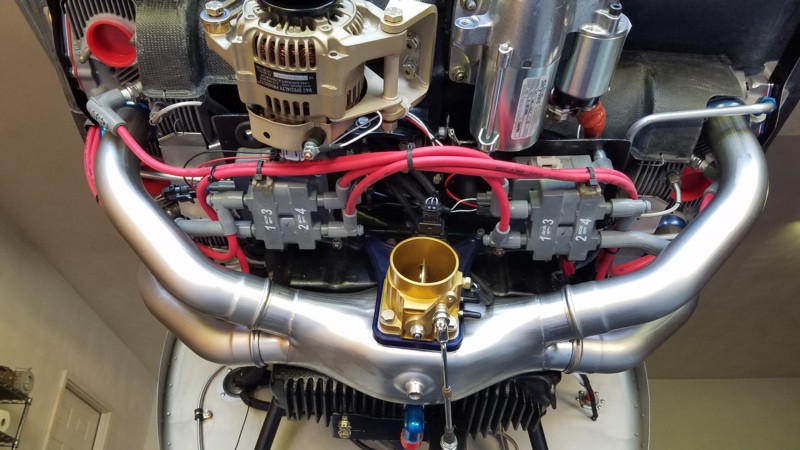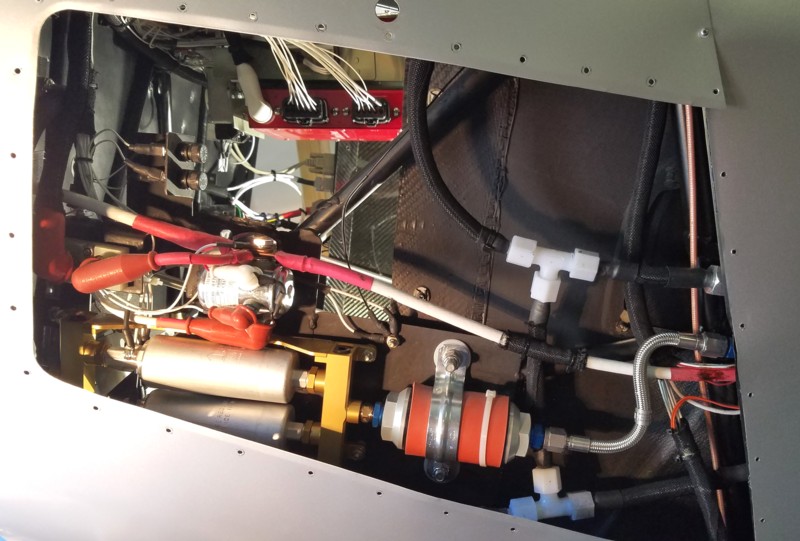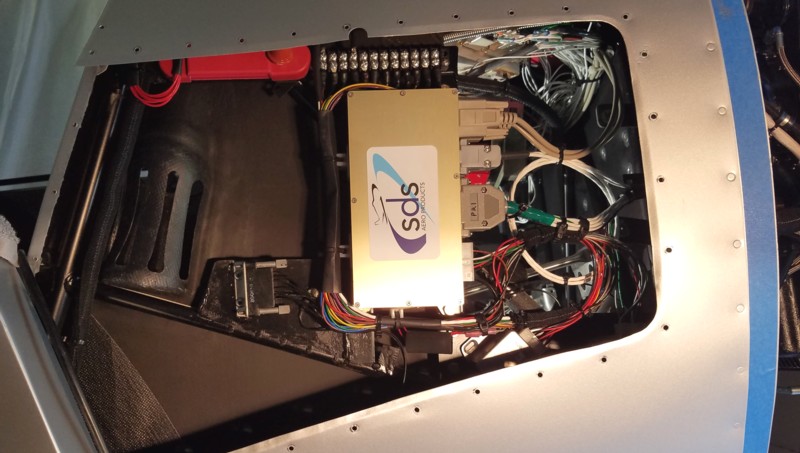 ---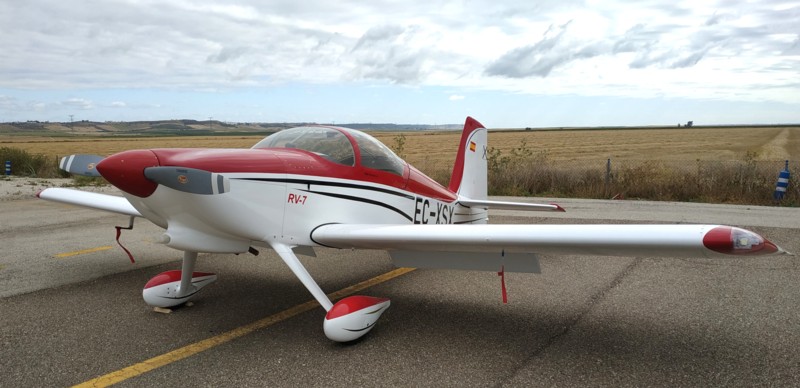 Rafa Navarro's beautiful RV-7 in Spain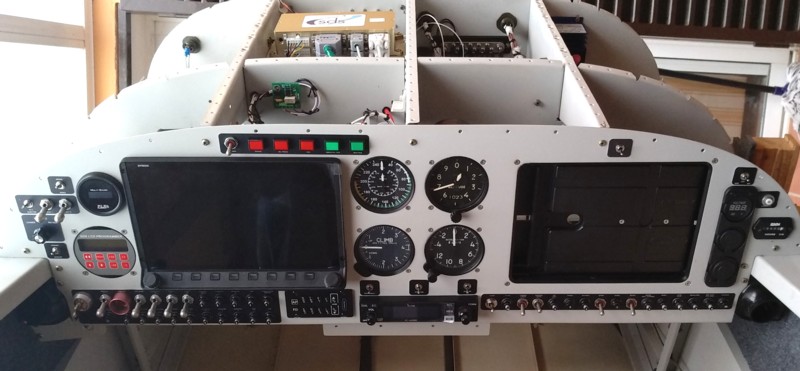 ---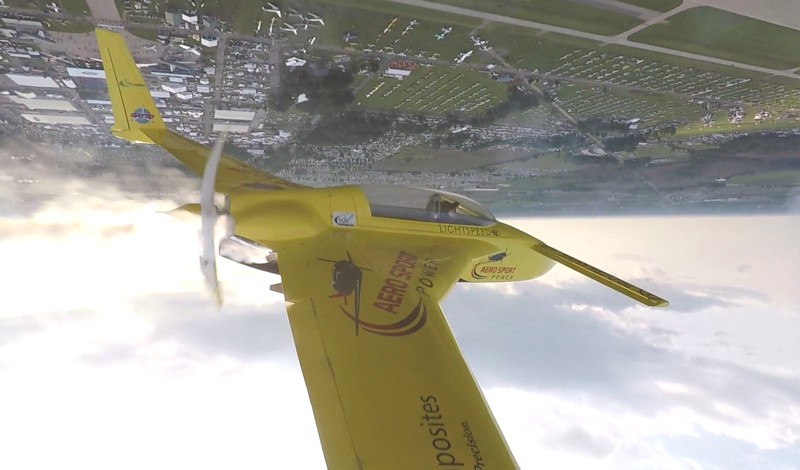 Kyle Fowler performing at Oshkosh 2019
Some photos of the dual EM-5 installation on Kyle Fowler's Long-EZ: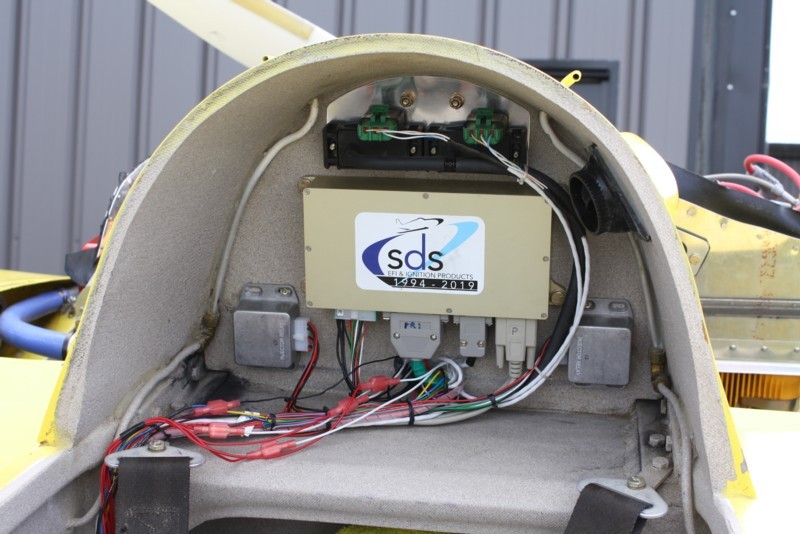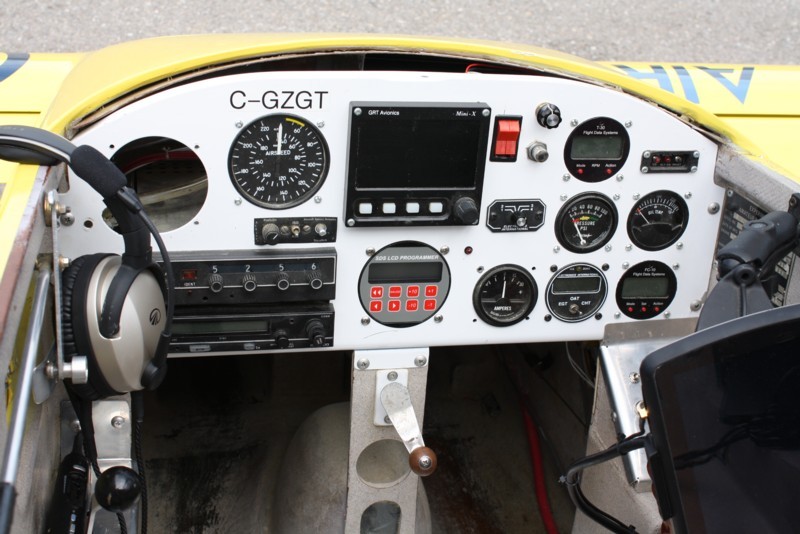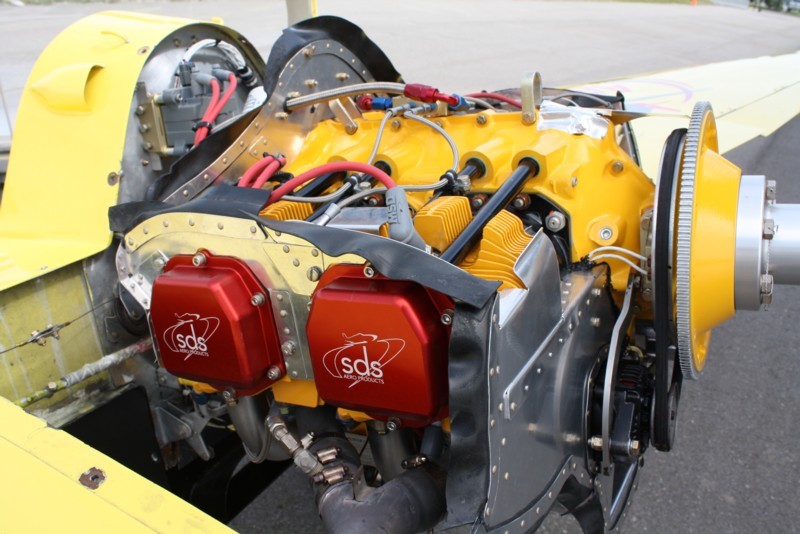 See more photos and information here: kylefowler.htm
---
Please note: our magnet mounting system for Lycoming engines is not compatible with the Sky Dynamics lightweight flywheels, some new Lycoming flywheels lack the 12 tooling holes around the periphery or factory dual pulley groove flywheels. We do have a solution for Airflow Systems aftermarket flywheels for driving a/c compressors.
---
Installation photos on Jim Corner's Kitfox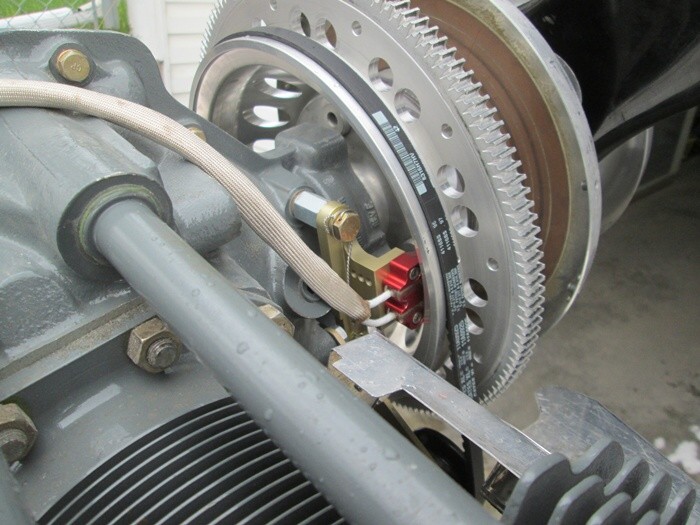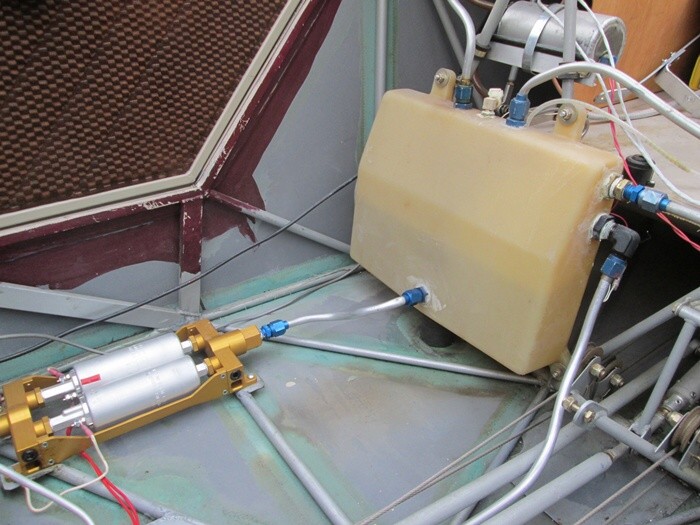 Video on 360 Lycoming running on a Kitfox
---
Reno 2019
Mark Frederickson took the Medallion win.
YouTube video: https://youtu.be/fXeNMIz_ysw
---
Lee Ulrich took his turbo RV-7 to 254 mph at Reno this year and won the Bronze race. Congrats Lee!
Video: https://youtu.be/-QyMmHi76AE
---
Reno 2017
Mark Frederickson took his O-320 powered Lancair to the Medallion win in 2017 using a dual SDS EM-5 system for fuel and spark management. Fantastic accomplishment in his rookie year.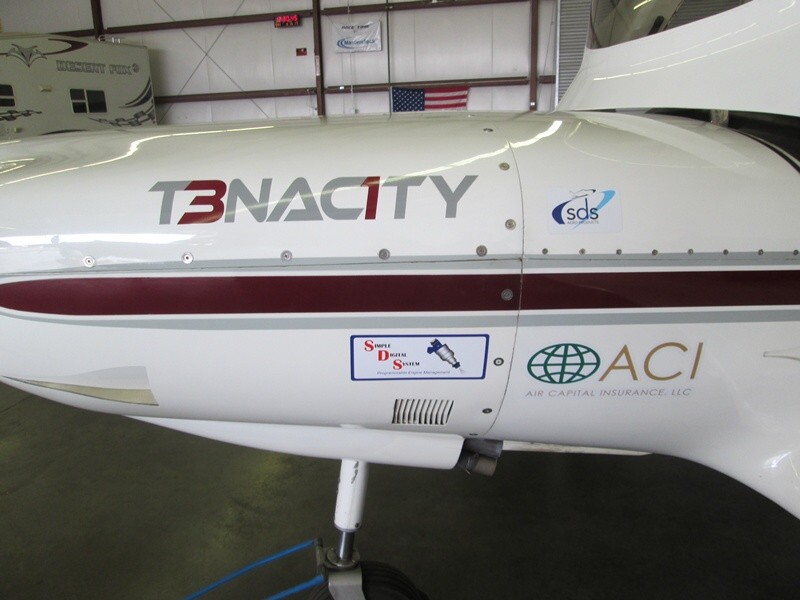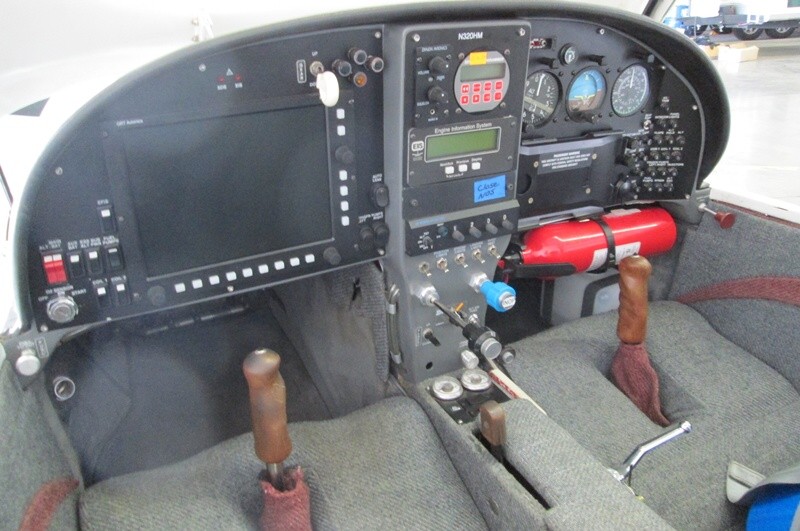 ---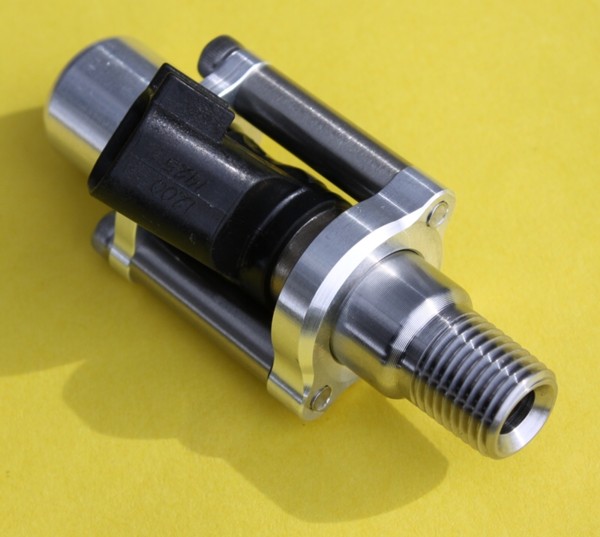 New boss/ injector combo for Reno 2019. 1/4NPT boss fits AV engines. Supports 660hp on 360/390 engines and 1000hp on 540/580 engines.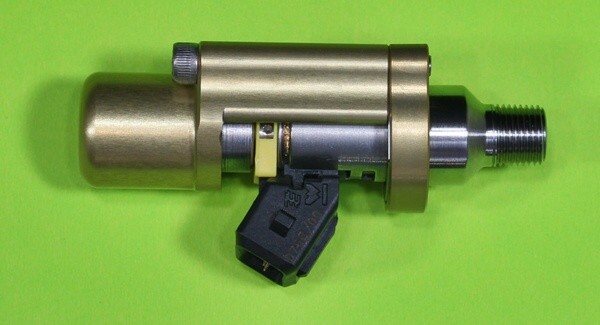 Standard boss for parallel valve Lycoming engines mounts EFI injector in original injector hole. Uses an injector with a stainless steel body for low heat transfer, proprietary high strength- low heat transfer, alloy steel, lower spigot, 7075-T6 retainer ring, stainless cap screws. Threaded adapters have 4 times the tensile and yield strength and many times the fatigue resistance of our competitor's 7075-T6 bodies at 400F. No more welding bosses to induction tubes. Please note, these parts are only sold with complete SDS system orders.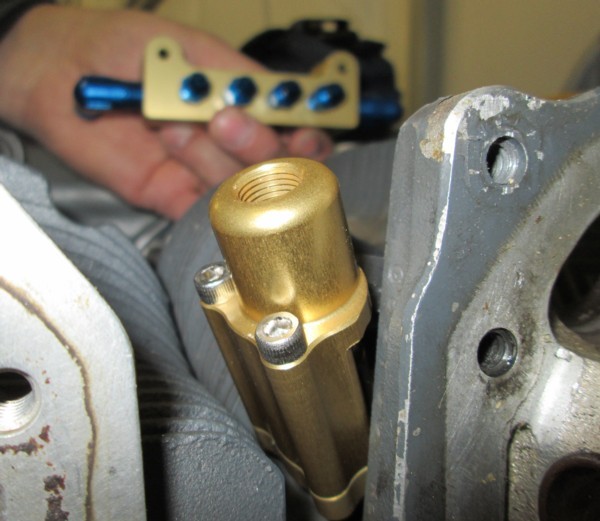 ---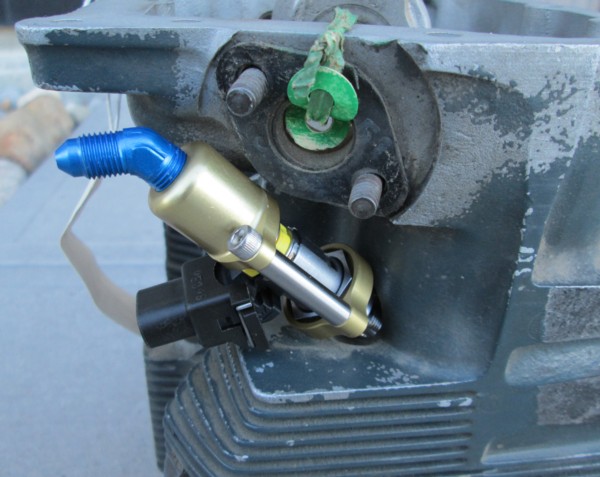 Top mount injector bosses for angle valve Lycoming engines. These have not been tested to fit on aftermarket heads such as ECI at this time. These mounts may require relief of the head in some cases as the Lycoming castings vary somewhat. See photos below in the Dave Anders section here: dave.htm. These parts are only sold with the purchase of a complete SDS kit.
---
Lycoming IO-390


Super clean installation on IO-390
---
Super clean installation on Marvin McGraw's IO-390

Detail of baffle mount fuel block on the left side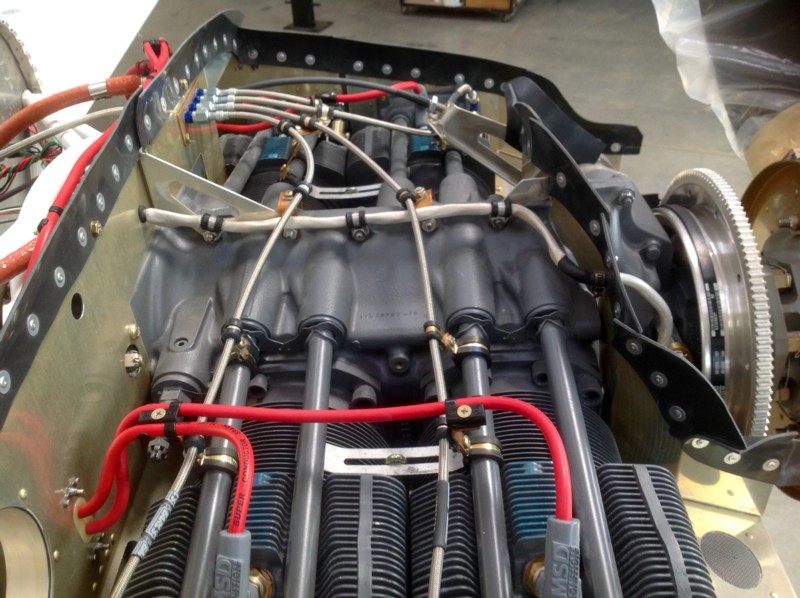 Very clean ECU and relay box mounting
https://www.youtube.com/watch?v=zg9WrSeh3sA
Marvin's RV-14 flying out of a beautiful strip in TN
---

Clean fuel pump module installation in Gerard Merchant's RV14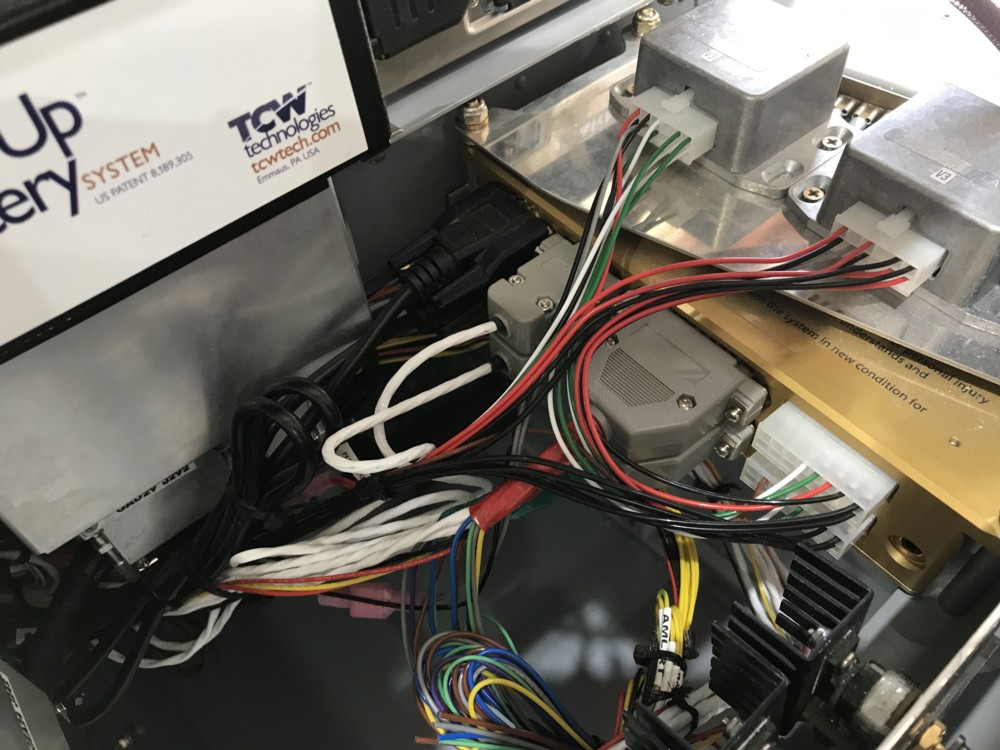 Shot of dual ECU and relay box installation
---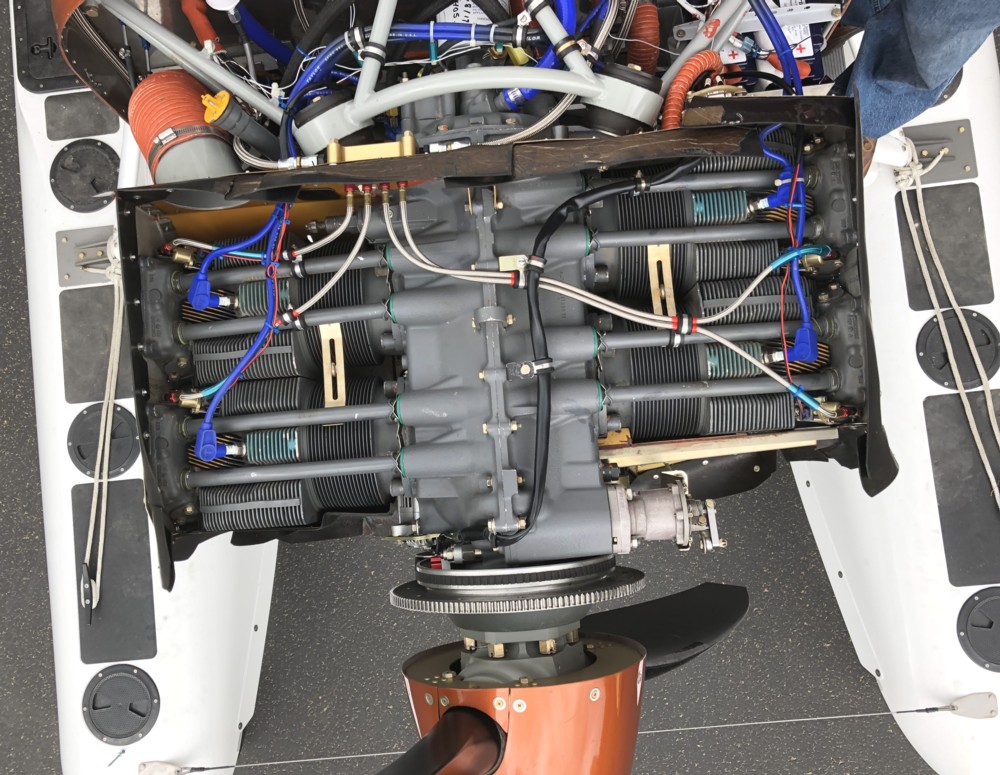 Super clean installation on Steve Brault's IO-390 Glasair Sportsman
---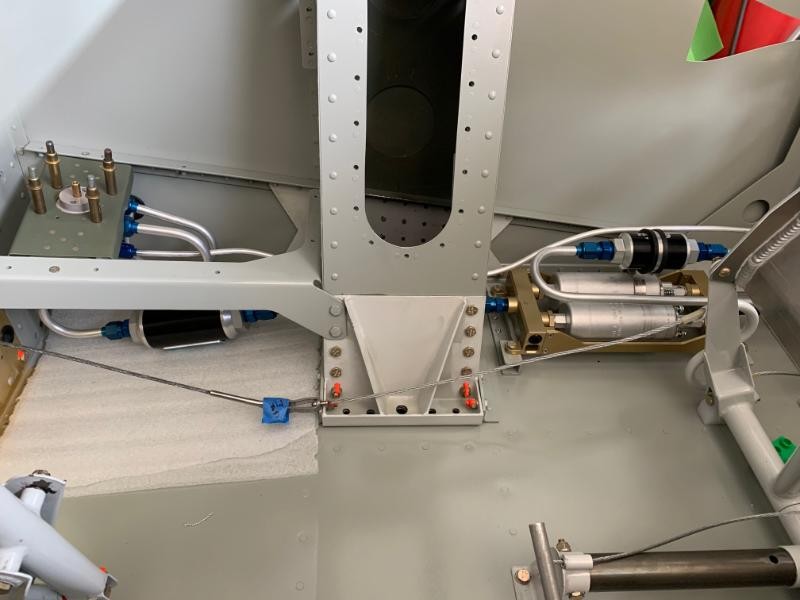 Clean fuel system installation on Mark Smith's RV-8
---

Throttle body setup on Dave Mcgaw's RV-4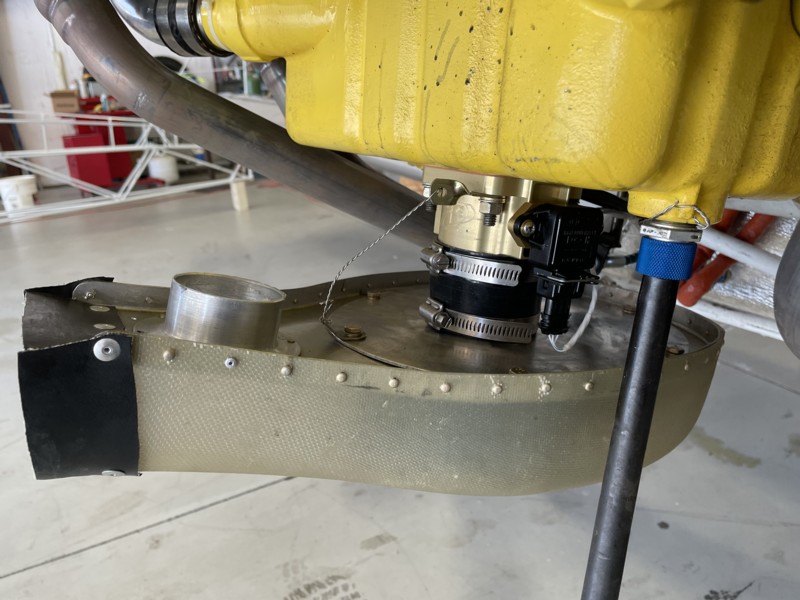 ---
Lycoming IO-390 Engines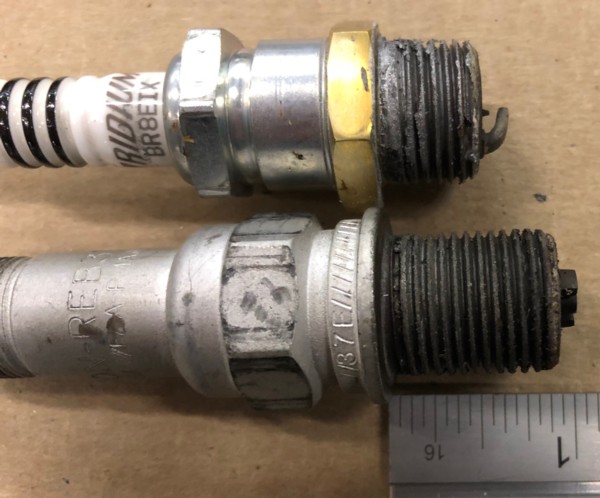 Be aware that IO-390 engines use a long reach plug and adapter, not the one shown here supplied by one of our competitors. Also note that these engines are timed at only 20 BTDC stock. Please also note that ALL SDS ECUs whether original SDS or rebranded units, must have the actual timing checked with a timing gun to verify accuracy. We've received several reports that the rebranded ones don't have the proper Magnet Position values entered, thus the timing is advanced between 3 and 4 degrees more than indicated on the display. This can lead to high CHTs and possible detonation issues.
If you're using the new EXP119 engine for the later RV-14 kits, please specify, as this engine fits a larger throttle body.
TS Flightlines supplied the photos below of their line setups for SDS EFI installations. Very nice!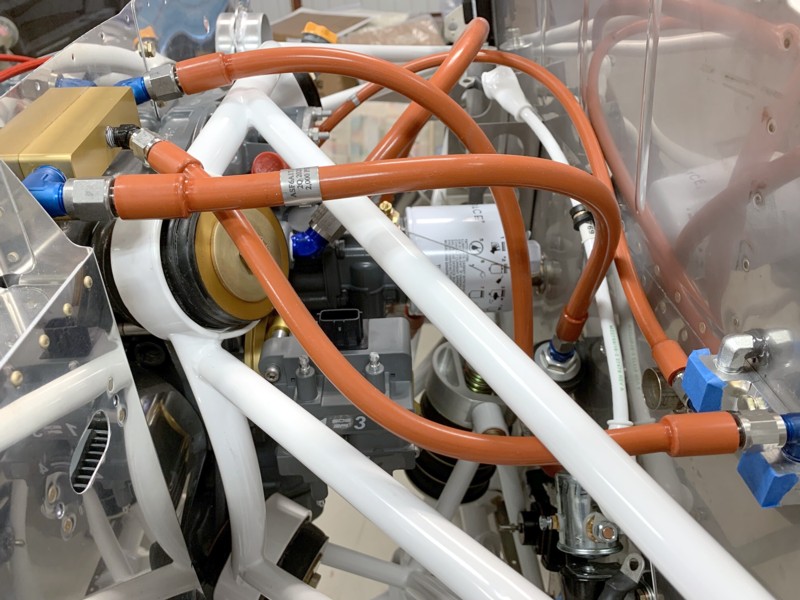 Showing aft baffle mount fuel block plumbing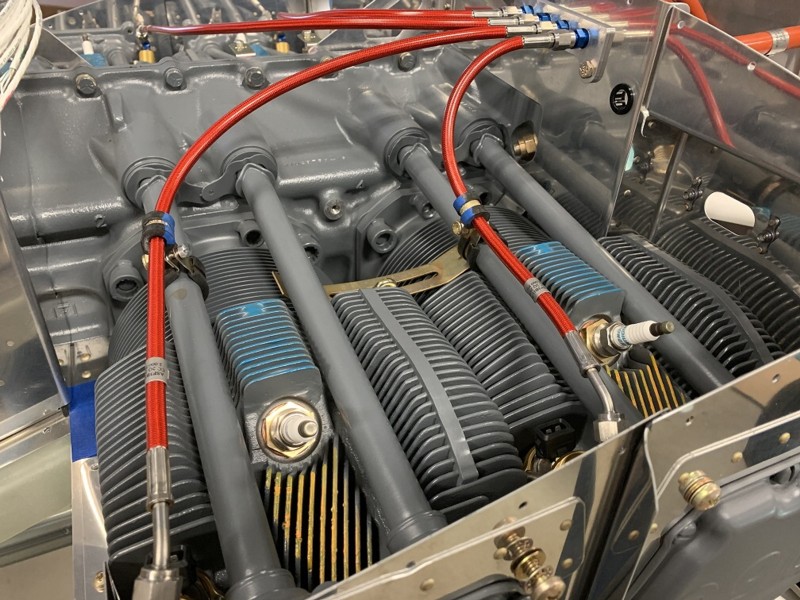 Injector lines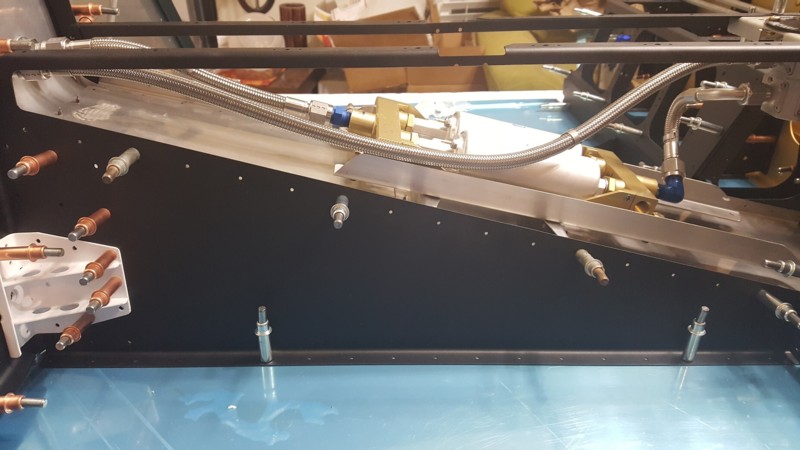 SDS pump mounting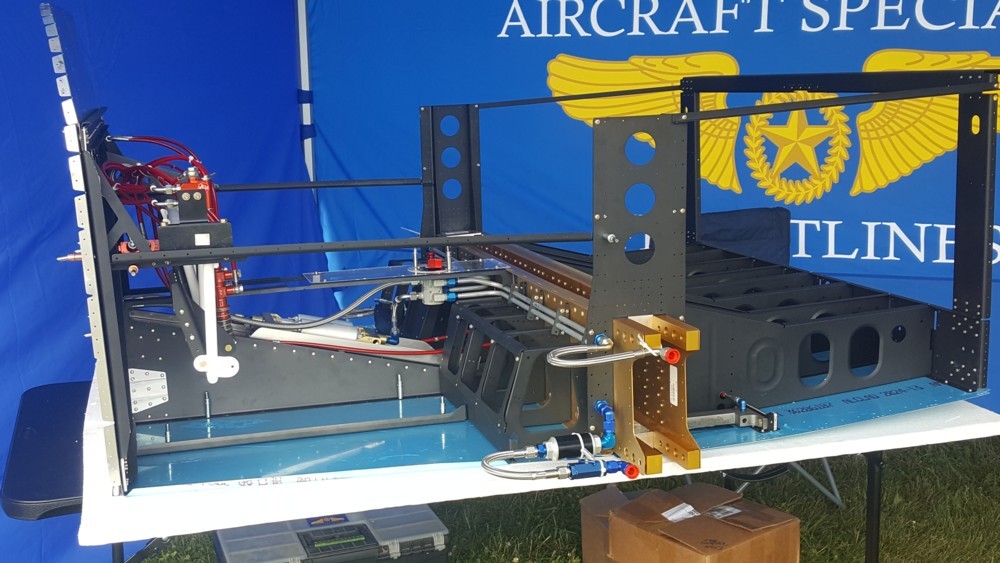 TS Flightlines RV-14 mockup at Osh '21 showing the basic SDS fuel system components and beautiful hardware they supply
---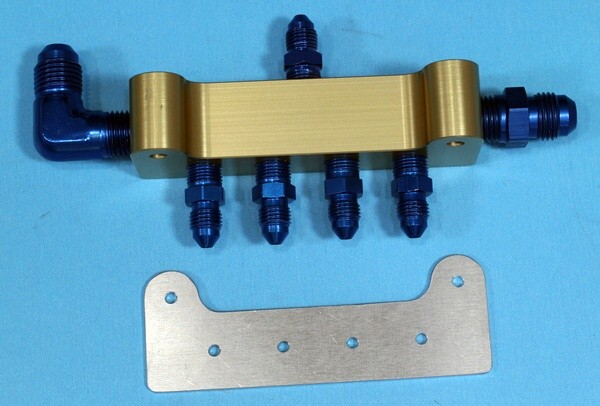 Fuel block for Lycoming engines mounts to rear baffle sheet metal. Comes with drilling template. Mounts with two AN3 bolts. 1/8NPT outlets and fuel pressure tap on back side. Side entry and exits for fuel in/out 1/4 NPT
---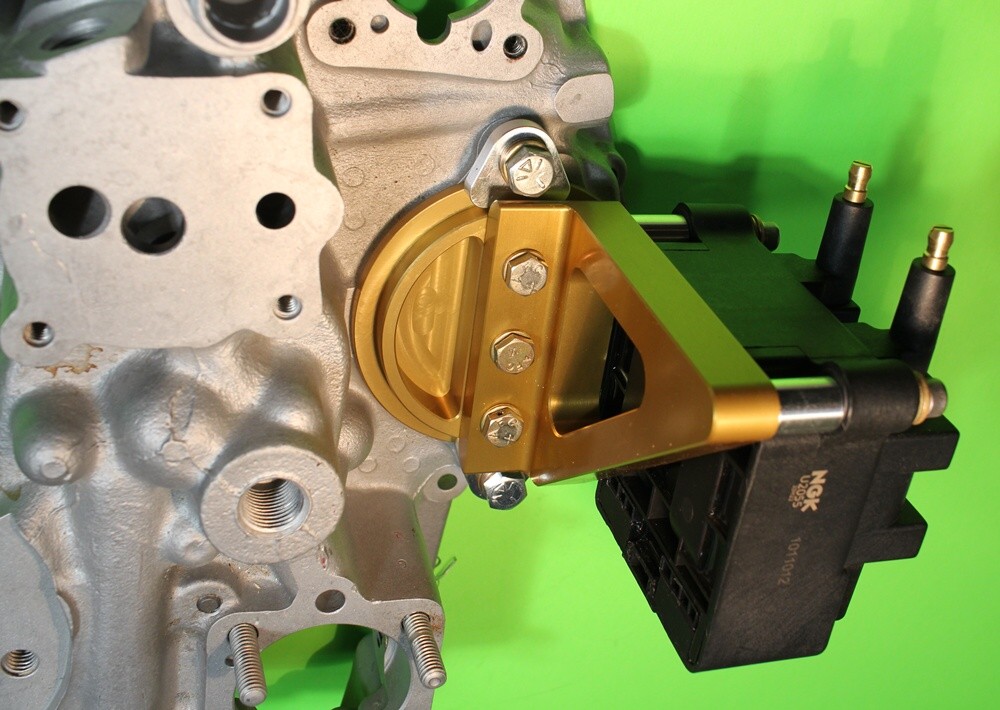 Standard coil mounts in mag holes. 2023 version.
---
Dual Mag Solution
For Dualmag Lycomings, we have a special cover plate and spigot to plug the mag and oiling holes. Note that not all engines have the mag oiling hole. Ones that don't, can use our regular cover plate and coil bracket to mount one coil there. There are 3 different shaft sizes for the spigot, please measure yours before ordering.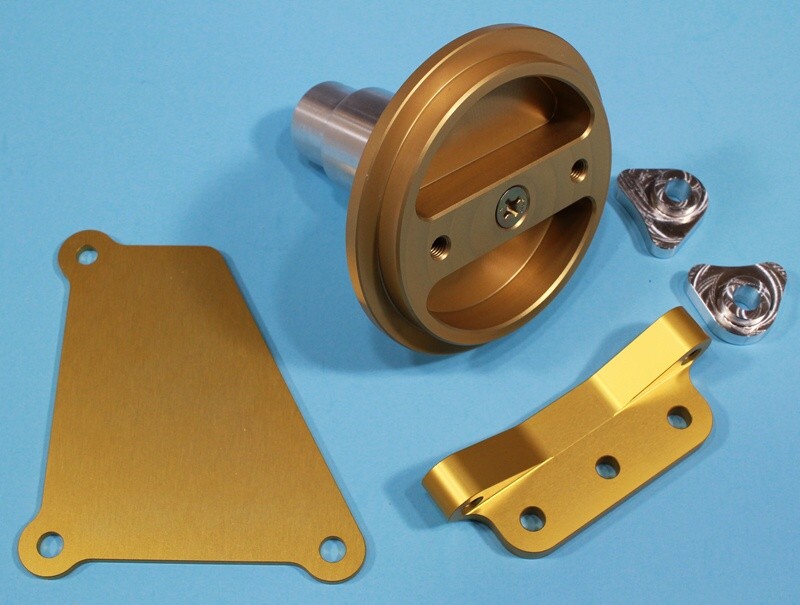 Dual Mag cover and coil mounting solution plugs the mag hole and mounts one coil pack.
---
To show our appreciation for the continuing support from our customers, we'll be offering free EM-6 ECU upgrades in 2023 to all customers who purchased a complete aviation EM-5 system in 2018-2022. For customers who have purchased a complete aviation kit (EM-5 ECUs only) prior to 2018, we'll be offering new EM-6 ECUs at a special discounted price. The EM-6 will be the next generation SDS ECU, based on the continuing evolution of EM-1 through EM-5 ECUs going back to 1994.
---
Standard and Optional Features
SDS offers the following features not found on other vendor kits:

Optional individual cylinder fuel trim. Adjust each cylinder's fuel amount +/- 10% to get all cylinders to peak simultaneously.
Optional dual ECU access through a single programmer. Flip a switch to toggle between primary and backup ECUs.
Standard LOP switch. Configure this to advance or retard the total timing amount and instantly lean mixture per your desires.
Optional PC data logging. Log all ECU sensor channels, injector duty cycle to a Windows compatible device for easier tuning.
Standard Tefzel wiring harnesses custom built to your length and termination specs.
Optional direct fuel flow output. This outputs a pulse train to your glass engine monitor emulating mechanical FloScan transducers, directly from the ECU- no external boxes required.
Standard screw-in injector mounts which go into the factory Lycoming injector locations. Robust, proprietary material used unlike competitor's 7075T6 parts. Our bases have 4 times the tensile, yield and fatigue strenth at 350F.
---
The new programmers feature a higher temperature spec LCD (-20 to +70C) and adjustable contrast and brightness control. The brightness control was added per customer requests for night flying comfort.


Here we see the contrast control screen- 16 settings


This shows the old defaut level brightness


This is a medium level brightness

This is a low level setting and the 0 setting is a bit lower than this.
---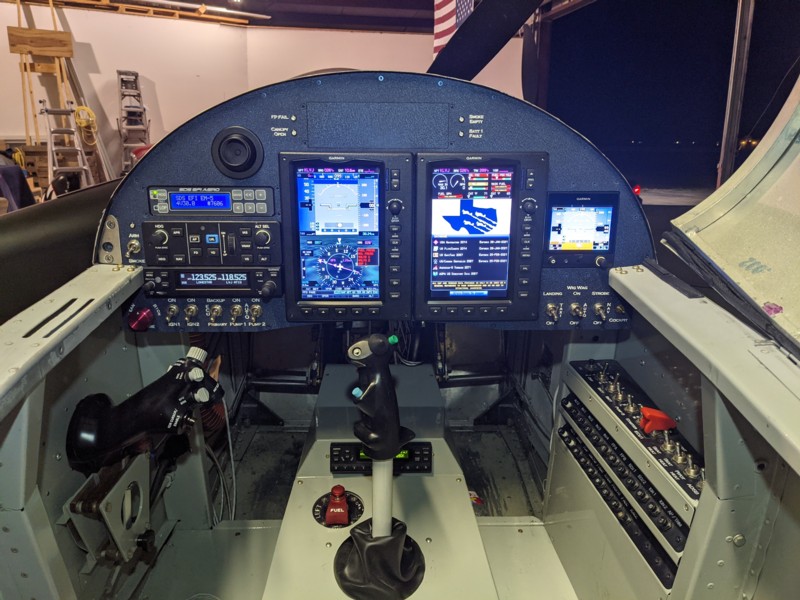 Design 1 programmer integrated into RV-8 panel
---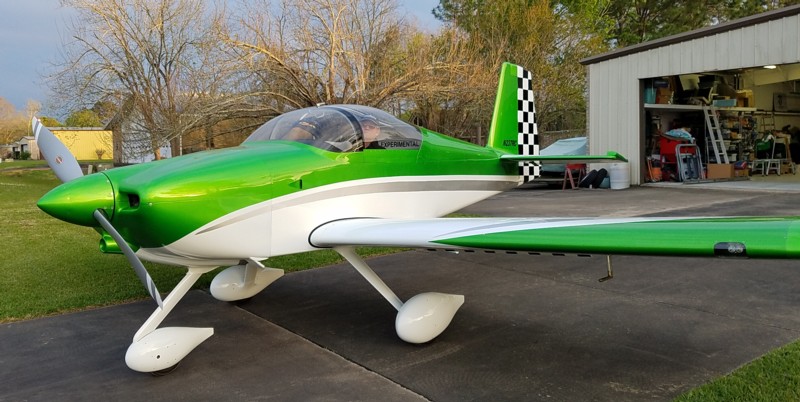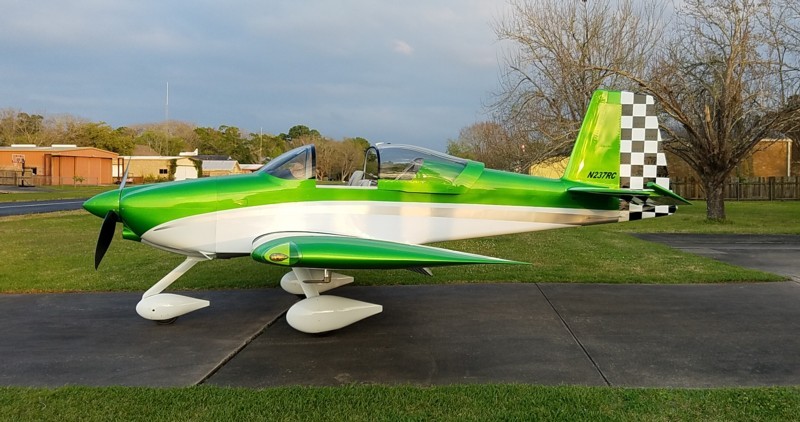 Rusty Crawford's O-360 powered RV7A in Friendswood, Texas. Rusty is one of the highest time SDS users with nearly 2000 hours and has been instrumental in giving us many good ideas and feedback to improve SDS aviation products.
---
Tim Collard's O-320 powered Mustang 2. SDS 4D equipped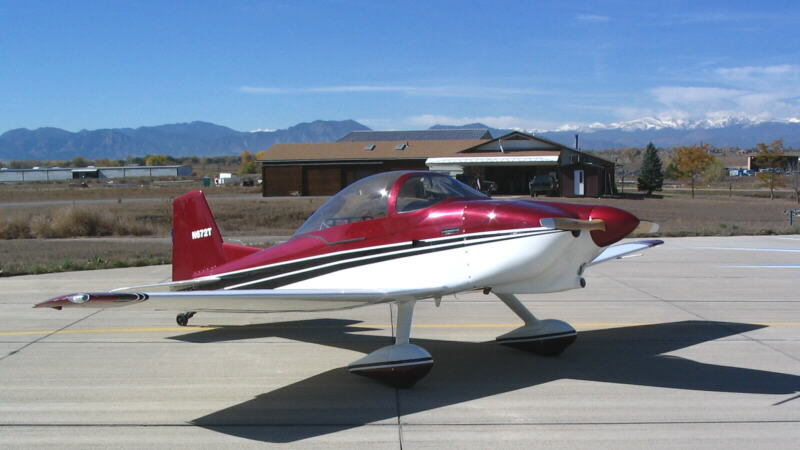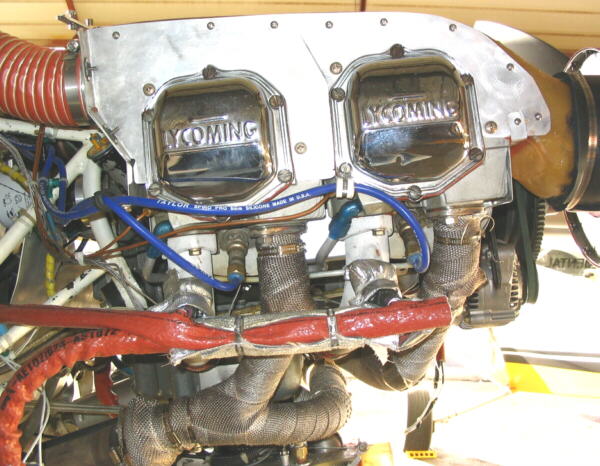 Injector installation details.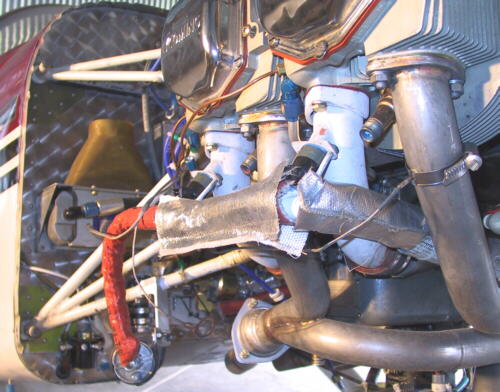 Note fire sleeve/ heat shielding to protect fuel line from infrared radiation due to proximity of exhaust pipes.
08/10/05 update from Tim Collard: "My Mustang 2 has been running on your system now for over 225 hours with no problems [other than my bad wiring]. Getting excellent fuel burns, very even temps, great start up and smooth running. Don't understand why everyone doesn't get an SDS system."
---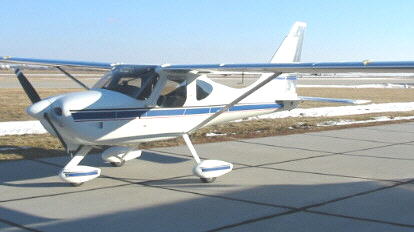 Joe Block's O-320-E2D powered Glastar is fitted with an SDS EM-4F
Joe had 470 hours on the installation as of 2007 and reports that he cruises at 30-50F lean of peak and 6.5 GPH at 75%. Operation is very smooth with very close EGTs between cylinders.
---

Aerosport 375cid engine with SDS EM-5 EFI/EI

Running on the test stand. Smooth idle down to 500 rpm.
---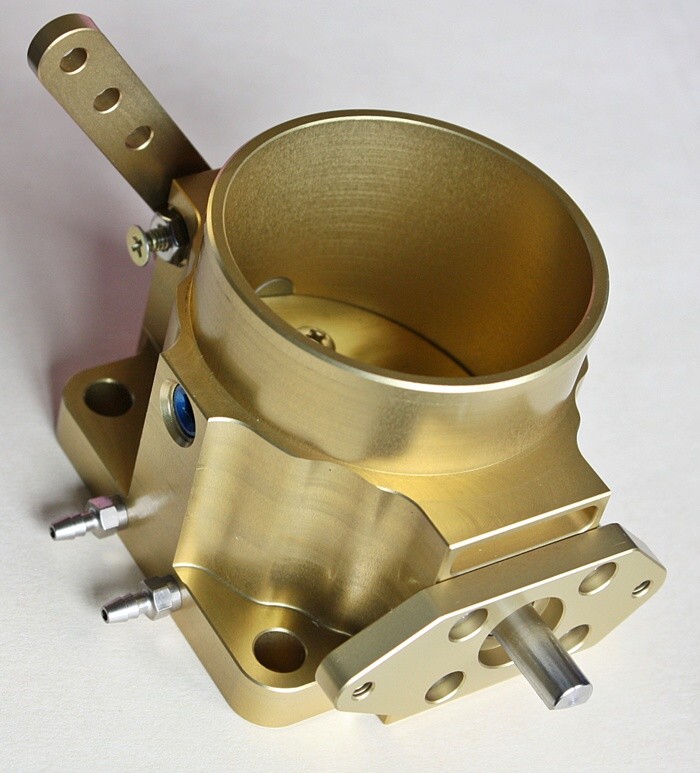 Lycoming direct bolt-on 60mm TB with CNC'd 7075T6 throttle arm for vertical or horizontal sumps. 2.5 inch snout adapts to airbox with silicone hose. Fits most O-320, O-360 and O-540s previously using carbs or RSA-5 servos. Please note this is only for EFI engines as it contains no metering unit.
---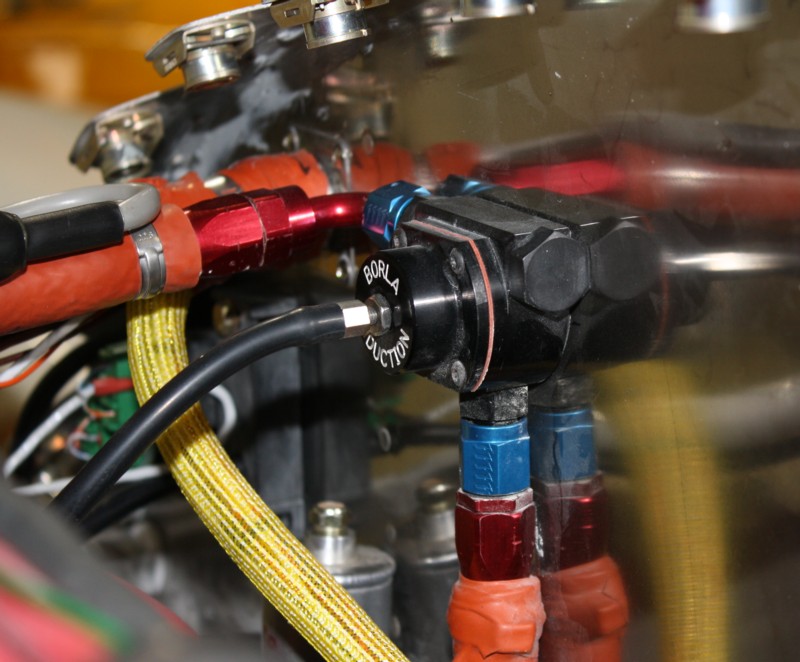 Fuel pressure regulator mounting
---
Coil mount bracket for Lycoming 4 cylinder engines, mounts to rear top of crankcase. Fits later wide deck engines only.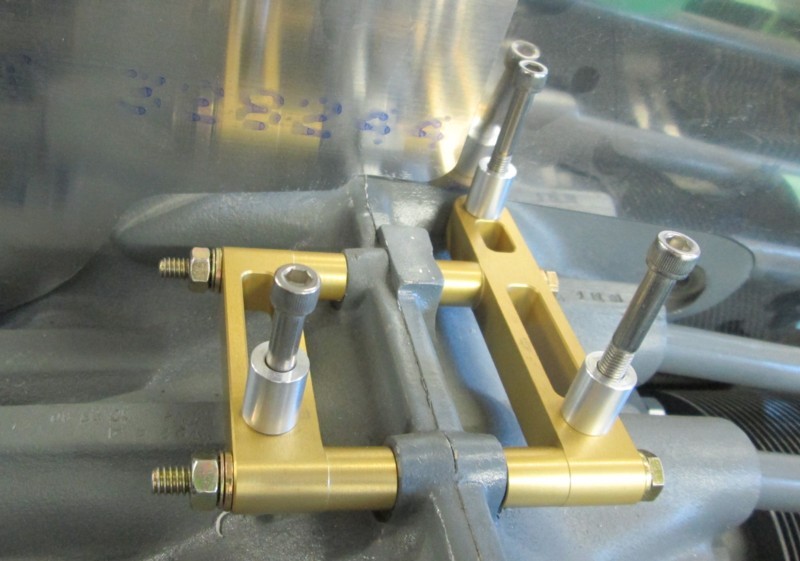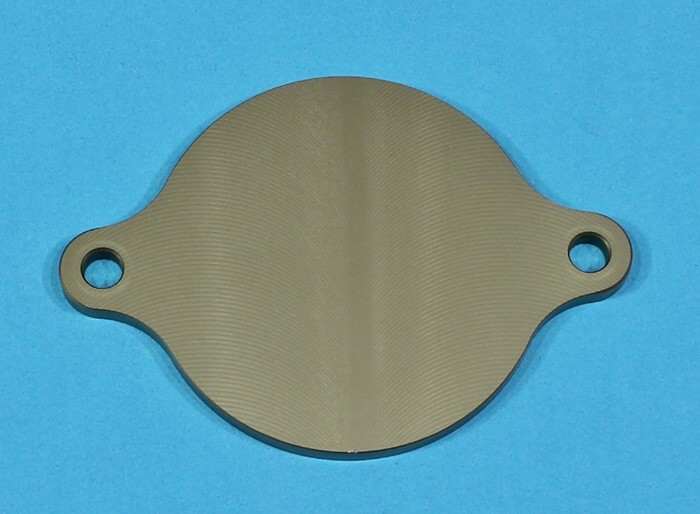 Magneto cover. Install without gasket, just use RTV.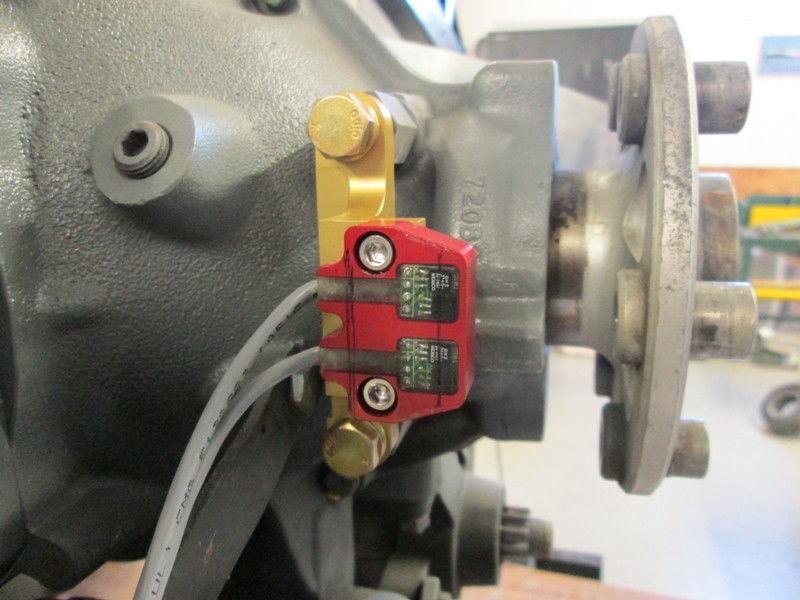 Hall sensor mount and dual Hall sensor in place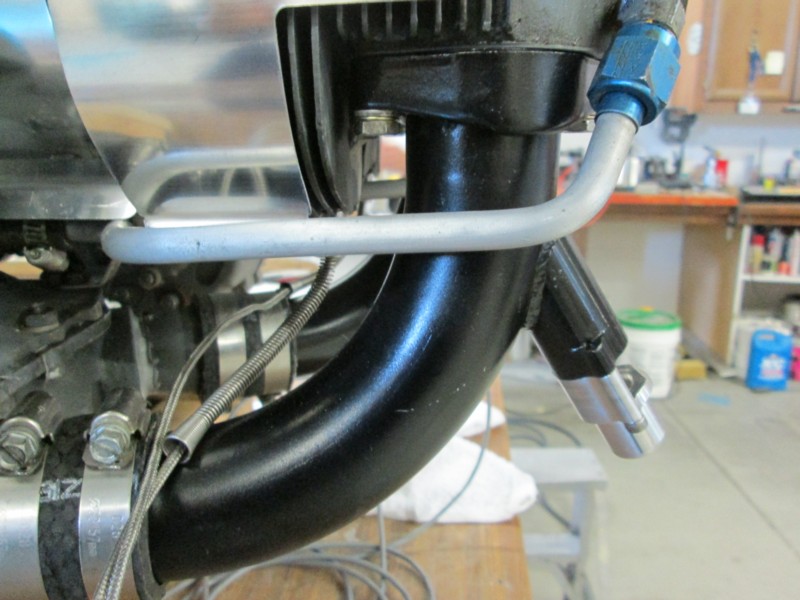 Weld-in bosses for race applications and engines without the 1/8 NPT injector holes in the heads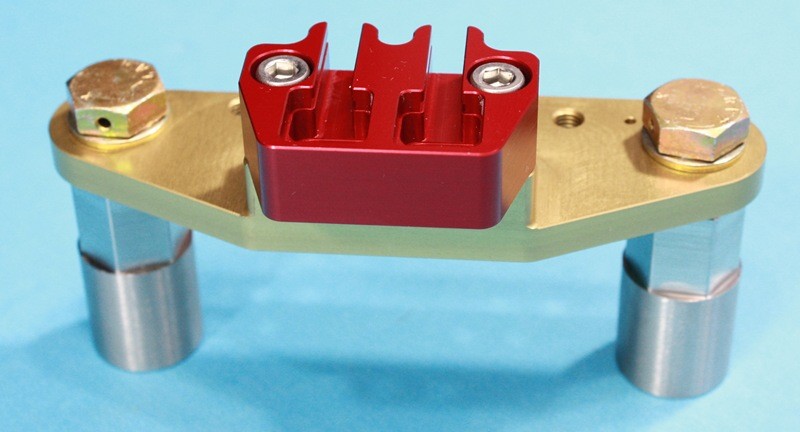 Photos of 3.50 inch bolt spacing Hall mount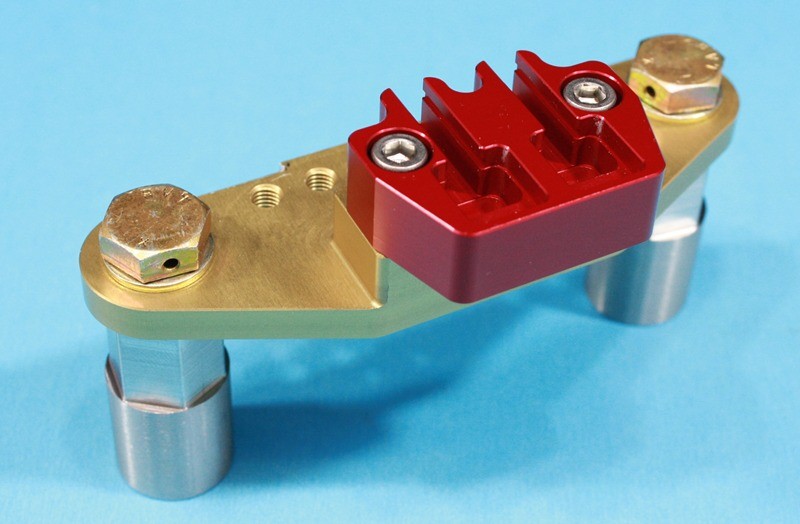 3.25 inch bolt spacing Hall mount. Note mounts have threaded holes to bolt cable protection hardware to.
Please check the center to center front crankcase bolt distance. Some measure 3.25 inches, others 3.50 inches. We need to know this to send you the correct Hall sensor mount.
---


Spark plugs and adapters for long reach Angle Valve Lycomings (IO-390/ 580)
---
MSD Plug Wires and Boots
Be sure you push the plug and coil boots all the way down to engage the terminals fully. There should be about a 1/8 inch gap as shown in the photo below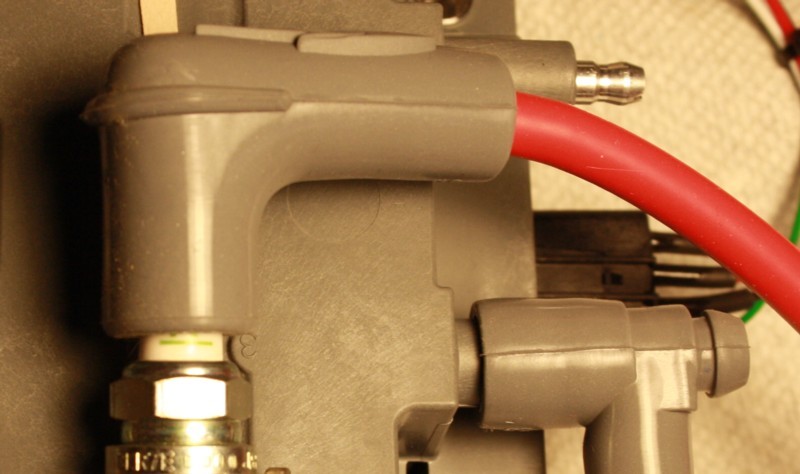 ---
Dave Anders did a very clean SDS EFI installation on his record setting RV4, replacing the mechanical AFP system
See more info and photos here: dave.htm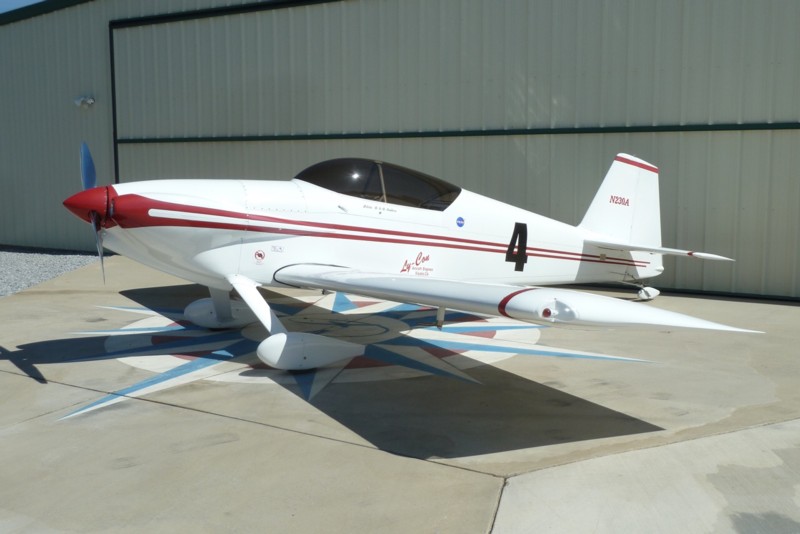 ---
Page on Ralph Inkster's RV6A EM-5 install: projectrv6a.htm
---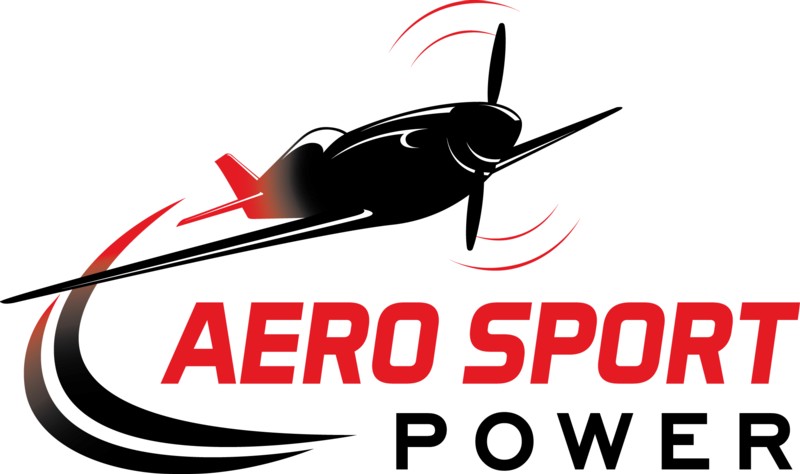 Website: aerosportpower.com
---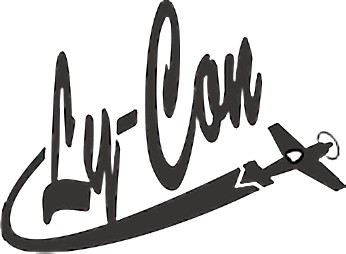 Ly-Con Rebuilding Co.
8231 W. Doe Ave.
Visalia, CA 93291
(559) 651-1070
(559) 651-3212 Fax
Email: john@lycon.com
Website: www.lycon.com Lycoming EFI
---