CPI module
---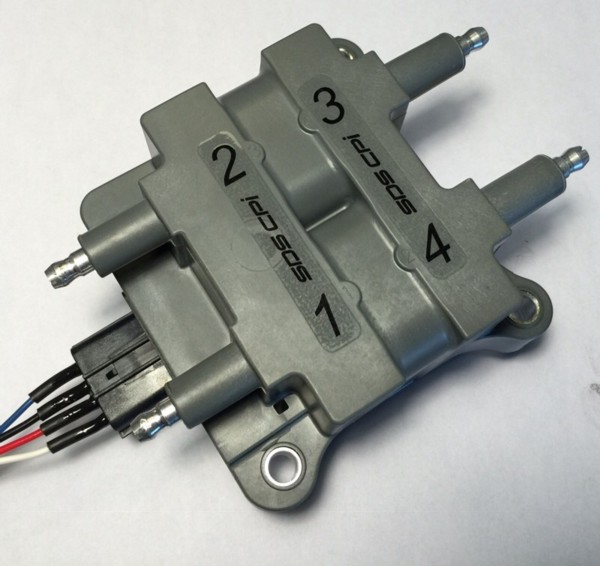 Subaru type coil pack supplied for 4 and 8 cylinder engines and twin plug, 4 cylinder engines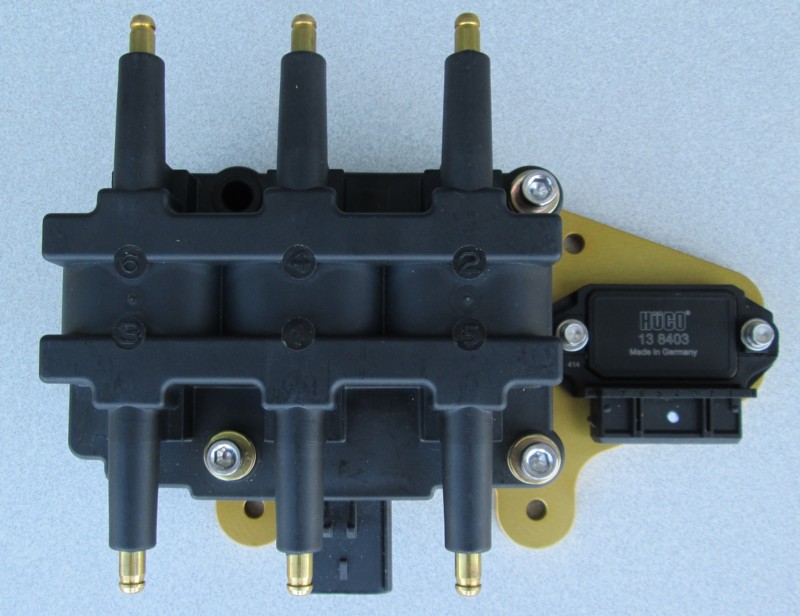 Coil pack supplied for 6 cylinder engines with module, mounting bracket and heat sink. 3.6 pounds

Underside of CNC'd mounting bracket, 6 cylinder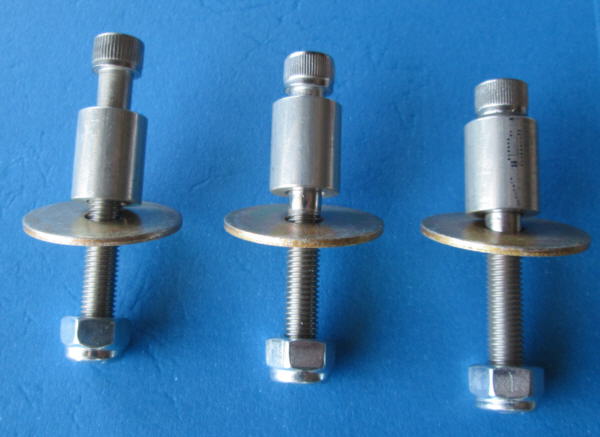 Coil mounting hardware kit included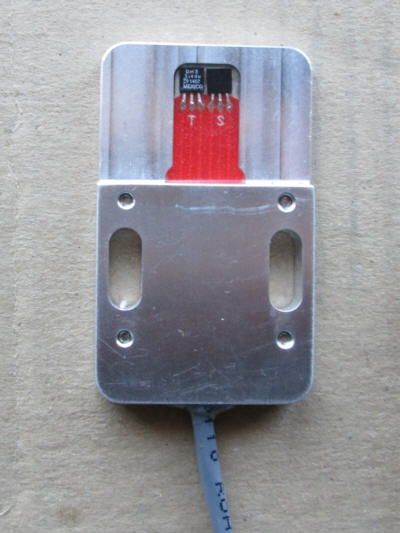 CPI Hall Effect sensor (standard adjustable type)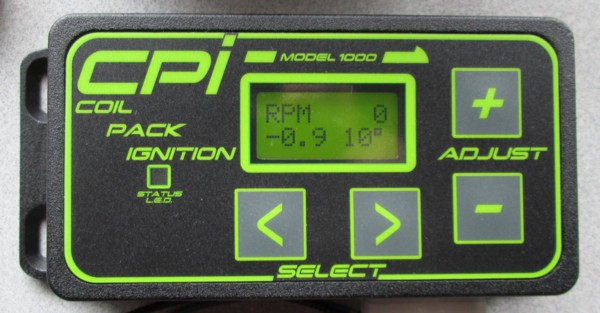 LCD shown in gauge mode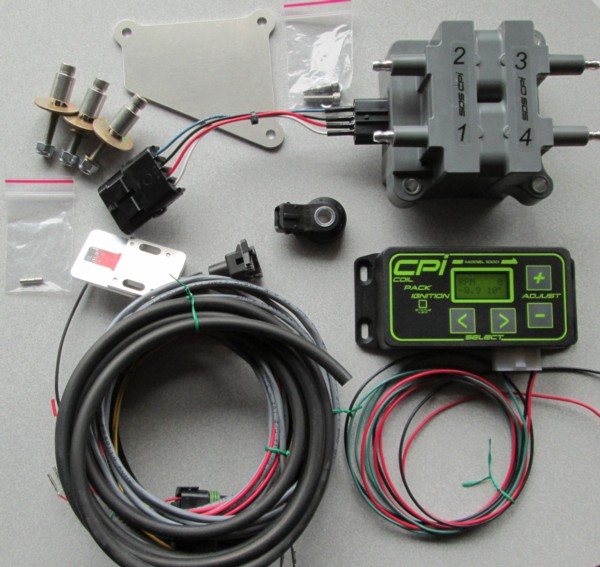 Complete automotive 4 cylinder kit shown with optional knock sensor.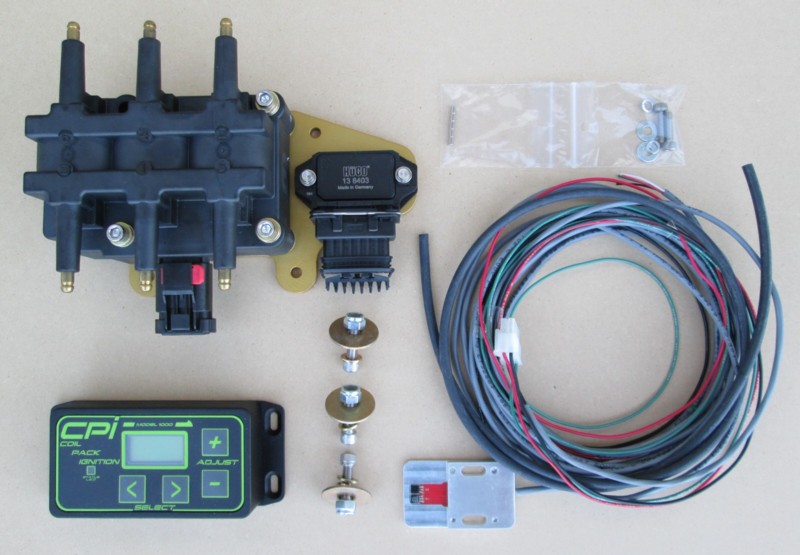 Automotive 6 cylinder kit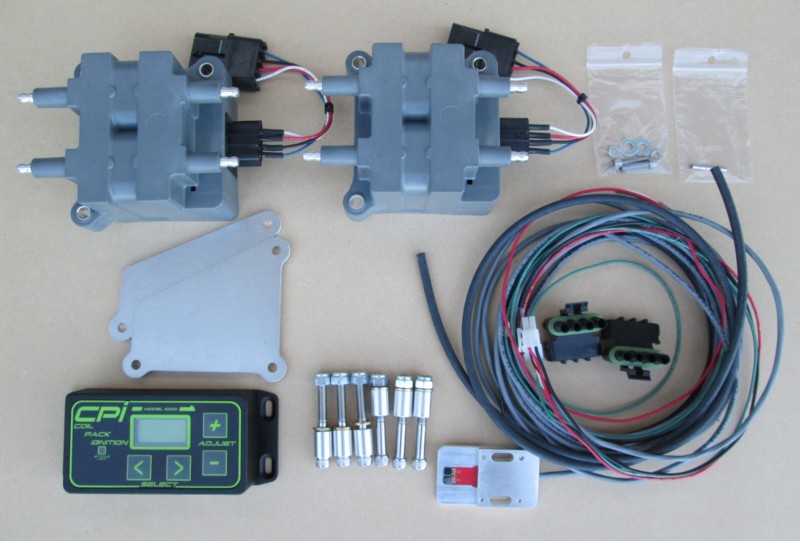 Automotive 8 cylinder kit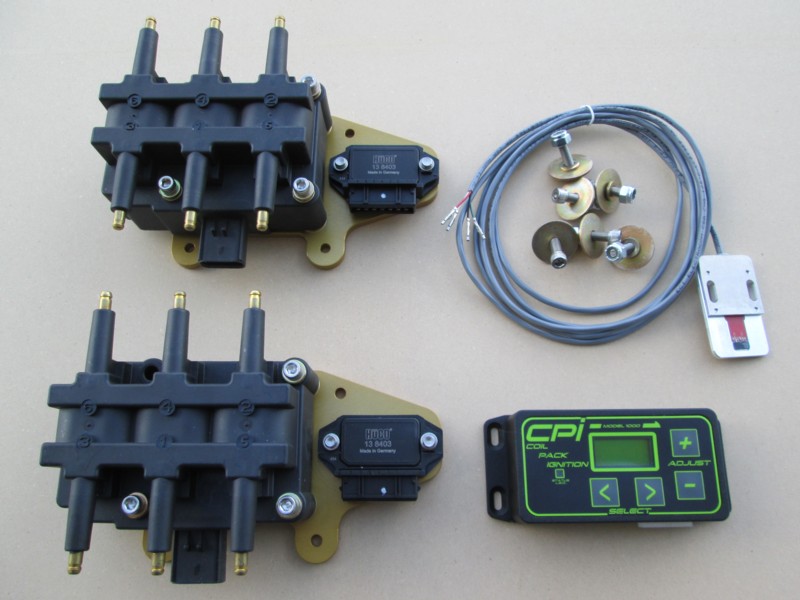 Twin coil setup for Porsche 911/930 twin plug engines. Wiring harnesses not shown for clarity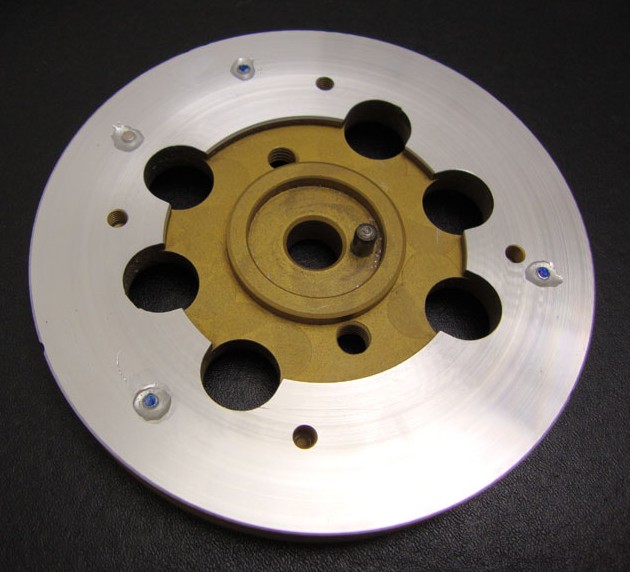 Thomas Wicki supplied these photos of his Porsche 930 CPI installation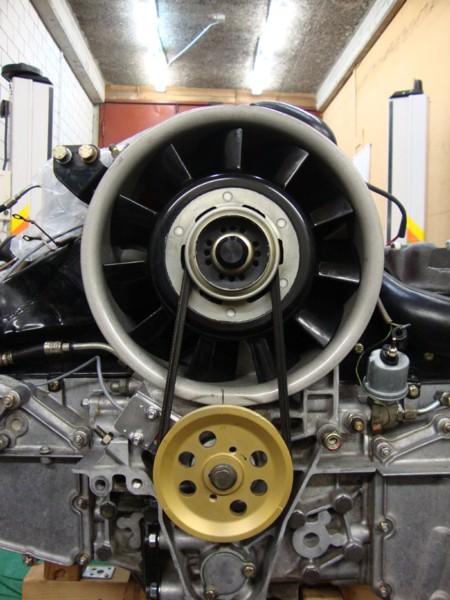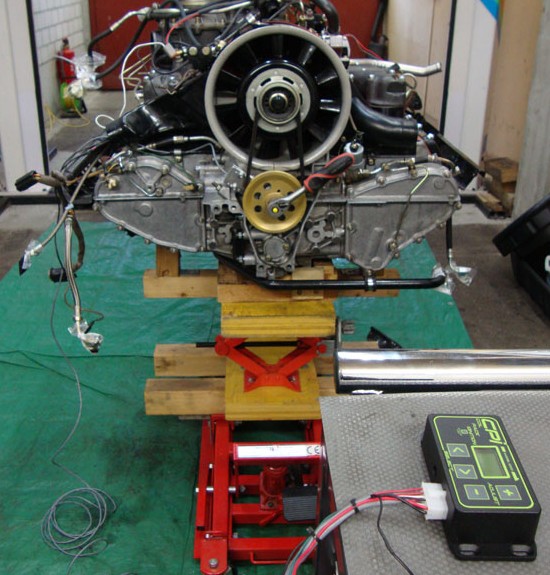 The new CPI is a programmable, stand alone, crank triggered, distributorless ignition system for 4, 6 and 8 cylinder engines. For use on engines equipped with carburetors or mechanical fuel injection. Comes complete with coil pack, crank sensor, magnets, wiring harness, vacuum hose, manual. Priced hundreds of dollars less than brand X, smaller, lighter, easier to install and program, no DIP switches, no PC required. Price for basic 4 cylinder automotive, single coil unit kit is $750US, 6 cylinder unit $875US, 8 cylinder unit $950US. Please note that these prices are not for the aviation specific kits that we also offer here: CPI
CPI gives you complete timing control with rpm (to 9750 or 14,000 rpm selectable) as well as manifold pressure (boost retard and vacuum advance)
Small size- 4.4 X 2.35 X 1.2 inches for module. Total system weight for 4 cylinder including coil pack, around 3.3 pounds.
Integral MAP sensor
Rev limiting
Optional programmable knock control, $100 with sensor. Also compatible with most OEM knock sensors.
Backlit LCD has gauge mode to display rpm, manifold pressure and actual ignition timing
12V tach output
Programmable dwell time and cranking retard values
Can drive two coil packs for twin plug engines such as Porsche 911/930, Ford Ranger etc.
Based on proven SDS EM-5 and XIC software/ hardware, over 20 years experience and thousands of systems in service worldwide
Optional panel mount kit available
Low current draw/ long spark duration. 4 cylinder coil pack and CPI draw about 0.5 amps per 1000 rpm.
Knock retard amount, sensitivity and rpm limit settings, knock warning light
Magnet alignment screen and LED for fast crank sensor setup, error warning for missed magnets/ alignment issues
Coil test mode
Simple wiring hookup, Wiring harness included
Hall Effect triggered- no timing disc to mount. Flying magnets (supplied) can be mounted to crank pulley or flywheel
Magnets are crankshaft mounted so timing is precise, no worries about distributor gears wearing or failing
Coil packs are engine mountable
Note the CPI should only be used with resistor type spark plugs and good quality, EMI/ RFI suppression type plug wires. Never use non-resistor plugs or solid core wires. We can supply quality MSD plug wire, boots and terminals at a slight extra cost for most engines.
---
Email us here for further info or a quote: racetech1@telus.net
---
For CPI installation and tuning manual click here
Video on CPI internal Spark Test Function
---
MSD Plug Wire Part Numbers
The following bulk PNs fit all coil packs:
34049 8.5mm red Superconductor wire
34615 90 degree terminal (plug and coil)
34555 90 degree coil boot
34515 90 degree plug boot
---
| Home Page | Product Specifications | Programming and Installation Manuals | SDS Advantages | Price List/Shipping | Dealer List/Links | Tech Page/FAQ | Project Page | Sample fuel maps | About Racetech | Hardware | Aircraft |